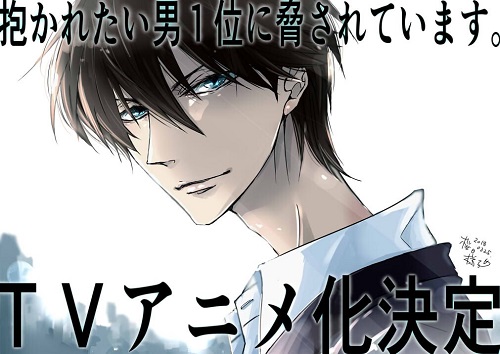 The B x Boy x animate stage at this year's AnimeJapan announced on Sunday that Yaoi manga
Dakaretai Otoko 1-i ni Odosarete Imasu.
by
Hashigo Sakurabi
will get a TV anime adaptation this year. The drama CD cast members will be reprising their roles for the anime.
Synopsis
"I will make it so your body cannot leave me for a lifetime."
Takato Saijou's rank as the top "huggable" actor has dropped at his fifth consecutive year. The one who stole the top rank was Junya Azumaya, who only debuted three years ago! Saijou sees Azumaya, who has a sparkling smile that fans calls him an angel, as an opponent. But the situation is switched as Azumaya catches Saijou's disadvantages.
Cast
Takato Saijou:
Hiroki Takahashi
(
School Rumble
)
Junya Azumaya:
Yuuki Ono
(the
Kuroko no Basket
series)
Chihiro Ayagi:
Takuya Satou
(
Nana Maru San Batsu
)
Ryou Narumiya:
Yuuma Uchida
(
Ryuuou no Oshigoto!
)
Kazuomi Usaka:
Kousuke Toriumi
(
Dies Irae
)
The manga series has been serialized via
Magazine Be x Boy
since July 2014. Four complied volumes have been released with the fifth volume shipping on March 30. The series has more than two million copies in print. The fourth volume of the series' drama CD adaptation will be released on April 20, adding Kousuke Toriumi as a new cast member. The content of another work by the same mangaka
Netorare Triangle
will also be included in the fourth drama CD volume.
Announcement
Note: The video is region-locked; click here for an alternative link
.
Official site from Magazine B x Boy:
https://www.b-boy.jp/special/dakaretai_1st/
Anime official site:
http://dakaretai-1st.com/
Anime official Twitter: @
dakaretai_1st
Source:
Comic Natalie
Dakaretai Otoko 1-i ni Odosarete Imasu.
on MAL

RSS Feed