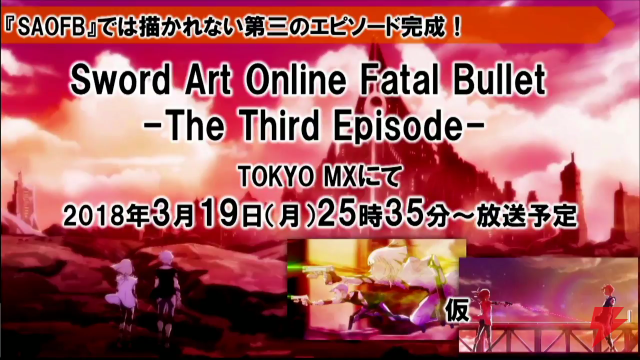 A discussion panel at Dengeki Game Festival 2018 on Saturday announced broadcast details of an upcoming short anime spin-off of the
Sword Art Online: Fatal Bullet
third-person shooter role-playing game. The spin-off titled
The Third Episode
, which features a story not told in the video game, will air as an exclusive broadcast on the Tokyo MX network on Tuesday, March 20, at 1:35 a.m. Japan time.
The spin-off anime was first teased in February in a pilot video, whose footage will air as part of the longer production. A voice audition was held through Twitter for the role of the female character in the special episode, which is estimated to be up to four minutes in length. Among the 837 submissions received in the audition, one person was selected for the female character role, and ten more were selected to voice additional mob characters in the game.
Sword Art Online: Fatal Bullet
was released in Japan on February 8 on the PlayStation 4, Xbox One, and Steam platforms. The spin-off anime
The Third Episode
is directed by illustration artist and graphic designer YKBX.
Pilot
Official site:
http://saofbspecialmovie_koetwi.sao-game.jp/
Source:
Dengeki Online
Sword Art Online Fatal Bullet: The Third Episode
on MAL

RSS Feed