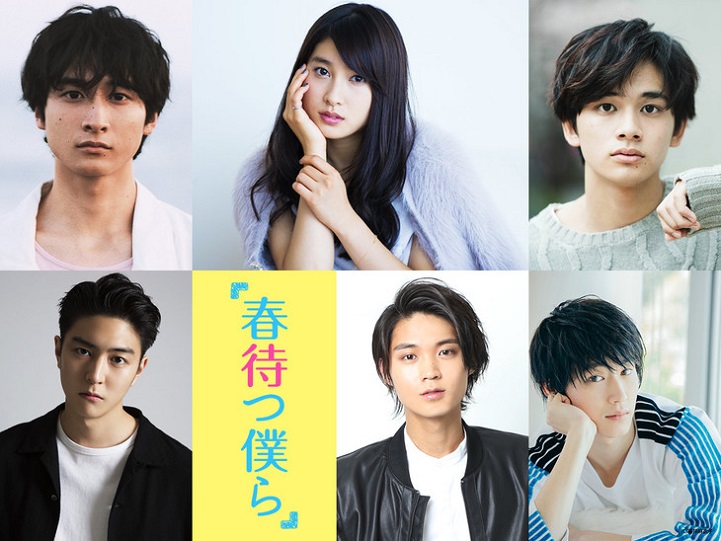 An official website opened on Thursday revealing that
Anashin
's shoujo manga
Harumatsu Bokura
(
Waiting For Spring
) will receive a live-action film adaptation this Winter. The film will be directed by
Yuuichirou Hirakawa
(
A LIFE
) and Satoko Okazaki (
Forget Me Not
) will handle the script. Warner Bros. Japan will distribute the film.
Synopsis
Mizuki is a shy girl who's about to enter high school and vows to open herself up to new friendships. Of course, the four stars of the boys' basketball team weren't exactly the friends she had in mind! Yet, when they drop by the café where she works, the five quickly hit it off. Soon she's been accidentally thrust into the spotlight, targeted by jealous girls. And will she expand her mission to include ... love? (Source: Kodansha Comics)
Cast
Mitsuki Haruno:
Tao Tsuchiya
(
Tonari no Kaibutsu-kun
)
Towa Asakura: Takumi Kitamura (
Kimi no Suizou wo Tabetai
)
Aya Kamiyama: Yuuta Koseki (
Donten ni Warau
)
Rui Miyamoto: Yu Inaba (
Kimi to Boku
)
Kyousuke Wakamiya: Hayato Isomura (
Fukumenkei Noise
)
Ryuuji Tada: Yosuke Sugino (
Kiseki Ano Hi no Sobito
)
The manga has been serialized in Kodansha's
Dessert
magazine since February 2014 and has over 1.6 million copies of its eight compiled volumes in print. The ninth volume, which is scheduled to ship on March 13, will contain a drama CD with the limited edition. Kodansha Comics USA licensed the series in North America and plans to publish the fifth volume on March 27. The manga was
nominated
at the 41st Kodansha Manga Awards under the shoujo manga category last year.
Official site:
http://wwws.warnerbros.co.jp/harumatsumovie/
Official Twitter: @
harumatsumovie
Source:
Comic Natalie

RSS Feed