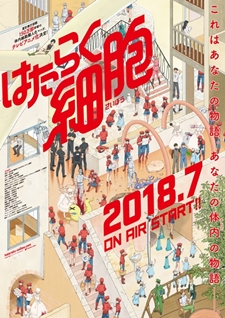 An official website was launched announcing that
Akane Shimizu
's anthropomorphic manga
Hataraku Saibou
(
Cells at Work!
) will receive a TV anime adaptation slated to broadcast in July 2018.
Synopsis
This is a story about you. A tale about the inside of your body... According to a new study, the human body consists of approximately 37 trillion cells. These cells are hard at work every day within a world that is your body. From the oxygen-carrying red blood cells to the bacteria-fighting white blood cells, get to know the unsung heroes and the drama that unfolds inside of you! It's the oddly relatable and interesting story that is the life of cells! (Source: Aniplex USA)
Staff
Director:
Kenichi Suzuki
(
JoJo no Kimyou na Bouken
(TV))
Series Composition:
Yuuko Kakihara
(
Tsuki ga Kirei
)
Script: Yuuko Kakihara, Kenichi Suzuki
Character Design:
Takahiko Yoshida
(
NHK ni Youkoso!
)
Prop Design, Action Animation Director:
Kenta Mimuro
(
JoJo no Kimyou na Bouken: Diamond wa Kudakenai
)
Sub Character Design: Keiko Tamaki (
Fullmetal Alchemist: Brotherhood
key animator)
Chief Animation Director: Keiko Tamaki, Takahiko Yoshida
Art Director: Atelier Platz (
Sword Art Online Movie: Ordinal Scale
background art)
Art Design:
Yoshihiro Sono
(
Kidou Senshi Gundam Katana
),
Kouji Hashiguchi
(
Suisei no Gargantia: Meguru Kouro, Haruka
animation director)
Color Setting: Aiko Mizuno (
Sakurada Reset
)
Director of Photography: Yuki Ooshima (
ēlDLIVE
assistant director of photography)
CG Director: Yutaka Nakajima (
Gintama'
)
Editing: Kiyoshi Hirose (
Mob Psycho 100
)
Sound Director:
Jin Aketagawa
(
No Game No Life
)
Sound Producer:
Magic Capsule
Music:
Kenichiro Suehiro
(
Shoujo Shuumatsu Ryokou
), Mayuko (
Miira no Kaikata
)
Producer: Yuuma Takahashi (
Monogatari
series publicity producer)
Animation Producer: Go Wakamatsu (
Inu x Boku SS
)
Studio:
David production
Production:
Aniplex
,
Kodansha
, David production
The manga has been serialized in Kodansha's monthly
Shounen Sirius
magazine since January 2015 and has five compiled volumes in print, with the latest released on August 2017. The manga won seventh place in the male readers category in the 2016 edition of Kono Manga ga Sugoi
rankings
. A special animated
commercial
was released with the manga's fifth limited edition volume in July 2017.
Kodansha Comics USA has been publishing the manga in English since November 1, 2016. The fifth volume was recently
released
in November last year.
PV
Official site:
http://hataraku-saibou.com/
Official Twitter: @
hataraku_saibou
Official English site:
http://www.aniplexusa.com/cellsatwork/
Source:
animate Times
Hataraku Saibou (TV)
on MAL

RSS Feed