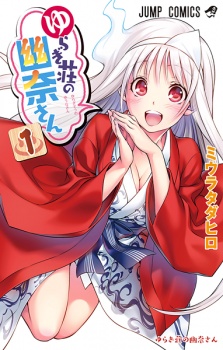 This year's 50th issue of
Weekly Shounen Jump
magazine has announced that
Yuragi-sou no Yuuna-san
will get an anime adaptation. More information will be announced in the future issues of the magazine.
Synopsis
Fuyuzora Kogarashi has the ability to see the supernatural, and has been possessed by ghosts since he was a kid. This has caused a lot of trouble in his life, but now he has learned to fight back against the evil spirits! Unfortunately, he's now also very poor, homeless, and hoping for a happier, more normal, high school life. In his search for housing, he's introduced to a very cheap boarding house called Yuragisou, which was formerly a popular hot springs inn. It's so cheap because the house is haunted by the spirit of a high school student whose corpse was found there.
Kogarashi doesn't think this is going to be a problem for him, and the rest of the house's tenants appear to be sexy women. While relaxing in the hot springs, though, he finds there is an issue with his ghost-banishing plan; Yuragisou's ghost is a 16-year-old girl named Yuna, who lives in his room. Kogarashi has no desire to hurt a ghost girl, and instead he ends up agreeing to help her to figure out her unfinished business. That way, she can move onto the afterlife before turning evil and falling into hell. Once it is clear that he is fine with Yuna, the other tenants reveal their own supernatural secrets—his life in Yuragisou is going to be far from ordinary! (Source: MU)
Yuragi-sou no Yuuna-san
is drawn by
Tadahiro Miura
and began its serialization via Weekly Shounen Jump in February 2016. The series currently has eight compiled volumes in print, with the latest released on November 2. Seven Seas Entertainment has licensed the series in English under its Ghost Ship imprint, and plans to publish the first volume on March 6, 2018. There will be a Jump Festa 2018 stage for the manga on December 16.
Source:
Comic Natalie
Yuragi-sou no Yuuna-san
on MAL

RSS Feed