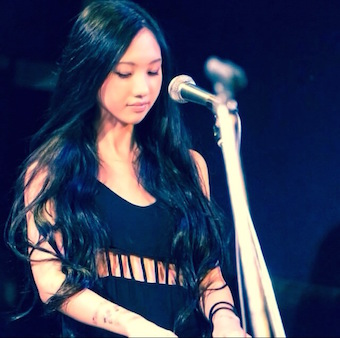 The official website for anisong unit
MYTH & ROID
has announced that the first generation vocalist, Mayu, has graduated from the unit as of Monday. She will be aiming for a solo career. The new vocalist will be KIHOW, who is a kikoku shijo (returning from living abroad) with a "rainbow-colored voice."
MYTH & ROID is an unit consisting of vocalist Mayu and music producer
Tom-H@ck
. They have performed theme songs for
Bubuki Buranki
,
Overlord
,
Overlord First Movie
,
Re:Zero kara Hajimeru Isekai Seikatsu
, and
Youjo Senki
. The unit's first album "eYe's" was released this April and sold 8,839 copies in its
first week
.
Born Mayu Maeshima, the vocalist has been interested in western pop and been active as a vocalist in the band during the high school. She also has ability to produce her own songs which includes English lyrics. Tom-H@ck praised her vocal skills and invited her to be in his new project in 2012, three years before the unit's debut in 2015.
Source:
Official site
,
Mayu's profile

RSS Feed