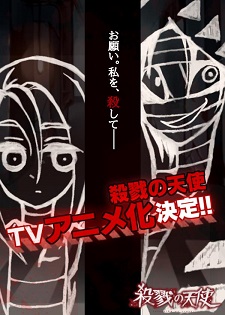 The official Twitter for the
Satsuriku no Tenshi
franchise has announced that the game will receive a TV anime. More information will be revealed at a later time via official Twitter.
Synopsis
13-year-old Rachel awakens to find herself trapped in the basement of an abandoned building. Without any memories, or even a clue as to where she could be, she wanders the building, lost and dizzy. In her search, she comes across a man covered in bandages. He introduces himself as Zack, and he wields a grim-reaper like sickle.
A strange bond is struck between them, strengthened by strange, crazy promises…
These two, trapped in this strange building, don't know why fate has placed them there. But they will work together desperately to find a way out… (Source: MU, Edited)
Satsuriku no Tenshi
is a psychological horror adventure game that was first released on the Den Faminico Game Magazine website in September 2015. The game was released in English under the title
Angels of Death
via the Steam platform in December 2016. It is also available in Traditional Chinese and Korean. The
manga
adaptation, which is drawn by
Kudan Nazuka
and based on
Makoto Sanada
iteration of the series, has been serialized in
Comic Gene
magazine since October 2015. There is also a prequel, titled
Episode 0
, made by the same mangaka duo as well as the 4-koma manga
Satsuten!
, which is drawn by negiyan via pixiv Manga. Both the fifth compiled volume of
Satsuriku no Tenshi
and first compiled volume of
Satsuriku no Tenshi Episode 0
will be released on July 27, 2017.
Official site:
https://gamemaga.denfaminicogamer.jp/satsuriku/
Official Twitter: @
strk_tenshi
Source:
Nijimen
Satsuriku no Tenshi
on MAL

RSS Feed