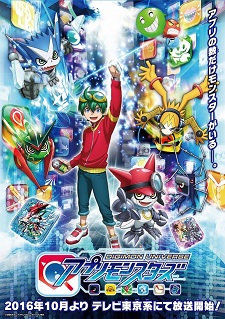 New details on the upcoming TV anime
Digimon Universe: Appli Monsters
were announced on Thursday at International Tokyo Toy Show 2016. A key visual for the series, which will begin airing in October 2016 on TV Tokyo and its affiliated networks, was also revealed on the official website.
Cast
Haru Shinkai:
Yumi Uchiyama
(
Kiniro Mosaic
)
Gatchmon:
Kokoro Kikuchi
(
Boruto: Naruto the Movie
)
Appli Drive:
Wataru Takagi
(
Great Teacher Onizuka
)
Staff
Series Director:
Gou Koga
(
Dokidoki! Precure
)
Series Composition:
Youichi Katou
(
Youkai Watch
)
Character Design:
Kenichi Oonuki
(
Gundam Build Fighters
)
Studio:
Toei Animation
Synopsis
Everyone in the world uses smartphone applications today. Unknown to them, creatures called Appli Monsters, also known as Appmon, reside in these applications. Appmon are artificially intelligent lifeforms with the ability to think and act for themselves, functioning in the space between the real and digital worlds and acting as intermediaries between man and system. However, lurking in the ocean of the Internet is a heinous artificially intelligent "last boss," Leviathan, who uses a virus to control the Appmon and hack into the system in order to control the human world from the Internet.
Seventh-grader Haru Shinkai, acquires an Appli Drive and materializes Gatchmon, a search app, using an Appmon Chip. What is the mystery behind the Appli Drive, the presence of the mysterious field between the real and digital worlds where the Appmon reside, and the "App Gattai" which allows two Appmon to evolve into one? What exactly is Leviathan's aim? The buddy story of the odd pairing of Haru and Gatchmon, who travel around the Internet in the present day, begins now!
PV
Source:
Moca News

RSS Feed