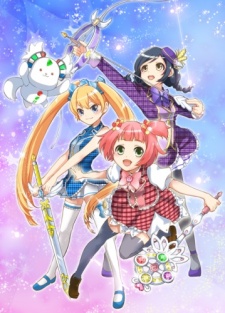 Bouncy, an animation studio founded in October 2015, announced on Friday, that it is producing a TV anime series titled
Mahou Shoujo? Naria☆Girls
. The series will begin airing on July 7 at 12:05 a.m. on Tokyo MX, followed by Sun TV and other networks.
Mahou Shoujo? Naria☆Girls
is billed as a "live anime" which incorporates user participation. The series utilizes proprietary technology called
Kigurumi Live Animator
, shortened as KiLA, which uses motion capture to generate 3D images. Auditions are currently being held for the series cast members.
Synopsis
Urara, Hanabi, and Inaho are three girls who aim to become nationally-renowned characters by creating animation of themselves! They chose the magical girl theme to catch the attention of everyone from children to adults! Can they safely become popular characters in a one-cours magical girl anime?
Staff
Director, Series Composition:
Koutarou Ishidate
(
Tesagure! Bukatsumono
)
Character Design: Okazu Misoyama
Logo Design: i
Script: Masatake Yamaguchi (
Minarai Diva
), Toshiyuki Takahashi (
Tesagure! Bukatsumono
), Kunisane Hirama (
Minarai Diva
)
KiLA Director:
Cort
(
Chokkyuu Hyoudai Robot Anime: Straight Title
)
MMD Director: Ponpoko P
Theme Song Lyrics, Composition:
Junichi Inoue
(
gdgd Fairies
)
Thene Song Arrangement, Live Performance: Hajime
Sound Effects: Yoshiaki Tokunaga (
Q Transformers
)
Sound Mixer: Souichi Tsunekawa
Producer: Takashi Kosuge
Sound Production: Pony Canyon Enterprise
Sound Director: Yasuhito Nozoe
Live Broadcast Anime System: KiLA
Studio: Bouncy
Planning Producer: Yuu Gotou, Yasuyuki Nishiya
Production: Naria☆Girls Production Committee
Official site:
http://www.nariagirls.com/
Official Twitter: @
nariagirls
Source:
Bouncy
Mahou Shoujo? Naria☆Girls
on MAL

RSS Feed