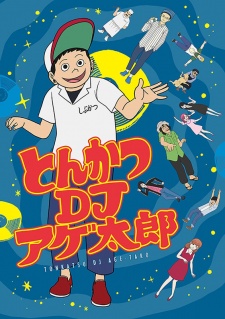 Additional cast members have been announced for the Spring 2016 anime
Tonkatsu DJ Agetarou
, an adaptation of the comedy
manga
created by
Epyao
and drawn by
Yuujirou Koyama
. The series will begin airing on April 10 at 10:15 p.m. on Tokyo MX.
Tonkatsu DJ Agetarou
follows Agetarou Katsumata, who works at his family's tonkatsu (fried pork cutlet) restaurant and is inspired to become a DJ after making a delivery to a night club. The manga was recently nominated for the
9th Manga Taisho
. A second promotional video for the anime was released today on the official website.
Cast
Katsuyo Katsumata:
Kanako Tojo
(
Naruto: Shippuuden
)
Koromo Katsumata: Rion Totoki
Tamotsu Hakozaki:
Takuya Eguchi
(
Gosick
)
Tsugumi Sakai:
Yuka Keichou
(
Koi to Senkyo to Chocolate
)
Takashi Hirazumi:
Yuuki Amezawa
(
Taimadou Gakuen 35 Shiken Shoutai
)
Kyuuji Natsume:
Fukushi Ochiai
(
Hai to Gensou no Grimgar
)
Mitsuo Muro:
Shinya Hamazoe
(
One Punch Man
)
Jousuke Shirai:
Suguru Narisawa
Joe Komagiri:
Takeshi Maeda
(
Masuda Kousuke Gekijou Gag Manga Biyori
)
Raita Fujii:
Tomokazu Seki
(
Nodame Cantabile
)
PV 2
Source:
Moca News

RSS Feed