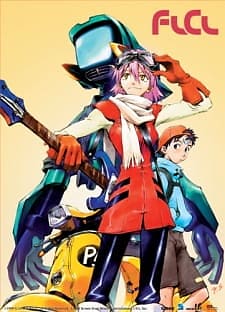 According to a Facebook post by Adult Swim, the OVA series
FLCL
will be getting 12 new episodes on the Toonami programming block. These new episodes will be co-produced by Toonami and animation studio
Production I.G
. It will serve as a sequel and be split into two seasons (six episodes each) premiering in late 2017 or early 2018 on Adult Swim.
Production I.G announced last August that it had acquired the rights to the original
FLCL
series, which was created in conjunction with
Gainax
. In addition, it had plans for a remake and other related projects. The new series will be directed by
Katsuyuki Motohiro
with scripts written by
Hideto Iwai
and character designs by
Yoshiyuki Sadamoto
.
FLCL
director
Kazuya Tsurumaki
will serve as a supervisor for the new series.
A press release also revealed details about the upcoming new series.
In the new season of
FLCL
, many years have passed since Naota and Haruhara Haruko shared their adventure together. Meanwhile, the war between the two entities known as Medical Mechanica and Fraternity rages across the galaxy. Enter Hidomi, a young teenage girl who believes there is nothing amazing to expect from her average life, until one day when a new teacher named Haruko arrives at her school. Soon enough, Medical Mechanica is attacking her town and Hidomi discovers a secret within her that could save everyone, a secret that only Haruko can unlock.
But why did Haruko return to Earth?
What happened to her Rickenbacker 4001 she left with Naota?
And where did the human-type robot Canti go?
The original series is about the story of a 12-year-old boy named Naota Nandaba living in the city of Mabase. His life changes one day by the arrival of Haruko Haruhara, a pink-haired female from outer space. Six episodes of the series were released on VHS and DVD between April 2000 to March 2001.
Source:
Adult Swim
,
Turner
News submitted by
Battlechili
,
daAmazinFatB0y
, &
SirLaMence
FLCL (TV)
on MAL

RSS Feed