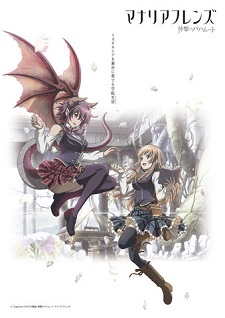 The official website of TV anime
Shingeki no Bahamut: Manaria Friends
has revealed additional cast members for the series. Two of the characters are new to the franchise.
The series is an adaptation of a popular event in the
Shingeki no Bahamut
mobile game by Cygames. It will premiere on April 1 as part of the Ultra Super Anime Time programming block. A preview event of the first episode will also be held on March 20 at United Cinema Toyosu.
Cast
Hanna:
Nana Mizuki
(
Senki Zesshou Symphogear
)
Owen:
Wataru Hatano
(
Papa no Iukoto wo Kikinasai!
)
Ruu:
Kimiko Koyama
(
Rosario to Vampire
)
Miranda:
Kikuko Inoue
(
Fairy Tail
)
William:
Yuuma Uchida
(
Classroom☆Crisis
)
Heinlein:
Chiharu Sawashiro
Source:
Ota☆Suke

RSS Feed