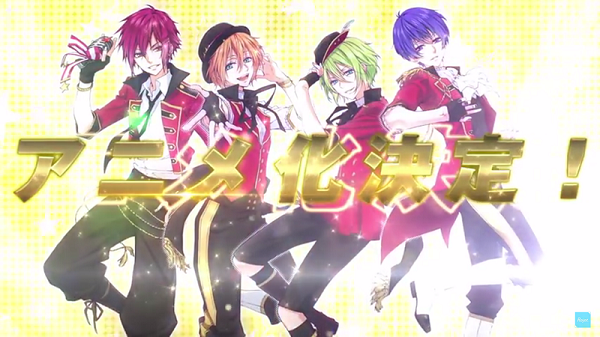 Saturday's Rejet Fes.2016 ONLY ONE event announced that the game developer's
Marginal#4
("Marginal Number Four") franchise will get an anime adaptation. An announcement video also revealed information on new products in the franchise.
Marginal#4
was first introduced as a drama CD in 2013 before Rejet released a PlayStation Vita idol production game in 2014. The franchise's concept is "idols whose kiss will reach the ends of galaxy." The title group Marginal#4 is composed of four members. There are also two other groups in the franchise, Lagrange Point and Unicorn Jr.
Marginal#4
R Nomura:
Yuto Suzuki
(
Diamond no Ace
)
Atom Kirihara:
Toshiki Masuda
(
Yamada-kun to 7-nin no Majo
)
Rui Aiba:
Naozumi Takahashi
(
Harukanaru Toki no Naka de
)
L Nomura:
KENN
(
Kyoukai no Kanata
)
Lagrange Point
Shy Makishima:
Toshiyuki Toyonaga
(
Durarara!!
)
Kira Himuro:
Genki Okawa
(
Yu☆Gi☆Oh! Zexal Second
)
Unicorn Jr.
Tsubasa Shindou:
Shouta Aoi
(
Shounen Hollywood
)
Alto Takimaru:
Chiharu Sawashiro
Teruma Nakama:
Toshiyuki Someya
Announcement PV
Official site:
http://www.marginal4.net/
Source:
Official Twitter

RSS Feed