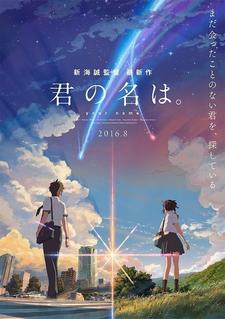 It was announced at a conference that
Makoto Shinkai
will be directing a new movie titled
Kimi no Na wa.
(
Your Name.
) The movie will premiere in August 2016. In addition, the cast, staff, and preview were also revealed. The tagline for the key visual is "I am searching for you, whom I have never met yet."
Synopsis
The story is set one month after a comet has fallen for the first time in a thousand years in Japan. Mitsuha, a high school girl living in the countryside, wants to live in the city because she is tired of life in the country. Then, there's Taki. He's a high school student living in Tokyo with his friends while working as a part-timer at an Italian restaurant. He also has a strong interest in fine arts involving architecture. One day, Mitsuha dreams of herself as a young man. On the other hand, Taki also has a dream where he is a female student attending high school in the countryside. What's the secret behind their dreams?
Staff
Director, Script:
Makoto Shinkai
(
Kotonoha no Niwa
)
Character Design:
Masayoshi Tanaka
(
Ano Hi Mita Hana no Namae wo Bokutachi wa Mada Shiranai.
)
Animation Director:
Masashi Andou
(
Omoide no Marnie
)
Cast
Taki Tachibana:
Ryuunosuke Kamiki
(
Summer Wars
)
Mitsuha Miyamizu:
Moka Kamishiraishi
(live-action
Chihayafuru
)
Official site:
http://www.kiminona.com/
PV
Source:
Otakomu

RSS Feed