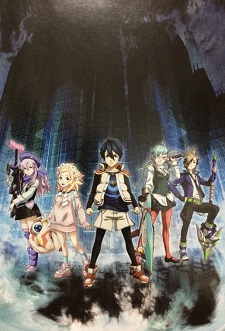 A scan from the upcoming issue of Newtype magazine has revealed that cast members for
Sanzigen
's original anime, titled
Bubuki Buranki
, will be announced in its January issue, to be released on December 10. The series is expected to premiere on January 9 and will be broadcast on various TV stations, such as Tokyo MX and AT-X.
Cast
Azuma Ikki:
Yuusuke Kobayashi
(
Arslan Senki
(TV))
Kogane Asabuki:
Ari Ozawa
(
Gekkan Shoujo Nozaki-kun
)
Hiiragi Nono:
Soma Saito
(
Rokka no Yuusha
)
Noa Oogi:
Shizuka Ishigami
(
Rakudai Kishi no Cavalry
)
Shizuru Taneomi:
Mikako Komatsu
(
K: Return of Kings
)
Rioko Banryuu:
Megumi Han
(
Hunter x Hunter
(2011))
Shuusaku Matoba:
Kenjirou Tsuda
(
Prince of Tennis
)
Zetsubi Ken:
Yoko Hikasa
(
Seitokai Yakuindomo
)
Souya Arabashiri:
Subaru Kimura
(
Mawaru Penguindrum
)
Akito Tsuwabuki:
Kazuyuki Okitsu
(
Aoki Hagane no Arpeggio: Ars Nova
)
Synopsis
When Azuma Ikki returns to Japan after 10 years, he gets assaulted by a group of armed men and becomes their prisoner. Kogane Asabuki, a childhood friend, saves him with a weapon on her right hand known as Bubuki, a weapon with its own mind. Azuma Ikki, who is a Bubuki user himself, learns about the existence of Bubuki and goes on a journey alongside the companions he has found in an attempt to find and revive Oumai, a Buranki (titan) who sleeps underground.
PV
Bubuki Buranki
is an original anime produced by Sanzigen to commemorate the studio's 10th anniversary.
Source:
Otakomu

RSS Feed