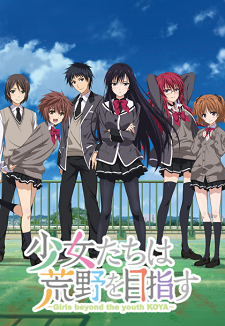 Minato Soft has announced that its upcoming visual novel
Shoujo-tachi wa Kouya wo Mezasu
will be adapted into a TV anime beginning in January 2016. It was
previously revealed
that the visual novel will bundle approximately 30 minutes of original animation content.
The announcement revealed that the cast of the visual novel will reprise their roles in the TV anime. An official website and Twitter account for the anime adaptation were also announced, but neither are active yet.
Synopsis
Buntarou doesn't know what he wants to do in the future. He does not have any kind of dream that he wants to pursue, so currently he just spends his days hanging around with his friends. One day, his classmate Sayuki asks him if he wants to help with development of a gal game. She says that she had become interested in his help after she read one his works intended for the drama club.
Buntarou doesn't know anything about gal games, but Sayuki claims that she has the ability to make it a success. Can they make the game, and will it be a success like she claims it will be? This is the story of youths taking a daring step into the unknown... (Source: Otaku Lair)
Cast
Buntarou Houjou:
Seiichirou Yamashita
(
Battle Spirits: Burning Soul
)
Sayuki Kuroda:
Haruka Chisuga
(
Shirobako
)
Yuuka Kobayakawa:
Kana Hanazawa
(
Durarara!!
)
Teruha Andou:
Satomi Akesaka
(
Katekyo Hitman Reborn!
)
Uguisu Yuuki:
Satomi Sato
(
Free!
)
Atomu Kai:
Toshiyuki Toyonaga
(
Durarara!!
)
Staff
Original Creator:
Takahiro
(
Yuuki Yuuna wa Yuusha de Aru
)
Original Scenario:
Romeo Tanaka
(
Jinrui wa Suitai Shimashita
)
Original Character Design:
Matsuryu
(
Cross†Channel
)
Director:
Takuya Sato
(
Steins;Gate
)
Series Composition:
Yuniko Ayana
(
Kiniro Mosaic
)
Character Design:
Takayuki Noguchi
(
Ro-Kyu-Bu!
)
Studio:
Project No.9
Official site:
http://shokomeza.com/
PV
Source:
Yaraon
Shoujo-tachi wa Kouya wo Mezasu
on MAL

RSS Feed