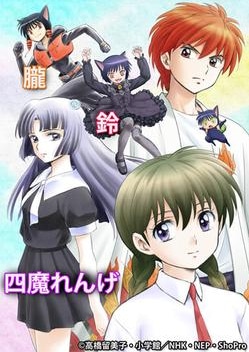 According to a post made on NHK's anime blog, a second season of supernatural anime
Kyoukai no Rinne
(
RIN-NE
) has been announced for Spring 2016. The series will be adapted into 25 episodes and include new characters. A key visual for the second season has also been revealed.
Kyoukai no Rinne
is a manga written by
Rumiko Takahashi
which began publishing in April 2009. The series runs in Weekly Shounen Sunday magazine and currently has 26 volumes in print. The manga's 27th volume will be published on September 18, 2015.
Kyoukai no Rinne
had already received a 25-episode TV anime adaptation for Spring 2015, and the final episode of the first season will air on September 19, 2015.
Synopsis
As a child, Sakura Mamiya mysteriously disappeared in the woods behind her grandma's home. She returned safe and sound, but since then, she has had the power to see ghosts. Now a teenager, she just wishes the ghosts would leave her alone! At school, the desk next to Sakura's has been empty since the start of the school year. Then one day, her always-absent classmate shows up, and he's far more than what he seems! (Source: MU, edited)
Source:
NHK Anime Blog
Kyoukai no Rinne (TV) 2nd Season
on MAL

RSS Feed