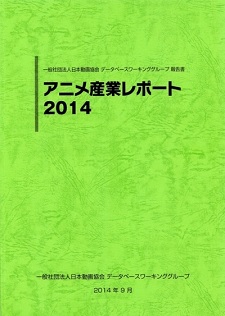 The Association of Japanese Animations (AJA), in its annual industry report scheduled for publication on September 18, reports that the global anime industry recorded double-digit growth in 2014. The report estimates the anime market grew to a high of 1,629.6 billion yen in 2014, compared to 1,491.3 billion yen in 2013.
This figure is a measurement of market size based on the estimated amount spent in the animation and animation-related markets by consumers. The animation-related market includes the character business, which has a major leveraging effect in the industry. The AJA attributes the increase to growth in rights sales and commercialization of video distribution in China.
The AJA is the industry association acting for animation studios and individuals involved in animation. Past editions of its annual industry report (2014 edition pictured) are available for free download
in Japanese
and
in English
on the group's website.
Source:
Anime! Anime!

RSS Feed