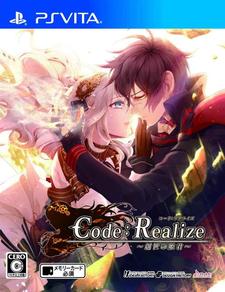 Idea Factory
has announced that otome game
Code: Realize Sousei no Himegimi
(
Code: Realize ~Guardian of Rebirth~
) will receive an anime adaptation. The announcement was made at the Otomate Party 2015 event where 12 different games were announced. The type of anime the adaptation will be is unknown at the moment.
Code: Realize Sousei no Himegimi
is a visual novel game designed for otome players and was created by Idea Factory and Design Factory. In the game, the player assumes the role of a beautiful young woman with the ability of a deadly touch. The story details her adventures as she meets five other male characters and discovers the truth of her past.
The game was announced for the PS Vita platform last year in Japan, and it is scheduled to ship to North America and Europe this fall.
Synopsis
Cardia has a deadly poison residing in her body, and as a result, gets called a monster by others. One night, she meets a mysterious man calling himself Arséne Lupin, who leads her to Industrial London. From there, she meets various people uncovering the truths and real stories behind the strange people and land, in an attempt to recover her memories and search for her father who holds the keys to her memories in London. (Source: VNDB, edited)
Source:
Gamer
Code:Realize - Sousei no Himegimi
on MAL

RSS Feed