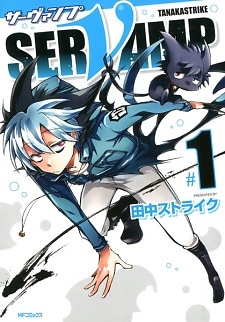 It was revealed on the latest cover of Kadokawa's Monthly Comic Gene magazine that vampire shoujo manga
Servamp
will be getting an anime adaptation. The series is both written and illustrated by
Strike Tanaka
and began publishing in June 2011. It is serialized in Comic Gene magazine and has seven volumes, six side-stories, and three drama CDs as of July 2015.
Synopsis
The story revolves around a 16-year-old boy (15 at the beginning of the story) named Mahiru Shirota who likes simple things and dislikes difficult things. One day, he picks up a stray black cat he finds in the middle of the road and gives it the name Kuro (which literally translates into "black"). From this moment on, a contract between the servamp Sleepy Ash and Mahiru is formed, and Mahiru is pulled into the Servamp war between the seven deadly Servamps and their eighth sibling Tsubaki. (Source: Servamp Wikia, edited)
Source:
Yaraon
Update July 15
Cast members were announced via the official Twitter.
Kuro:
Yuuki Kaji
(
Shingeki no Kyojin
)
Mahiru Shirota:
Takuma Terashima
(
Log Horizon
)
Misono Arisuin:
Hiro Shimono
(
Kami nomi zo Shiru Sekai
)
Snow Lily:
Kazuma Horie
(
Special A
)
Source:
Tweet
Servamp
on MAL

RSS Feed