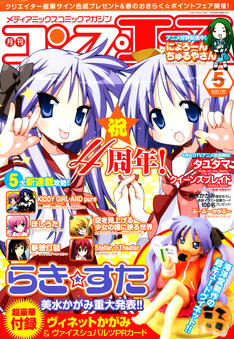 Yoshimizu, Kagami
starts a new spin-off manga of "
Lucky ☆ Star
" from the next issue of Monthly Comp Ace to be released on April 26th. The title and the detail have not been given yet but according to Yoshimuzu-sensei the theme of the manga is "sisterly affection". It's unknown which "sisters" will be featured (Hiiragi, Kogami, Miyakawa, Minegishi etc.).
Other new series of Comp Ace are as follows:
"Shin
Strike Witches
"
"
CANAAN
"
"
Shin Koihime†Musou
"
"
Mahou Shoujo Lyrical Nanoha
ViVid"
Source:
Scan of Comp Ace
Source:
Scan of Comp Ace 2
The title of the spin-off manga is "Miyakawa-ke no Kuufuku" featuring Miyakawa Hinata and Hikage sisters.
Source:
Natalie

RSS Feed