According to the official website, Enokizu's four-panel manga "
Kotoura-san
" was announced to have a TV anime.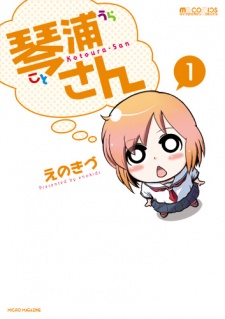 Kotoura-san official website
Staff
Director:
Ohta Masahiko
Series Composition:
Aoshima Takashi
Character Design & General Animation Director: Okuma Takaharu ("
Mitsudomoe
")
Production Studio:
AIC
Classic
Synopsis:
A school love comedy. Kotoura Haruka is a 15-year-old girl who can read people's minds. She has been suffering from troubles caused by her mind-reading ability, and her parents got divorced as a result. She moves to a new high school but tries to keep away from her classmates. Manabe Yoshihisa, one of her classmates, accepts and appreciates her ability and she begins to interact with her friends with his help.
Kotoura-san
on MAL

RSS Feed