[CLOSED] Anime Genre Roulette {Music}
Offline
Dec 2015
19084

•
Signup Deadline
•
On
April 30th (12PM UTC)

*if the thread was not locked at that time you can still post
~ I'm sorry the open/close dates are not fixed each time orz~
•
Challenge Starts
•
From
May 1st
to
May 31st

•
The Anime Genre Roulette is a monthly watching challenge that will feature a different genre each time.
•
•
Before the challenge begins, we will have a sign up period to join and submit your anime.
•
•
All anime submitted should be previously watched by you.
•
•
All anime submitted should be tagged (here on MAL) with this roulette genre.
•
•
After the sign up period, all anime submitted will be randomized and assigned to the participants.
•
•
You will have a month to complete the anime you receive, which will be something you haven't watched.
•
•
Once the challenge period begins (randomization done & the anime has been assigned), no more entries will be accepted.
•
•
•
•
•
No
hentai/soft core hentai.
•
•
No
sequels (unless it was released first, before the prequel, or the prequel's a short prologue)
•
•
It has to be a
one
or
two
cour(s) anime.
•
•
No
Shorts (less than 10 minutes per episode), OVAs, Movies, Specials, etc...
•
•
It has to be
between
a minimum of
9
episodes, & a maximum of
30
episodes.
•
•
It has to be found online in
English
subtitle.
•
•
You should
avoid
submitting an anime that was already suggested by another participant. (
tag
me if you don't have any other option)
•
•
•
•
•
Once you get your anime, keep track of your progress with the chosen of alloted color scheme.
•
•
Completing this challenge awards you
1
Star (update
here
or no star will be added).
•
•
•
•
You have until April 30th (12PM UTC) to submit your anime.
*if the thread was not locked at that time you can still post
The genre will be ♩♪Music♫♬

[color=#FDA172][b]• Username:[/b] 
[b]• Link to your anime list:[/b] [url=https://myanimelist.net/animelist/<USERNAME>]List[/url]
[b]• Anime submit:[/b] [url=]Anime[/url]
[b]• Backup anime:[/b] [url=]Anime[/url]
[b]• Comments:[/b] [/color]

[color=#A5A5A5]• [u]Anime tracking:[/u]
[color=green]Completed[/color] | [color=blue]Watching[/color] | [color=red]Plan to watch[/color]
[00/00 episodes] [url=][color=red]Anime[/color][/url][/color]

Participation are CLOSED for this month!




When the challenge begins, we will tag you with the assigned anime in a post at the end of the thread


- - - - - - - - - - - - - - - -
Hola~
We meet once again, for our 18th collaboration event, here at the
Pantsu Maru Mie
club.
Time to dance and sing our hearts away~
🎉
Reminder that now you can use our Hall of Fame to check which valid entries there are, as well as your status for them. More information below.
🎶

What to keep in mind

❓
 — AWC club members will need to join this club to be able to participate.
  • Members of this club would need to join us at the Anime Watching Challenges Club.
 — Upon participating and abiding by the event rules, you will be rewarded
0.25
of our club's points at completion.
  • You can
ONLY
claim the points on this thread.
  • You will have until the
last day of the event
to finish successfully.
  • If you fail to turn in on time, you won't be able to receive the points.
 — Check the current genre/theme tag
checklist here
.
  • You must be part of our Hall of Fame to be able to see your status for the valid series there.
  • The checklist should only show the valid entries available, any discrepancies you notice, let me (SheyCroix) know.
  • Not part yet? Just log in via MyAnimeList, wait for it to import your public list and then you will be able to use it as well.
🎶

Turning-In

👀
 — Each post will be read after the event ends, so make sure to update your "
Anime tracking
" area to show the completion of your anime received.
 — Don't change the provided format, or
your post will be ignored
. Only include the requested information.
 — By posting this form, you acknowledge that you are a member of AWCc. Posting this form without having joined the club will blacklist you of ever receiving the points from this and future roulettes if you join in the future.
 — Make a
new post
with the following form:
[color=#5c8a8a]
🎵 [b]Username[/b]: 
🎵 [b]Sign Up Post[/b]: 

🎵 [b]Starting Date[/b]:  (EXAMPLE: May 01, 20xx)
🎵 [b]Ending Date[/b]:  (EXAMPLE: May 31, 20xx)
[/color]
Created by miaxnder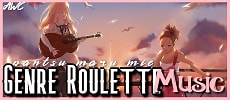 [img]https://i.imgur.com/5Wogx9f.png[/img]

~by Shey
(ง •_•)ง

More topics from this board