2022 Manga Reading Challenge - Sign Up

Offline
Jan 2017
186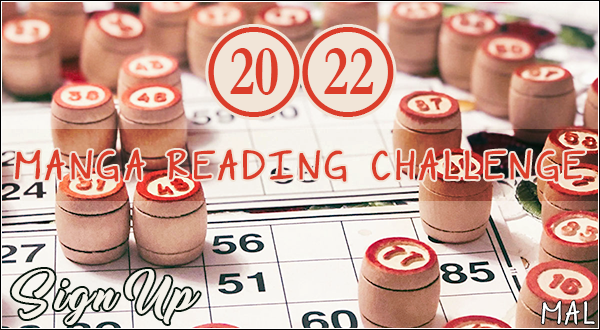 BINGO 2: Electric Bingaloo
Challenge Period: January 01, 2022 to December 15, 2022 11:59 p.m.
(PST)
Rules
(How to play will be explained in the next post)
General
Only post Sign-Up/Turn-in Forms in this thread.


All other posts go in the Challenge Discussion thread.

Please do not delete your post after signing up; it messes up the rest of the posts/links.
If you want to withdraw, please replace your post content with "Withdrawn" or leave it as is.

Please carefully read the rules, "How to Play" guide, and FAQ before asking questions.
Sign-Up Forms
Your sign-up form must be posted in this thread for you to be considered a challenge participant.

Each manga can only be used once within the challenge.

Please use the name as it appears on MAL's manga page.

You must read at least the last 5 volumes of the manga you choose to use for the challenge

(if you're not reading it in its entirety)

during the challenge period.
If the manga is still being published, read until the most recently published chapter.

Manga, Manhua, Manhwa, One-shots & Doujinshi are allowed.

Light Novels and Novels are not allowed.

Re-reading is allowed.

Please

specify the dates

you started/completed each manga in the sign-up form.
Turn-In Forms
Once you have completed the challenge, use the turn-in form and post it as a new reply.

Turn-ins should be

posted once

and they shouldn't be deleted afterwards.

Confirm all items/details are correct before posting. Once you turn-in your challenge, you can't continue working on it.
Forms
You can change your bingo card freely until you turn-in.

Only one bingo card can be worked on at a time.


Only your first completed attempt will be added to the list of participants who completed the challenge.



For posted forms that are unreadable or missing much of the required information, you will be asked to fix this before we proceed with the inspection.

Use a readable font size/color.

You may edit the image of the card you choose if you would like as long as you don't change the order of the numbers.

More info about bingo cards in the "How to Play" guide.
🍘 2022 Anime Watching Challenge 🍘
Thanks for the interest!
Join the discussion on

discord

and help others, ask questions, and/or give suggestions related to the challenge.
Thanks to those that provided suggestions.
And thanks to @Rinarin for the banners, the forum avatars, and the profile pictures and @KuraikoDesu for the card graphics~