a lil bean ✨

Offline
Feb 2011
17023
Banner: Rinarin
POINTS BESIDES EACH STUDIO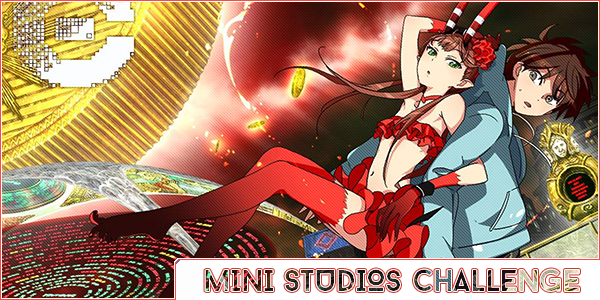 Considering that we continually receive suggestions for new studio challenges, regardless of their size, we have decided to make this challenge to group those that usually wouldn't receive an individual thread. This challenge will consist of those studios that have between 60 to 150 available options.

  To suggest a studio, make sure there are enough series listed under them and suggest them on discord or in the

Suggestion & Discussion

thread. (Other requirements may be added later on) Make sure to check the

Challenge Suggestions

thread for the requirements to adding them.




Difficulty

:
 — All versions will need 40 series in total.
 — No x2+ should be attempted for this challenge. Points won't be awarded.



Previously completed series are

allowed

. Re-watching isn't necessary.
 — Series previously started, but not finished,

may be used

.
 — Airing can be used, but you must

complete

the series, so you can only turn-in the challenge after the series has finished airing.


Any type/length is allowed.


Remember that it's required to add the start and end dates to any anime you use for our challenges.
 — If your previously completed shows are from too long ago and/or from before you joined the club, it will be allowed to have them without dates.


You cannot use the same entry more than once in one version, but you can use the same series for different versions.
 — Meaning that if the anime is tagged with 2 studios that are part of this challenge, you can use it for both of them.



This challenge is available in our

Hall of Fame

as a checklist that will help you complete it.
 — You will need to have turned-in at least once (any challenge) to appear listed. Alternatively, you may log in via MAL.
 — Check if you are in the HoF database

here

.

Suggested by SheyCroix; Using variants suggested by:
Wyvern22 (Nippon Animation, Gonzo, Production Reed, Satelight), SebastianOrf3 (Tatsunoko Production),
TheFlyingOrange (Shin-Ei Animation, Zexcs), Sakku-san (SILVER LINK., feel., LIDENFILMS) Mini Studio Challenge
Sign Up Code Here Points | HoF Link | Studio Jul 30, 2023
— cosmetic update