[CLOSED] March 2021 Challenge

Offline
Jan 2017
2016
Winner: HDAsylum | Bannner: Rinarin
Make sure to wish your fellow club members a HAPPY BIRTHDAY!! 🎂

Mar 01 — phxntomhiveghoul, Jeff_Caesar ☘️ Mar 04 ― Promethazine ☘️ Mar 09 ― Century_Orion ☘️ Mar 10 ― Rno081
Mar 12 ― Rimzyy, SebastianOrf3 ☘️ Mar 15 ― SukiiFu ☘️ Mar 17 ― Annie_Law ☘️ Mar 18 ― Konekojo, AGM007 ☘️ Mar 23 — Technotron
Mar 24 ― PurpleStrawberry, Kuollut98 ☘️ Mar 30 — Yuri-san, Turyuri
0.50 POINTS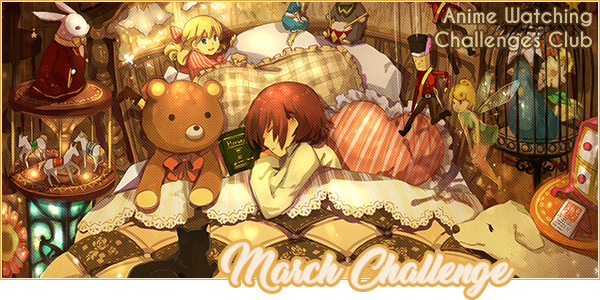 Welcome, once more, to our member's favorite: the monthly challenge!
Our members submitted, you (probably) voted, and the winner is...
HDAsylum
!
Well done! Please keep in mind that they cannot make a submission for the next monthly challenge. Also, be on the lookout for the next monthly submissions and enjoy this
TIME LIMITED MONTH CHALLENGE
. You must complete the challenge before the end date in order to proudly use the March 2021 Badge.
HDAsylum
, don't forget to claim your
Monthly Winner Badge
. More
info here
(at the end of the post).
Theme - February's Over, Take a Breath

March 2021 Challenge
[ 0 / 4 ]
Sign Up Code Here
Any type is allowed, but must be equal to or longer than 15 minutes (total).
Start Date:
March 1st
End Date:
March 31st
Watch an

award-winning

series.
Breathe in. The Highlighted Challenge is over. It can't hurt you anymore. Feel proud of yourself for watching so many series last month. Celebrate the awards you received.
Use a series listed under Anime Relations of the 「Anime」 Award Winning Works club. Alternatively, use the HoF listing for Non-TV and TV series.


Watch a

special

or a

movie

.
Breathe out. Clear your mind. Watch something short and self-contained.


Watch a series

related to

a series you've

previously watched

.
Breathe in again. Reconnect with that series you haven't watched in a while. Find joy in seeing familiar characters and settings again.
State the previously watched series. The series chosen for this challenge must show the previously watched series under Related Anime on its MAL page. The previously watched series should be completed before the series chosen for this challenge is started.


Watch a series that meets one of the requirements of the

5th Anniversary Challenge

.
And breathe out. Now you move forward. A new challenge awaits you. You will succeed.
State the requirement met by your chosen series.

(Optional) Bonus Challenge!


Watch an Iyashikei or World Tour anime
Relax with a healing anime or taking some virtual vacations around the world.
— Use any anime listed on the HoF page provided; state which theme is used.

BADGES ― BANNERS ― IMAGES
Created by Riho88riho / SheyCroix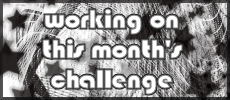 [img]https://i.imgur.com/Cll6WHR.png[/img] [img]https://i.imgur.com/6GPo7KS.png[/img]
Created by OhTsuru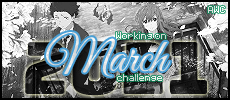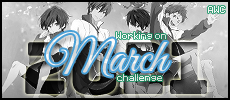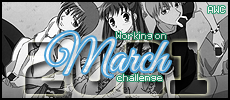 [img]https://i.imgur.com/aMlSsNT.png[/img] [img]https://i.imgur.com/bru4bO1.png[/img] [img]https://i.imgur.com/hsHLJbc.png[/img]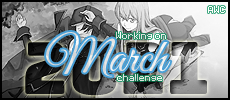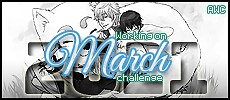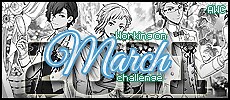 [img]https://i.imgur.com/elj7SNp.png[/img] [img]https://i.imgur.com/vBbbIgN.png[/img] [img]https://i.imgur.com/iFvISTf.png[/img]

Created by Imyreld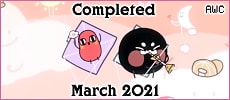 [img]https://i.imgur.com/pApsAmU.png[/img] [img]https://i.imgur.com/5UZdWyu.gif[/img]
Created by tamochinnn [img]https://i.imgur.com/7QK3r1r.png[/img] [img]https://i.imgur.com/93GdWZb.gif[/img]
Created by OhTsuru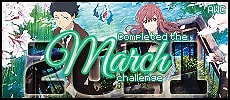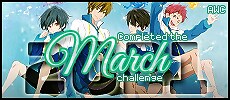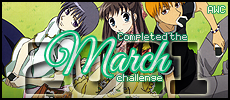 [img]https://i.imgur.com/LQwiT8V.png[/img] [img]https://i.imgur.com/gOhDjDC.png[/img] [img]https://i.imgur.com/sktpOFL.png[/img]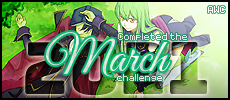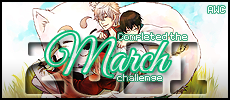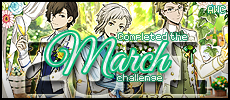 [img]https://i.imgur.com/MbXD8jy.png[/img] [img]https://i.imgur.com/7vSBILD.png[/img] [img]https://i.imgur.com/a36nNtC.png[/img]
Colors:
Stress Relief Green
&
Oxygen Blue
SheyCroix
Mar 31, 2021 9:03 PM
More topics from this board