Recommendation Roulette: Anime Edition

Offline
Apr 2014
6073
Hey everyone, this is a bit of a side event to celebrate us hitting 50 anime roulettes ^^
It works like MAL's secret santa event, you say a few words about your preferences and then I'll randomize someone to give you a recommendation and someone you can receive a recommendation from.
Sign up using the form in this thread and I'll randomize sometime after the 18th, and after that I will message you who you will recommend your anime to. You can recommend any number of anime and you should try to write a short text about why you recommend said anime. You will get a DM on who to recommend your anime to, then you will DM me back with your recommendation and I'll post your recommendation in this thread. When you get your recommendation you can immediately start watching. After a week or two, I'll reveal who everyone's "secret yggdra" is~
For those that likes points, you get one point for an adequate recommendation, one for submitting it within a week, one for starting your anime and one for letting them know what your thoughts were in this thread after the reveal. (No penalties for now starting/watching your anime)
I hope that was understandable :p Ask if anything is unclear, I wrote this on a whim sooo I might've missed something important haha
Sign-up form:
🍂 Min-Max length (episodes):
🍂 Likes (genres, demographics, themes):
🍂 Dislikes (genres, demographics, themes):
🍂 Any other thoughts on what kind of anime you want:
🍂 Any sub/stream restrictions? (e.g. must it be available on CR):
🍂 Can the recommendation be on your Plan to Watch list? (Yes or No):
Hello everyone~
To add to the celebration of our friends here at
Yggdrasil's House of Anime & Manga
, we have joined hands to make this event a bit bigger!
The idea is simple: we will reward our members for joining and completing this event. After all "the more, the merrier".
What to keep in mind?
 — AWC club members will need to join this club to be able to participate.
 — Upon participating and abiding by the event rules, you will be rewarded 0.25 of our club's points at completion.
 — You will need to post the turn in on this thread
ONLY
.
 — You will have until October 31st to claim the points.
NOTE
: to receive the points, you will need to complete one anime from those received (regardless of how many recs you get).
Turn-In Form
@SheyCroix
[color=#cc7a00]
🍂 [b]Username :[/b] 
🍂 [b] Challenge Start Date :[/b] MONTH DAY, YEAR (example: December 01, 2019)
🍂 [b] Challenge Finish Date :[/b] DATE (example: December 29, 2019)
🍂 [b] Link to your completed anime list :[/b] https://myanimelist.net/animelist/YOUR_USERNAME?status=2
🍂 [b] Link to your sign-up form :[/b] MSGID_LINK

🍂 [b] Anime Completed from my received recs :[/b] SERIES_NAME
[/color]
BADGES ― BANNERS ― IMAGES
Created by AngelHana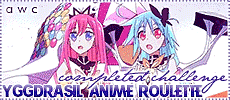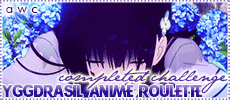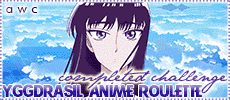 [img]https://i.imgur.com/kHqL4cF.gif[/img] [img]https://i.imgur.com/GDADTvw.gif[/img] [img]https://i.imgur.com/QkMpQEj.gif[/img]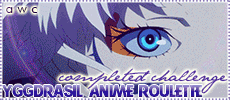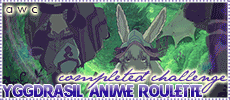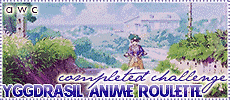 [img]https://i.imgur.com/Pv5YDB7.gif[/img] [img]https://i.imgur.com/aoWsmws.gif[/img] [img]https://i.imgur.com/LZyupAV.gif[/img]

Users that Completed the Challenge Successfully

Mikochondria
Apr 15, 2021 1:49 PM
More topics from this board