Offline
Sep 2011
1862
Banner: Rinarin
1 POINT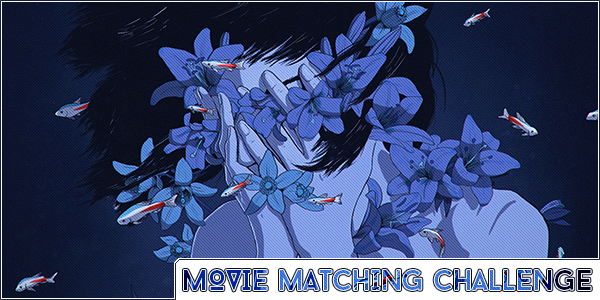 The idea of this challenge is to watch other movies that share something with a movie you previously watched.




Difficulty

: complete all 20 items.


This challenge can be completed twice (x2).
 — To attempt this, you

have to complete it

(one previous attempt) once.
 — Your second attempt

has to be

in a new post, with new entries.
 — You

must not

add anything to your previous post after completed.
 — More information can be found

here

.



Previously completed series

aren't

allowed. Neither is re-watching.
 — Series previously started

can't

be used.
 — Airing can be used, but you must

complete

the series, so you can only turn-in the challenge after the series has finished airing.


Only Movie types, of any length are allowed.


Your challenge "Starting Date" is the day you post.
 — Remember that it's required to add the start and end dates to any anime you use for our challenges.


You cannot use the same entry more than once across all runs.




HOW-TO

:
 — First: Pick any Movie type anime that you previously watched.
 — Second: Pick a backup movie that you previously watched in case you can't find any criteria based off your first pick.
 — Third: Complete the criteria using your first pick as the reference.
   • For Example, if you picked the series Howl's Moving Castle, for the criteria "Watch an anime from the same studio..." you'd have to pick a series from Studio Ghibli because that's the studio Howl's Moving Castle is from.


Your pick (that you'll be matching to) should already be completed before the start of this challenge.


The challenge criteria (items) must match both your first pick and the movie you end up watching.
 — Use your second pick only if there is nothing available to match your first pick.


Suggested by HappyNeko Movie Matching Challenge
Sign Up Code Here BADGES
Created by riho88riho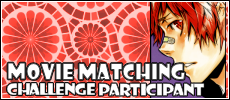 [img]https://i.imgur.com/Nle8l8x.png[/img]
Created by AngelHana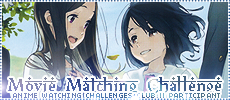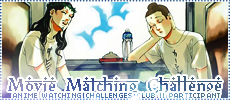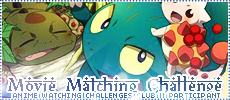 [img]https://i.imgur.com/5Y02fIu.png[/img] [img]https://i.imgur.com/5dzbQv5.png[/img] [img]https://i.imgur.com/lyj43Mt.png[/img] Created by riho88riho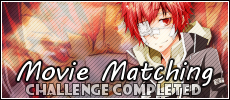 [img]https://i.imgur.com/0tBfmOf.png[/img]
Created by AngelHana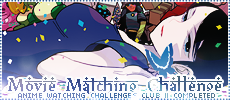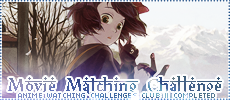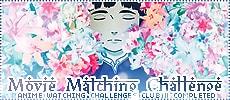 [img]https://i.imgur.com/0Otl672.png[/img] [img]https://i.imgur.com/8Rg2qLk.png[/img] [img]https://i.imgur.com/6OzHd0i.png[/img] SECOND RUN BADGES
Created by AngelHana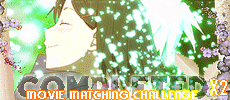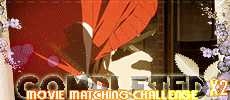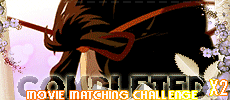 [img]http://i.imgur.com/R3pImk2.gif[/img] [img]http://i.imgur.com/yrTUP2S.gif[/img] [img]http://i.imgur.com/V7hcJWI.gif[/img]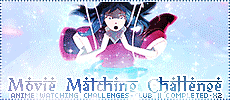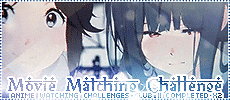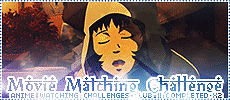 [img]https://i.imgur.com/dBA0Ps4.gif[/img] [img]https://i.imgur.com/j2DZ5TU.gif[/img] [img]https://i.imgur.com/6w4oHVo.gif[/img] Feb 24, 2023
— cosmetic update ; clarification updated to item about scores
More topics from this board