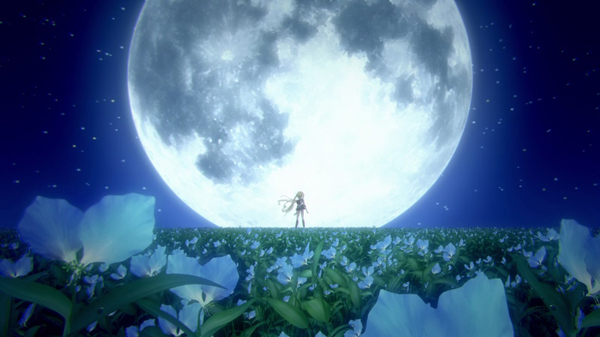 Bishoujo Senshi Sailor Moon: Crystal is about a young, gawky and sissy middle school girl named Usagi Tsukino. She receives a transformation brooch from Luna to be a soldier or senshi of love and justice, Sailor Moon. Other sailor soldiers join Usagi in their quest to search for Princess Serenity and the Legendary Silver Crystal to stop the dark forces of Queen Beryl.
Usagi and her friends use a lot of different items/gadgets to help them in battling evil. In Bishoujo Senshi Sailor Moon: Crystal, we get to see a couple of items/gadgets for each of our favourite sailor senshi.
And so, for all the fanatics and hobbyists out there who wish to collect and gather Bishoujo Senshi Sailor Moon Crystal items/gadgets, here's what you have to look out for:


---
Sailor Moon's Transformation Brooch
---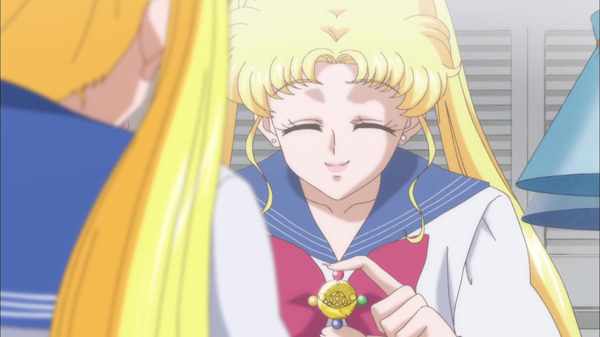 Usagi's transformation brooch is round and golden. On its four cardinal directions, there are four round gems representing the four inner senshi; Sailor Mercury, Mars, Jupiter and Venus. The gem on top is red, the left is green, the bottom is blue and the one on the right is yellow. At the center of the brooch are a crescent moon and a star.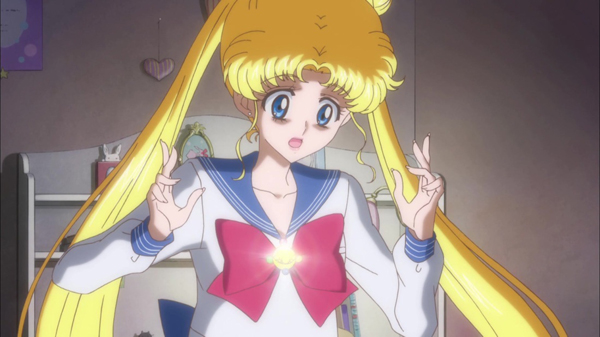 The brooch activates when Usagi uses the phrase "Moon Prism Power, Make Up!"


---
Disguise Pen
---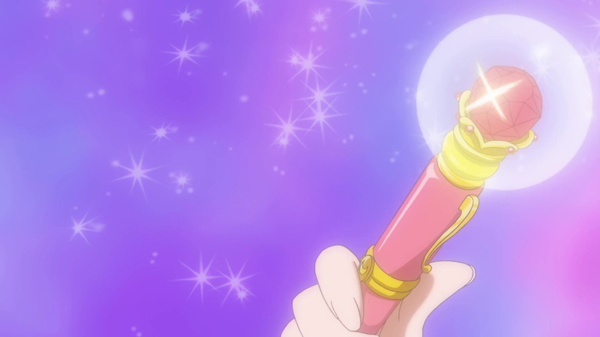 The disguise pen is another magical item given to Usagi by Luna. She uses this pen to disguise herself into whatever she needs to be. The disguise pen is pink in color with gold embellishments. There is also a large pink crystal on top that shines when Usagi activates its power.


---
Moon Tiara
---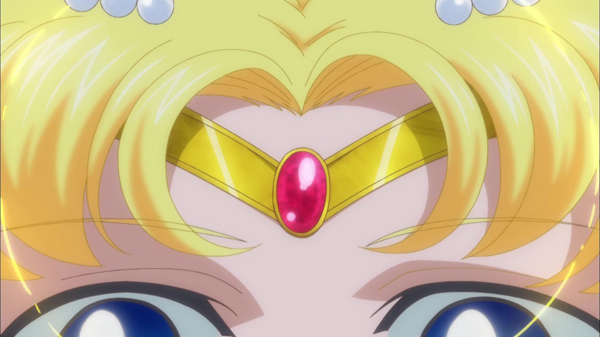 The Moon Tiara can be seen on Usagi's forehead when she transforms into Sailor Moon. She uses this for an offensive move called "Moon Tiara Boomerang."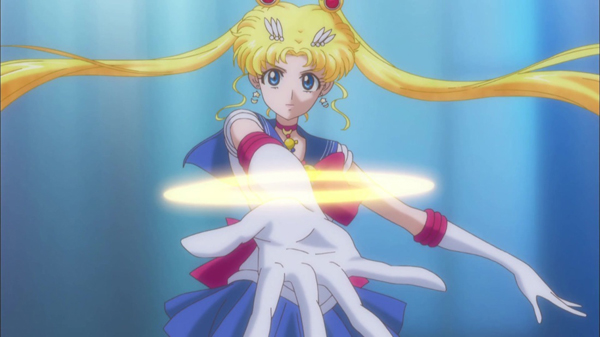 Sailor Moon's Tiara is in gold and serves as the "only" item to disguise her true identity (obviously it's not a good disguise at all, for us humans anyway). The tiara is in gold and an oblong-shaped gem is attached at the center that glows when Sailor Moon summons its power.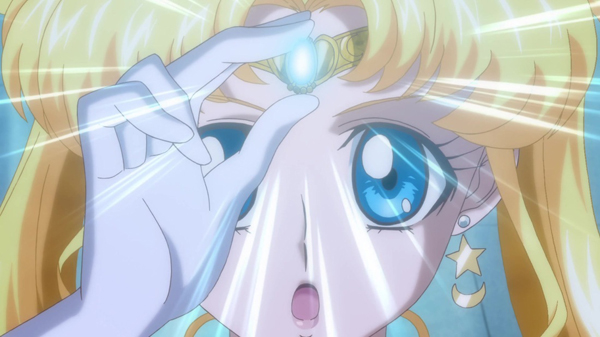 The Moon Tiara evolves after a few episodes of Bishoujo Senshi Sailor Moon: Crystal. It allows her to use another offensive attack called "Moon Twilight Flash." The intricate swirls around the tiara are quite noticeable, and the center gem that is brighter than the previous version as well.


---
Moon Stick
---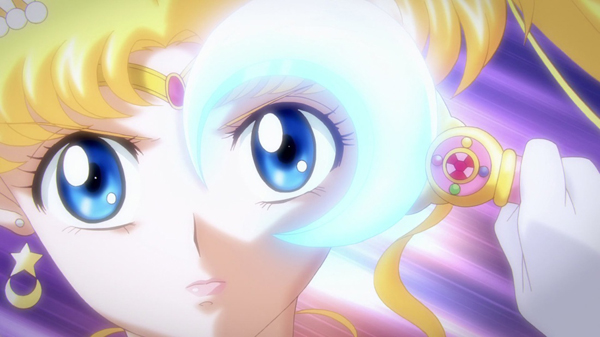 The Moon Stick, or the Moonlight Stick is the main weapon that Sailor Moon uses heavily on her opponents. It was given to her as a symbol of the leader of the group. Sailor Moon's offensive attack using her Moon Stick is called "Moon Healing Escalation."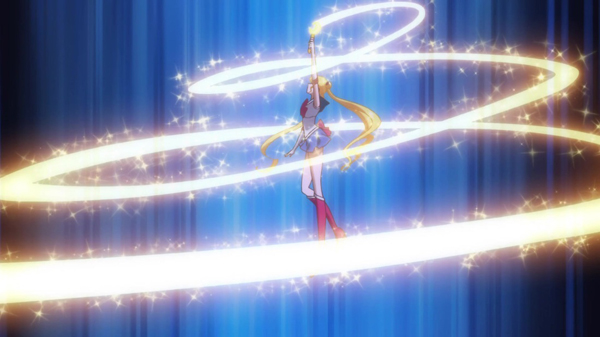 Just like most of Sailor Moon's gadgets, the Moon Stick is in pink with a silver crescent moon on top. It is also easy to spot the gems below the crescent moon that matches the signature hues of each sailor senshi.
---
Legendary Silver Crystal
---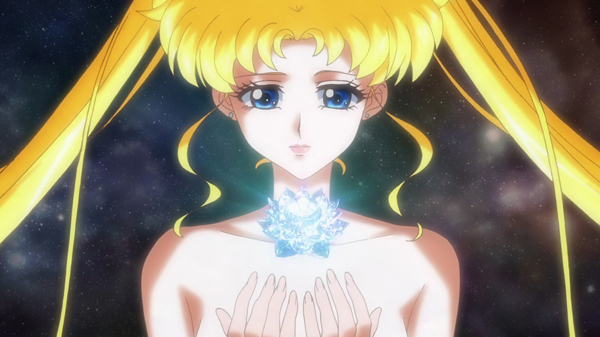 The Legendary Silver Crystal is by far the most significant magical item in the Bishoujo Senshi Sailor Moon: Crystal series. Both Usagi's team and Queen Beryl are searching for this item because it has a significant amount of power that can even revive a dying world.


---
Crystal Star
---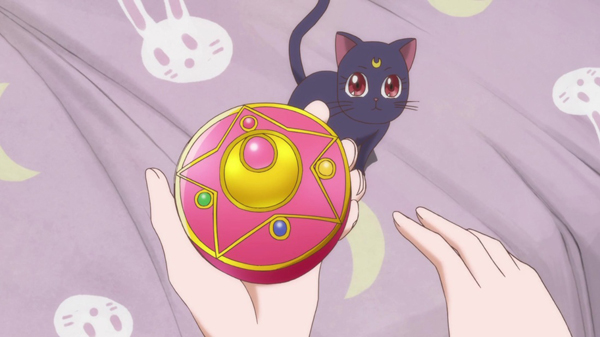 The Crystal Star is Usagi's second transformation brooch, and it holds the Legendary Silver Crystal inside. The Crystal Star is dominantly pink in color with a gold lining forming a large star. At the center of the star is a large pink gem and four other small gems representing the other inner soldiers surrounding it.
Usagi uses a new phrase, "Moon Crystal Power, Make Up" to active the Crystal Star.


---
Transformation Pens
---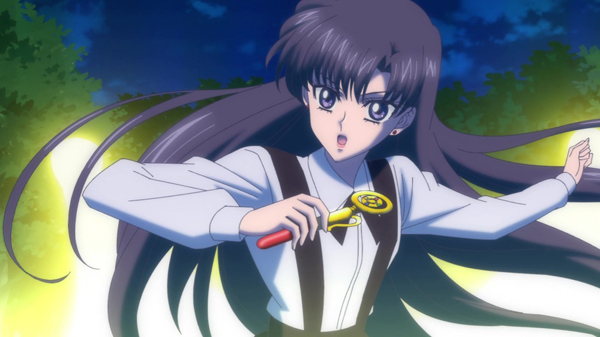 The other four inner senshi use transformations pens. The color of each pen matches the senshi using it: blue for Mercury, red for Mars, green for Jupiter and yellow/orange for Venus.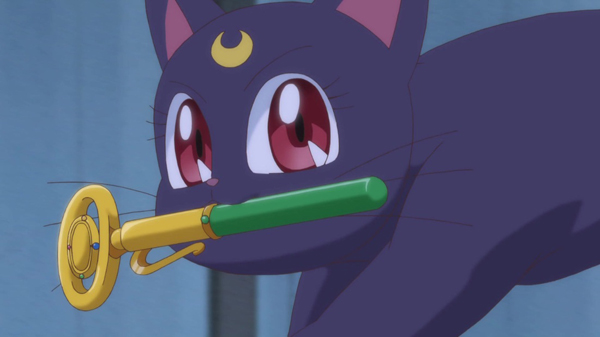 Each transformation pen is protected by Luna and Artemis. Once they find the person bearing the symbol of the planets protecting the Moon Kingdom and its princess, they present the pen along with a magical phrase or chant to activate its power.


These magical items/gadgets activate using the following phrases:
Mercury Power, Make Up
Mars Power, Make Up
Jupiter Power, Make Up
Venus Power, Make Up
---
Star Power Stick
---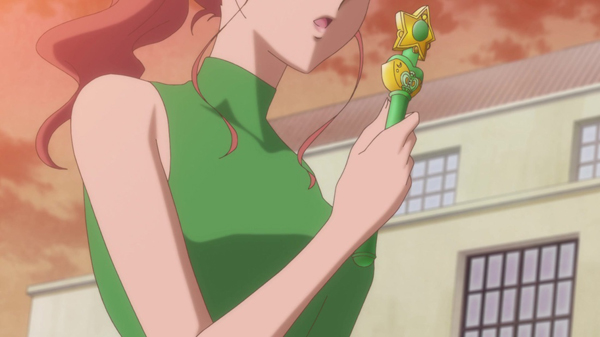 The transformation pens for Sailor Mercury, Mars, Jupiter and Venus are replaced by Star Power Sticks at some point of Bishoujo Senshi Sailor Moon Crystal. These new items still come in the senshi user's signature color, with their planet symbol shining brightly at the center of the star on top of the pen.


The Star Power Sticks activates using the following phrases:
Mercury Star Power, Make Up
Mars Star Power, Make Up
Jupiter Star Power, Make Up
Venus Star Power, Make Up


---
Other Bishoujo Senshi Sailor Moon Magical Items/Gadgets
---
Aside from the senshi items listed above, there are other notable magical items/gadgets used in Bishoujo Senshi Sailor Moon Crystal:
Holy Sword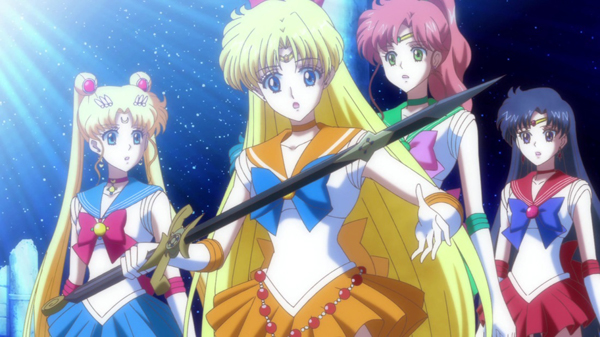 Sailor Moon and her senshi team retrieved the holy sword when they teleported to the moon. The Holy Sword is made to protect Princess Serenity and only one of the four inner senshi can wield it. It is quite surprising that this magical item/gadget did not appear in the old Sailor Moon series, when its purpose is very significant to the story.


---
Cutie Moon Rod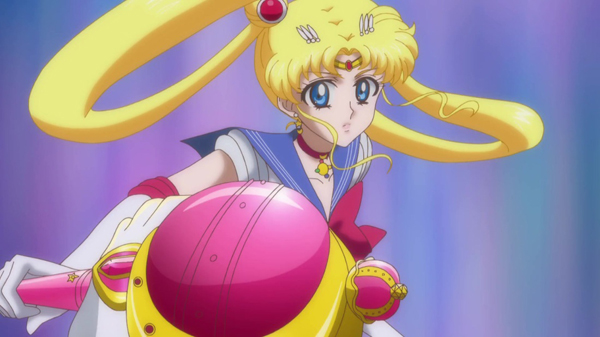 The Cutie Moon Rod is another weapon used by Sailor Moon and created through the love Princess Serenity and Prince Endimyon shares for each other. Sailor Moon uses this magical item/gadget to purify the evil forces by saying "Moon Princess Halation."


---
Space-Time Key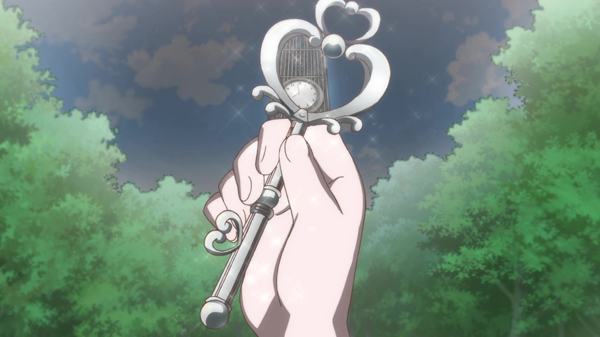 The Space-Time Key, or the Time Key, is what Chibiusa uses to travel through different timelines. It was given to her by the Space-Time guardian, Sailor Pluto, who Chibiusa fondly calls "Puu". Aside from the ability to travel through time, the Space-Time Key can also pause time, and has other unknown abilities, which is why it should never be in the possession of a person with an evil mind.


---
Malefic Black Crystal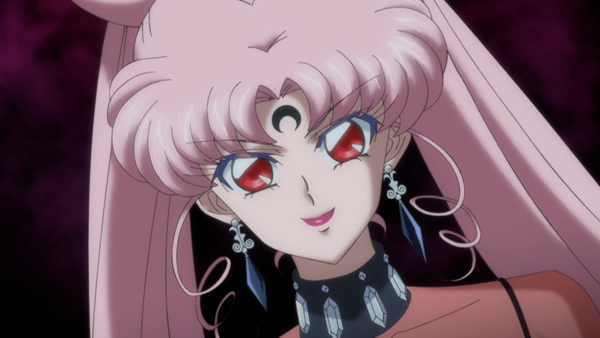 The Malefic Black Crystal is a magical item/gadget that the Black Moon Clan uses. Wiseman claims that the Malefic Black Crystal bears an immense power that can match the Legendary Silver Crystal and has the ability to destroy Earth.


---
Communicator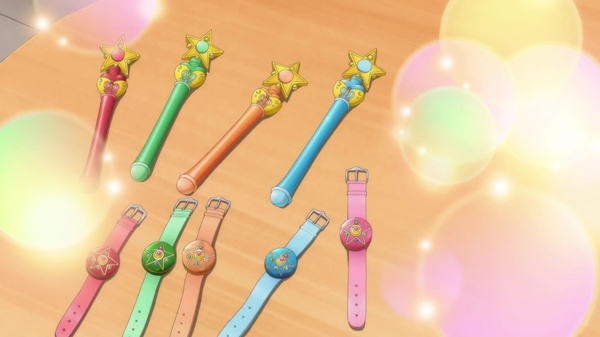 Each sailor senshi are given communicators in the form of a wrist watches. They were given to them together with the four inner soldiers' new transformation pens-the Star Power Sticks. The communicators come, again, in each of the senshi's signature color.


---
Cosmic Heart Compact & Spiral Heart Moon Rod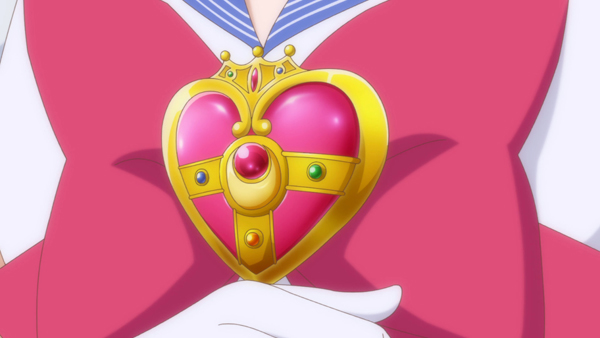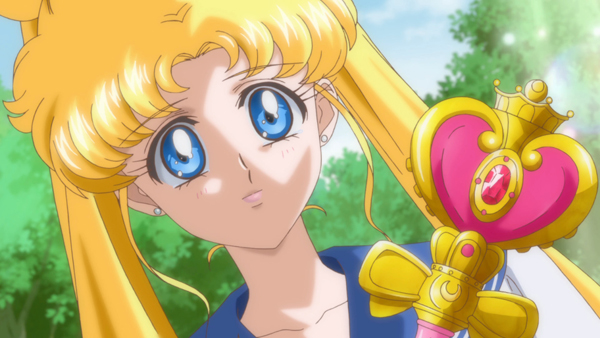 In the last few episodes of Bishoujo Senshi Sailor Moon: Crystal, Usagi gets a new transformation brooch along with a rod from Neo-Queen Serenity. Usagi has not used any of these two items yet (in the reboot anime), Fans will need to patiently wait for the next season to see how Usagi will use these awesome new magical items/gadgets!
---
Watch Out For The Second Season!
---
We get to see a lot of magical devices in the first season of Bishoujo Senshi Sailor Moon: Crystal, but the fans of this anime knows that there is so much more to watch out for in the succeeding seasons! Will Usagi's new transformation brooch give her a different transformation scene? Or will the animators remain faithful in following the manga story line so we can see more magical weapons and items compared to the old Sailor Moon anime? Waiting is a pain, especially because a release date has not been set! But when it comes out, it will definitely be worth the wait!