Notable Moments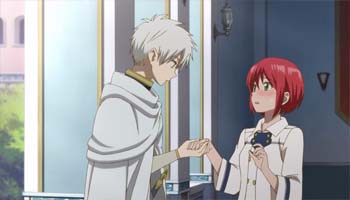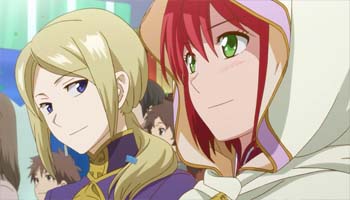 In the last episode of Akagami no Shirayukihime, the cast all enjoy a wonderful day at a special castle event called Open Castle Day. As expected, the series ends with nothing major happening. This episode mostly contains Shirayuki and Zen continuing to act like a cute couple, while the rest of the cast gets to have fun in their own little way. The couple explores the event ground, which is like a festival because it's full of people and shops, along with Zen's trusted guards. Mitsuhide and Kiki relays to Shirayuki that they heard the news about Zen confessing, and they want to give their full approval of Shirayuki. Izana also appears briefly to wave to the crowd, along with Zen, and he still thinks Shirayuki is trouble, but Zen readily tells him that he's ready to support Shirayuki. It looks like their love is strong at this point, and everyone is alright about it. It's a good way to end the first season, since this anime doesn't thrive on conflict.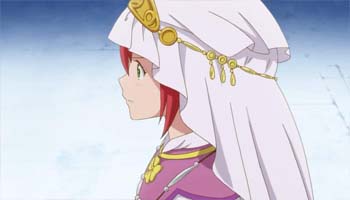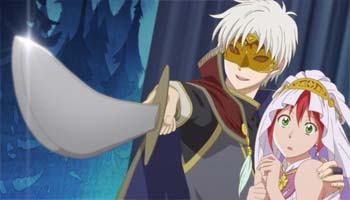 It isn't Akagami no Shirayuki without a little bit of trouble though. When Shirayuki is tending to an injured actress, her red hair catches the attention of the theatre troupe leader and he asks her to be a stand-in actress. Like the many men enthralled with her hair, who kidnapped her and belittled her for it, the leader has some evil intentions as well. Shirayuki wants her hair hidden, since it causes her trouble, but the leader pressures the other actor to pull down her veil to reveal her red hair. The leader claims it'll make his theater troupe famous, but Zen won't allow it to happen. He grabs a costume, leaps from the balcony, and grabs Shirayuki like you'd expect a prince would for his damsel. While Zen might be worried about Shirayuki being gawked at because of her red hair, Obi prodded him when he mentions the actor will kiss Shirayuki's hand. It's a beautiful spectacle that reminds us how wonderful this Shoujo anime is.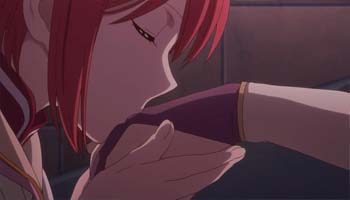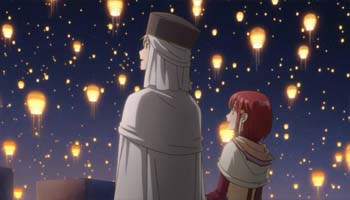 Things build up from the play where Shirayuki and Zen are left alone in a staircase. Since they're a couple now, seeing them alone is guaranteed a fangirl squealing moment and this one is no different. The two starts talking, and Zen mentions how he admires Shirayuki being such a reliable person. Shirayuki agrees, but she mentions that she does rely on Zen though and she tells this while blushing. To make the moment even sweeter, Shirayuki asks for Zen's hand and she kisses it gently. It's a call back in the episode where Shirayuki still feels the huge gap between her and Zen, but she's still ready to love him regardless. The scene has Shirayuki below one step of the staircase, as she kisses Zen's hand. It's like she respects his status, but she also loves him a lot. It's a powerful moment since the show made the audience eagerly wait for it to happen. The anime then happily ends with all the important characters watching the releasing of the lanterns that signify the end of the Open Castle Day festival.
Notable Characters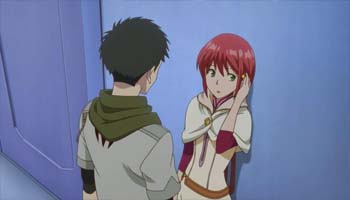 It's wise to just put Obi here all the time, because he always does something that makes you think. In this episode, he gives Shirayuki a hairpin and he said that she should show it off to Zen. Obi claims that it's a beautiful gift that'll make Zen happy because it looks good on Shirayuki, but even Zen know Obi is being a little trickster. Zen hasn't given any gift to Shirayuki yet, so he immediately picks up on that fact. Of course, Obi plays it as scheming pot stirrer but it's curious how he only stirs the pot when Shirayuki is involved. The second season will be exciting simply because Obi's trouble making schemes might play a big role in it.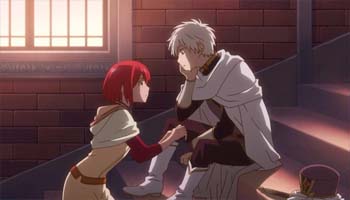 Zen and Shirayuki are an official couple in this episode, and its cute seeing them interact with their feelings out in the open. It's cute to see Zen acting jealous over another man kissing Shirayuki's hand, and the way he prevents it is even cuter. The look of surprise on Shirayuki's face is priceless. It's refreshing seeing her act like a maiden in love as well, since the episode features a lot of scenes where Shirayuki is just blushing. Despite her strong personality, love is still new to her so she acts like a shy middle school girl. She knows how to declare her love though, since the kiss on Zen's hand is a pretty wonderful moment. She initiated it, and it tells us there might be more moment where Shirayuki will act this bold.
Predictions for the second season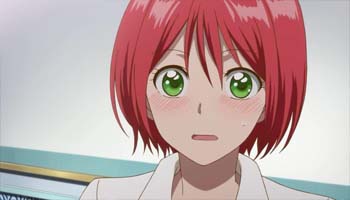 There are a few hints about the upcoming story arcs, and the one that stands out is the mention of Shirayuki's grandparents. She claims that she got her self-reliant attitude from them, and it's interesting because it's the first time Shirayuki's past is ever discussed. The second season might explore more of her past, and it might even introduce her grandparents.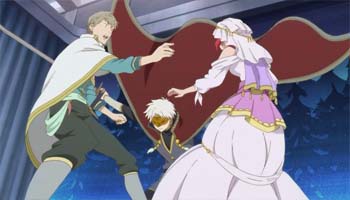 The play sounds like a smart way of foreshadowing. It's about a knight coming in between a prince and his woman. It's interesting because Shirayuki plays the woman and Zen plays the knight. I might be reading too much into it, but it might serve as a smart preview of what's to come in the second season. Perhaps Zen might actually save Shirayuki from a noble's advances, or it might pertain to the love triangle between them and Obi. Hey, I can dream, can't I?