Anohana: The Flower We Saw That Day (Ano Hi Mita Hana no Namae wo Bokutachi wa Mada Shiranai or We Still Don't Know the Name of the Flower We Saw That Day) is the popular 2011 anime series which revolves around a ghost girl Menma and her childhood friends Jinta, Anaru, Tsuruko, Atsumu, Poppo and a couple of other supporting characters. The anime is based on the manga illustrations by Mitsu Izumi while the anime was directed by Tatsuyuki Nagai and produced by A-1 Pictures.
Many fans have lost their hearts to the intriguing characters and the beautiful world of Anohana, and in this article we are going to explore the background and what makes this anime so unique and lovable.


---
SETTING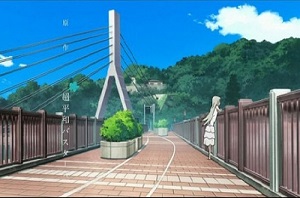 Anohana is set in modern day Japan, or more precisely Chichibu city (Saitama prefecture, north of Tokyo). If you are lucky, you may have already visited or you may go there one day and explore the breathtaking landscape including every nook and cranny that was used in the anime. As with most anime series that are set in the modern time, Anohana features many scenes that were inspired by real areas of land and urban life.
Chichibu Bridge is one of the most frequent places used in the anime. Menma and her childhood friends used to cross this bridge all the time when they were going to their clubhouse in the woods and some of the most touching confessions have been said on it. This bridge can also be seen as a connection between their childhood and adulthood.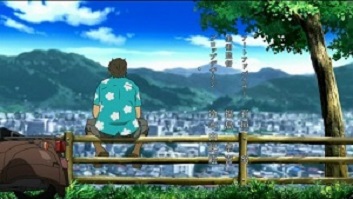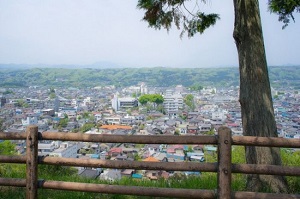 Another famous place used in the anime is Shibazakura-No-Oka, which is a pink carpet of flowers located in Hitsujiyama Park, placed on the hill with a panoramic view of the whole town. You have probably noticed that in the opening scene. Ryusei Kaikan is also an important place at which everyone gathers in the last episode to bid farewell to Menma. It is where the local people launch handmade rockets and fireworks every year during the Ryusei Festival (held on the second Sunday of October).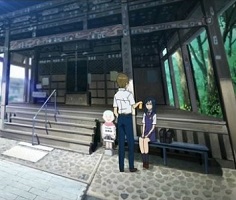 Jourinji Temple is one of many other temples in Chichibu, and it is used as a place where the gang (the Super Peace Busters) meet and eventually come in terms with their emotions and scars from the past. The episode which features this scene takes place at the front of this temple and it is also one of the most emotional ones in the anime.
One of the reasons why Chichibu was used as inspiration for the anime is probably because that town is the birthplace of Mari Okada, an anime screenwriter, the writer of the serial novel and manga of the same name.


---
UNIQUENESS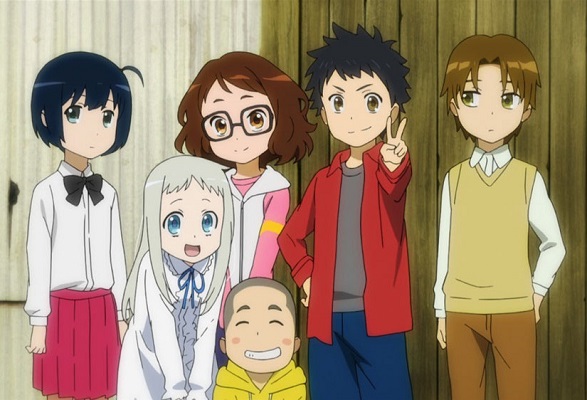 Anohana is a slice of drama filled with supernatural elements. The emphasis is put on the characters' development and their transitions from childhood to adulthood, including their struggle in overcoming traumas from the past. You could probably be able to name a few titles that cover such issues, but what makes Anohana unique is the way it uses a ghost as means of reuniting the old childhood friends and opening their wounds again so they can finally heal.
Since this is a character driven anime, a lot of effort is put into dialogues between the characters and on beautiful visuals which serve as highlighting and emphasizing the changes in emotions and the changes that have or have not occurred during the past ten years. The Super Peace Busters was a group of six and their clubhouse was their sanctuary, however, after Menma died in a tragic accident, haunted by the pain and regrets, each member drifted away and they grew apart.
The story manages, besides having certain supernatural elements, to be very realistic and to portray in a very sentimental and emotional way how certain events can influence our lives and shape our personalities as we grow older.


---
SIMILAR ANIME TITLES
There are many anime titles that can be said to cover the similar or the same issues as Anohana. Some of them have certain supernatural elements, while some do not. Here are some of them.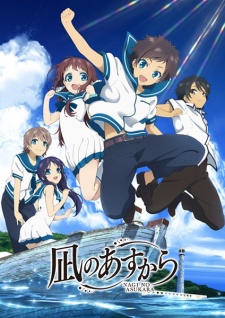 Nagi no Asukara is a great choice, because this anime portrays a group of friends (also six of them) whose lives get changed due to some difficult circumstances and all of them need to cope with them and face their own problems. All of them have grown up and played together, just like the ones in Anohana and they are all connected in some way. There is also the theme of love covered, having in mind that each character has painful secrets and hidden feelings that cannot be easily said aloud. The anime is set in the present, however, it is a completely different world with many supernatural elements.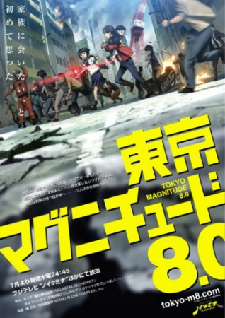 Tokyo Magnitude 8.0 does not have supernatural elements like Nagi no Asukara or Anohara, but the plot is focused on children and young adults who are trying to overcome the losses of their loved ones. That is one of the major themes in Anohana too, and that is why these two anime series are more than similar in that aspect.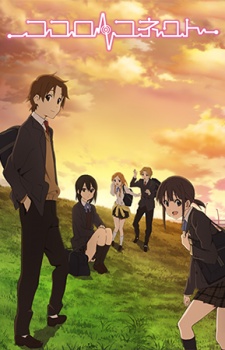 Another great anime is Kokoro Connect which is a both slice of drama and a supernatural anime filled with romance. Kokoro Connect features yet another group of friends whose feelings and past traumas get revealed only when they experience a shocking change – they start switching their bodies without any warning or rule. At first they find it confusing and funny, but later on they will realize that with this change their own secrets and feelings get exposed because they are not able to hide them anymore.
All in all, there is no show identical anime to Anohana. However, all of the anime series mentioned above should prove to entertain those who enjoyed Anohana.


---
WHO SHOULD WATCH IT?
Anime fans who like watching slice of life and romantic shows in general would certainly find Anohana entertaining and appealing. Anohana also features elements of supernatural and melodrama, therefore if you have liked such genres in the past, you should definitely check out this anime.
Even though the story revolves around a young ghost girl and her childhood friends who are now high school students, this anime is not aimed only at the younger audience. At first glance, Anohana may be about old friends who have grown apart and now are trying to overcome the distance between each other, however, the simplicity and its sentimental values can be something that even adults can relate to.
Losing a beloved person is difficult for everyone, whether child or adult, and everyone copes with loss in their own way. Anohana explores these old wounds, hidden secrets, and suppressed feelings in a beautiful and original way, and that makes it worth checking out.
To sum it up, if you are ready for an emotional story filled with some minor supernatural elements which explore the depth of friendship, love, and loss, then Anohana is an anime that will probably touch your heart and perhaps even change your life.