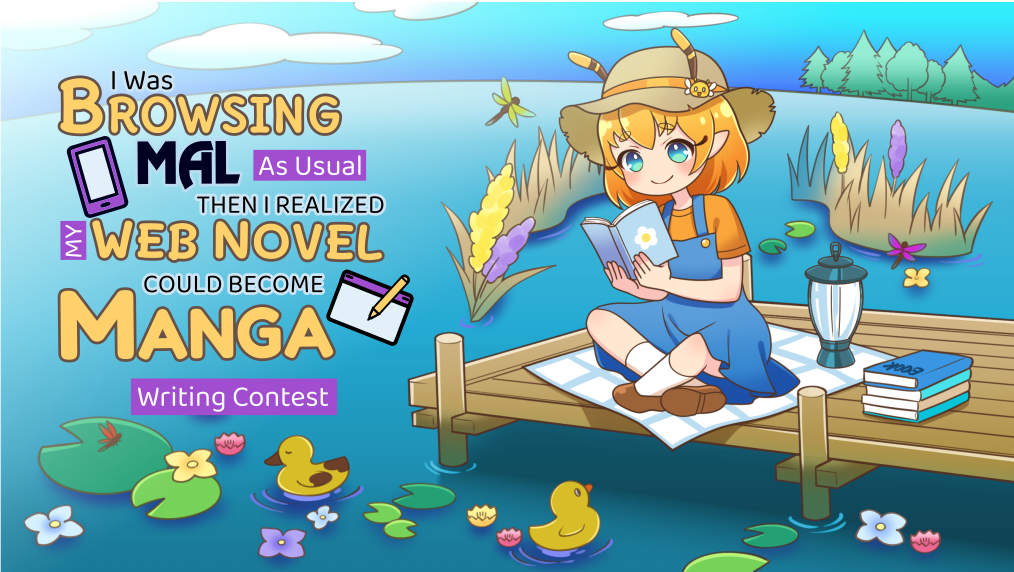 MyAnimeList is collaborating with Honeyfeed to help aspiring overseas novelists realize their dream of being published—and debut with their very own manga in Japan! Writers had three months to write the first volumes for their web novels. Our judges then narrowed down all eligible novels into the best 4 for each prompt (School, RomCom, Cyberpunk). Now it's time for you to vote for your favorites!
Try out these 12 finalist novels and let us know which you want to see brought to life as published manga.
How to Vote
---
You can vote for as many as novels you like.
Novels can be read on any device, but votes must be cast using the official MyAnimeList app on a mobile device. After installing the app, open the Profile Menu and tap Vote! Writing Contest. Alternatively, you can tap the icon on the top right of the Home tab. Voting period begins on November 3 at 12AM EDT and ends on December 1 at 12AM EST.
Gifted Education Project (GEP)
---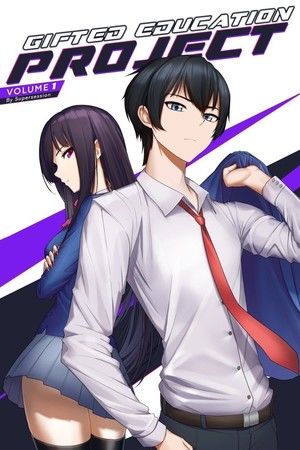 240 students. Only 40 will graduate.

In life, success isn't determined solely by one's academic performance. There exist athletic and creative pursuits, of course, but don't forget how capable one is at manipulating, lying, cheating, and backstabbing others — those talents are important too. Thankfully, at the National Affiliated High School, this truth is embraced rather than swept under the rug like everywhere else.

The result? A school which produces geniuses at an unparalleled rate.

Welcome to a school of future leaders.

Welcome to the Gifted Education Project.

Follow the story of Darren Chong as he "enrolls" in this elite school with the capable Erica Park. Will they be able to rise to the top, or get expelled trying?

Prompt Board: School
Genres: Comedy, Drama, Psychological, School

by Supersession


» Start Reading on HoneyFeed »

» Vote! Open the MAL App! »
Reader's Comment
"GEP" is a solid novel to read and enjoy if you are a long-time anime fan. It incorporates a bunch of anime tropes we all love from rom-com and school anime and gives it a psychological twist in a school setting. Similar to Classroom of the Elite, "Gifted Education Project" is about the lives and interactions between high schoolers who are in an elite school that seems too good to be true, and they must "survive" through it if they want to graduate, no matter what it takes. "GEP" takes a more light-hearted approach, weaving dark themes with a lot of teenage comedy that will surely keep you both amazed and amused in every chapter.
Are You Real?
---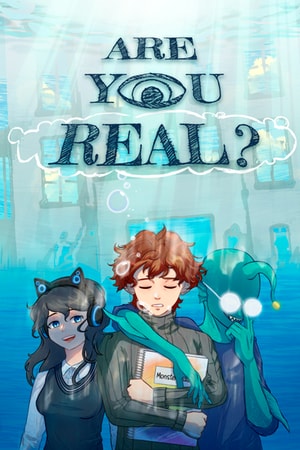 Kiro Lane floated along the social current of the esteemed V.I.A.S. High like a piece of driftwood. But it's to be expected. After all, he was the only human living in this world of monsters. That was, until one fateful day when that entire world fell into question.

The line between falling in love and falling apart. The immutable difference between making and breaking a friendship. Kiro didn't know where to begin in finding an answer. Sometimes, though, solutions only come when you ask. And for Kiro, things were set into motion with one simple, life-changing question:

In a world full of monsters, what does it mean to be real?

Prompt Board: School
Genres: Drama, Psychological, Romance, School, Slice of Life

by Kya Hon (MAL profile)


» Start Reading on HoneyFeed »

» Vote! Open the MAL App! »
Reader's Comment
A novel of enormous emotional strength, "Are You Real?" tackles the ups and downs of high school life as seen through the lens of someone who hasn't figured out who they are and what they want. It is reminiscent of the anime Oregairu in a way, seeing how the protagonists are somewhat reclusive and far-removed from the world surrounding them, only to slowly open up throughout the narrative with help from their assorted friend groups. Nevertheless, Kiro, the protagonist, manages to break out of his shell little by little, in turn painting a striking and realistic vista of school life, with its bittersweet ups and downs.
The Web Novel Club
---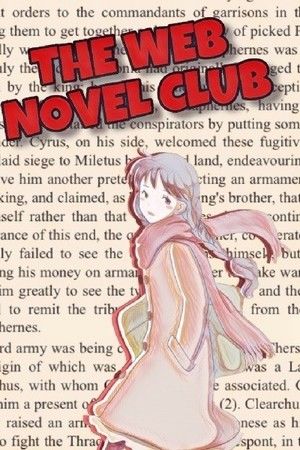 Natsuki has big plans for her freshman year at Miyazawa High - finding herself and seizing the day! Quickly overwhelmed by trying to figure out how to do all that, Natsuki stumbles upon a club that reminds her of a long-lost passion of hers - the Web Novel Club.

It's exactly as it sounds. Join Natsuki as she starts her writing journey, makes new friends, and learns a lot about life, her clubmates, and putting words onto (digital) paper.

Prompt Board: School
Genres: Comedy, Drama, Slice of Life, School

by Pope Evaristus (MAL profile)


» Start Reading on HoneyFeed »

» Vote! Open the MAL App! »
Reader's Comment
In "The Web Novel Club," there's always a new story being told. It takes a very slice-of-life-like atmosphere and runs with it, and the author is not afraid to add a heavy dose of drama and darker themes to the mix. A large part of the story delves deep into what it really means to be a writer, especially one still in high school. By the time the drama ramps up, the atmosphere and characters have you hooked. Part of the story reminds me of the anime Blue Period, focusing on finding your passion and discovering the world of art.
Our School is Perfectly Ordinary
---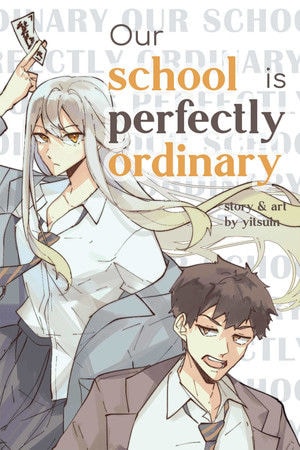 What's life like for a generic side character in your typical fantasy shounen manga?

Shun is just a normal high school student—average grades, average aspirations, average circumstances. Things are perfectly ordinary...until he stumbles upon a classmate fighting monsters he can't see. He's not supposed to see. He's not supposed to know. So they come to a tentative agreement—he'll keep her secret, and she'll erase all his memories at the end of the year.

But little do either of them know, she's not the only one living a double life. At their school, multiple students hide magic and superhuman abilities. With the contingency measures in place designed to make ordinary people forget their encounters with the supernatural, there has never been any overlap between each faction since the beginning of time.

Until now.

So what is it like being on the sidelines of a modern fantasy series? Shun is the unfortunate perfectly ordinary person who's about to find out.

Prompt Board: School
Genres: Fantasy, School, Shounen, Supernatural

by yitsuin (MAL profile)


» Start Reading on HoneyFeed »

» Vote! Open the MAL App! »
Reader's Comment
Jujutsu Kaisen and slice-of-life was a combo that I never thought would've worked until reading this novel. Shun, the protagonist in "Our School is Perfectly Ordinary" is the side character in your typical modern fantasy series. As the only normal person who remembers what happens when supernatural fights take place, he tries to keep his average school life together (and sane!) as he brushes with death far too frequently. Underneath this refreshing concept is a story that really hits home with its focus on friendships, keeping secrets, and making memories that perfectly capture the magic and appeal of the Japanese high school setting.
The Wanderblood Princess and Sir Try Hard
---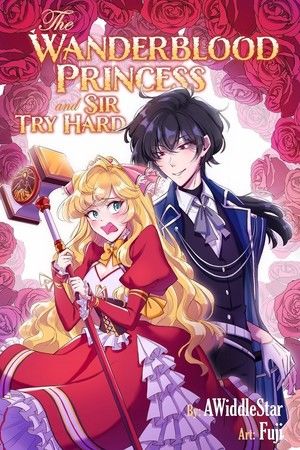 Princess Chiffon loves many things: early morning tea and sweet cakes to lift her spirits... and the scent of blood paired with the crunch of bones. If the latter isn't enough to warp her elegant façade, her new knight, Caramello, takes every opportunity to bring out the worst in her. Charming and tenacious, his silver tongue makes Chiffon question his every move. A 'try hard' who ensures that his princess looks absolutely stunning in red.

Prompt Board: Rom-Com
Genres: Comedy, Drama, Fantasy, Romance

by AWiddleStar (MAL profile)


» Start Reading on HoneyFeed »

» Vote! Open the MAL App! »
Reader's Comment
If you like slow-burn romance stories with hints of comedy and a lot of drama, "The Wanderblood Princess and Sir Try Hard" is the novel for you! The knight Caramello has the potential to be your "husbando" of the season, his charm and how he treats Chiffon can make your heart flutter. Expect more than romance in this story, tension, twists, and turns in every corner topped off with fantastic poetic writing awaits!
My First Love Tastes Like Glitter
---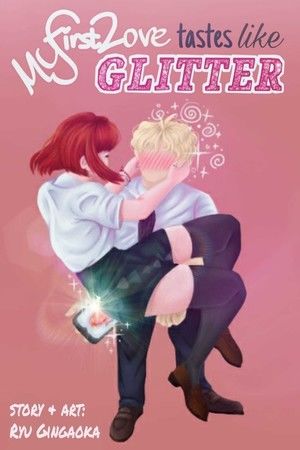 Meet Kakuji Ran, a 17-year-old high schooler and a hard-boiled gacha addict. Kakuji's devotion towards his favorite character, Neri Tendou from the idol rhythm game Kira-Kira Party, is world-class: despite being a fully functional B-level student and working part-time at a local convenience store, the boy spends most of his time fantasizing about being in a romantic relationship with his beloved 2D superstar.

During a rare instance of actually touching some grass with a little bit of encouragement from a friend, Kakuji meets Hajime Aiko – an easygoing jack-of-all-trades who happens to be an exact embodiment of his digital sweetheart! Fortunately for him, Hajime has similar geeky tendencies of her own and through reciprocal understanding of the struggle of loving someone who doesn't exist in this world, the two of them decide to get into a give-and-take relationship. Could this chance encounter lead to the two like-minded individuals growing closer at the hand of a mutual... hobby?

Prompt Board: Rom-Com
Genres: Comedy, Romance, Slice of Life

by ryugingaoka (MAL profile)


» Start Reading on HoneyFeed »

» Vote! Open the MAL App! »
Reader's Comment
"My First Love Tastes Like Glitter" is the ideal romantic comedy to read for those who have a 2D waifu/husbando! Every chapter will have you either laughing out loud or blushing from secondhand embarrassment while these two otaku love birds play out their ideal fantasy dates. The novel highlights fans' die-hard passion for two-dimensional crushes and how it can affect their real lives, but all in good fun. Similar to My Dress-Up Darling, this rom-com features a couple that sheds light on the quirky side of the otaku lifestyle, one full of excitement and appreciation for our hobbies.
Cupid's BLAME!
---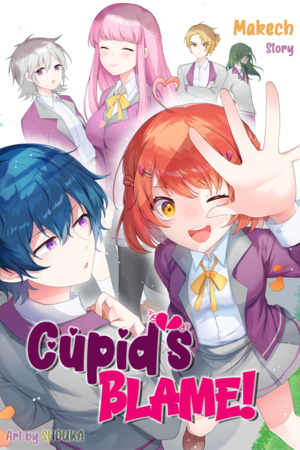 Second chances aren't given, they're earned - or so do six high school students soon realize, after dying in a tragic accident and finding themselves in front of the selfish and fabulous Cupid! He offers them all the opportunity to come back to life with a catch: they can only stay that way if they manage to make someone handpicked by the cherub himself fall in love with them in return!

The clock is ticking for love to bloom, but between six inexperienced and uncooperative teens and only two targets for their affections, Ren Dahl has his work cut out for him to save everyone - especially his innocent childhood friend, Emma Lovecraft!

Prompt Board: Rom-Com
Genres: Comedy, Romance, Supernatural

by Makech (MAL profile)


» Start Reading on HoneyFeed »

» Vote! Open the MAL App! »
Reader's Comment
A rom-com about... dead high school students? "Cupid's BLAME!" presents a lovely wide cast of characters, each with their flaws and mishaps in love, seeking a new opportunity in life after a bus accident, where they were revived by Cupid himself! The six students need to make two school outcasts fall in love but only one of them will come back to life. "Cupid's BLAME!" comedy is top-notch, blending perfectly with the romance elements without it feeling forced or out of the left field. However, not everything is cute and dandy, given that this has now become a game of survival which will make the main cast open up and show who they really are, and why Cupid deemed them as his "failures."
She Can't Be That Perfect!!
---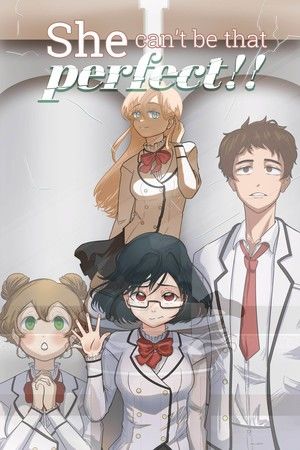 Astella Academy might be home of the greats, but even they need a hand from time to time. Amy manages the Advisor's Hall, a club meant to lend every student a warm word or a shoulder to cry on. It's the last place picture-perfect Mia would frequent, but lately not a week has passed without her knocking at Amy's door.

Her innocent requests infuriate Amy; everything she 'has trouble' with turns out amazing all the time. She can't turn her away, not when there's a chance to help the best out there. But, as they spend more time together, she finds herself wishing to find any flaw with Mia. How else could she deal with how close they've become?

Prompt Board: Rom-Com
Genres: Comedy, Girls Love, Psychological, Romance, Slice of Life

by Bubbles (MAL profile)

» Start Reading on HoneyFeed »

» Vote! Open the MAL App! »
Reader's Comment
Life is full of unpredictable surprises, and that's what we read in the romantic comedy "She Can't Be That Perfect!!." This novel revolves around several characters and how they struggle with their life behind closed doors, a life that seems perfect on the outside but that is full of challenges and emotional twists. Despite having different backgrounds, it doesn't take long for the two female protagonists to become close friends, but Amy wants more than that. Similar to the anime series The Aquatope on White Sand, this story shows that no matter your background and differences, you can always turn your life around to start over and find a welcoming home, whether that be a place or a person.
City of Flowers
---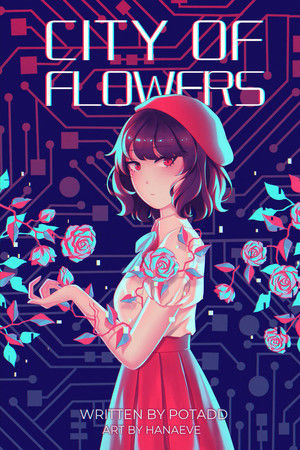 The country of New England is in the midst of a corporation-controlled cultural movement and on the cusp of a violent revolution. Automation has reached an all-time peak, the gap between the poorest and the richest grows ever larger, and for some reason, the search engines don't seem to know what forests and oceans are.

It's no place for an aspiring architecture student, but for Iris, the arts are all she has. When she creates a daemon capable of showing the thoughts of biological matter to aid her in her studies, she discovers that the captive Blumen—distorted, monstrous reflections of what allegedly used to be plant matter—are alive, conscious, and kicking.

And they have things to tell her. Like how much her life is in danger. And how she should start running right now.

Oh, the things that they have to say.

Prompt Board: Cyberpunk
Genres: Cyberpunk, Fantasy, Girls Love, Thriller

by potadd!!

» Start Reading on HoneyFeed »

» Vote! Open the MAL App! »
Reader's Comment
"City of Flowers" reminds us that Cyberpunk is not only about dystopian cities and futuristic human cyborgs. It shows that the Cyberpunk genre has more to offer than dark skies and smog-filled landscapes with overpowered corporations. "City of Flowers" shows that a cyberpunk future is not really all about the sci-fi aesthetic and evil megacorporations, and leads you to a wonderful place with fantastic prose, where plants are much more than what nature left behind. The protagonist, Iris, is someone you can empathize with; struggling with her academics and future job interviews. This novel is a breath of fresh air in the cyberpunk category!
Rat's Reason
---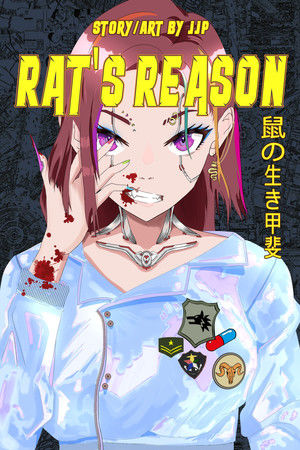 An army of androids led by the enigmatic Rat King besieges cities around the globe every ninety days. In response, the Venator licence was created, granting near limitless freedom and funds to combat the threat.

Living in his parents' shadow, Yagi Akinori needs to avenge his brother.
Raised from birth to fight, Aurelia Sorannus needs to save her mother.
Both can only be achieved with a Venator licence.

But little is known of the Rat King and his army, and with Venators becoming more like celebrities than guardians, those mysteries threaten to remain unsolved.

Prompt Board: Cyberpunk
Genres: Action, Cyberpunk, Mystery, Philosophical, Sci-fi

by JJP


» Start Reading on HoneyFeed »

» Vote! Open the MAL App! »
Reader's Comment
"Rat's Reason" presents the dilemma of humankind being treated differently if a person goes beyond 49% machine, providing an antagonist that goes against that established reasoning to force the world to face it. Plenty of thought is put into each character's interactions and thoughts in this world, making it one of the most densely fleshed-out but engaging stories I have read. It has elements of anime series like Darker Than Black within a Psycho Pass-like world, particularly when it comes to the moral grayness of this novel's main theme, "What it means to be human and how can one put a number on it?."
Faustic
---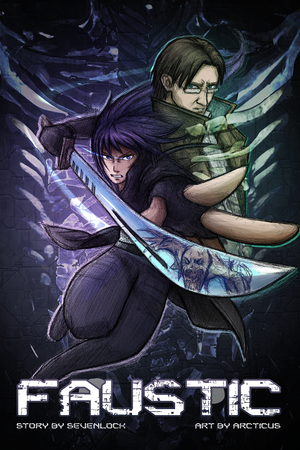 Jin Yurinhalt was a hero. She led the charge, fought the homunculi, slayed their queen. Jin Yurinhalt won the war.

So why does she have trouble sleeping at night?

She's tried therapy. She's tried pills. Hell, she's even tried neural implants, but nothing stopped the gnawing darkness that haunted her dreams. The most she could do was throw herself into her work as a Runner, cyborgs whose job was to hunt down what remained of the homunculi revolt.

The Runners' most wanted target was Dimitri Faust, a deranged homunculi-sympathizer and the man that started the war. When he was finally detained after years of evading capture, the rest of the Runners celebrated, but for Jin, it came with a dark realisation.

Faust was the only person who could heal her, but it was at a cost she could not fathom.

Prompt Board: Cyberpunk
Genres: Action, Cyberpunk, Psychological, Seinen, Tragedy

by Sevenlock (MAL profile)


» Start Reading on HoneyFeed »

» Vote! Open the MAL App! »
Reader's Comment
"Faustic" dives deep into big existential questions. It portrays a world that feels dirty, disgusting, and unjust but still a world that could become our reality— it feels the way good Cyberpunk should feel like. The novel shows how the homunculi are treated like cattle, while they still are much aware of themselves; it's about how humans treat other living beings. It has strong themes ranging from animal cruelty to dictatorships. In "Faustic" the helpless feeling of "whatever I do, it won't change the way the world turns" reminded me a lot of the videogame The Witcher or the anime series Fullmetal Alchemist.
Stuffed
---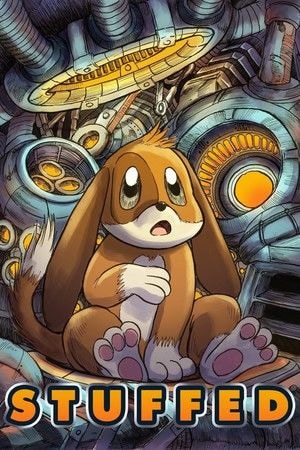 "Dogs don't get to choose."

Lucky is a dog that finds themselves mixed in with the exotic animal trade with no memory of their past. With the help of other Pets, Lucky discovers the truth behind their existence and attempts to dismantle the system that perpetuates it: the GACHA System."

Prompt Board: Cyberpunk
Genres: Cyberpunk, Mystery, Sci-fi

by Armonia


» Start Reading on HoneyFeed »

» Vote! Open the MAL App! »
Reader's Comment
The saying 'never judge a book by its cover' is a warning fitting for "Stuffed." The cute novel cover might make readers believe they are about to read a story full of rainbows and butterflies. However, Lucky's cuteness strikingly contrasts the dire themes this story explores. "Stuffed" is a thought-provoking story that challenges humanity's sense of justice and greed while giving a clear example of how great technological advances may cause disruption when they fall into the wrong hands. It is also a beautiful story about friendship and second chances.