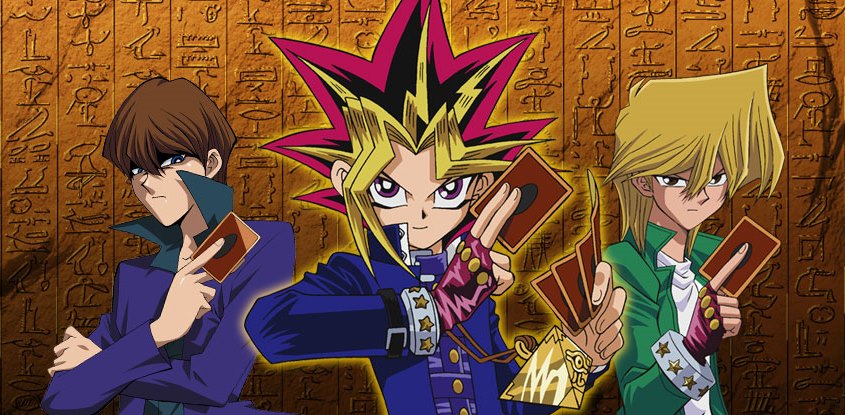 It's time to d-d-d-d-duel! Not really, it's actually time for Five Figure Fridays! This week we will be looking at some of the most interesting Yu-Gi-Oh figures released during the franchises long run. With a new movie premiering just recently, it's a perfect time to upgrade your collection with these timeless Yu-Gi-Oh figures.
---
---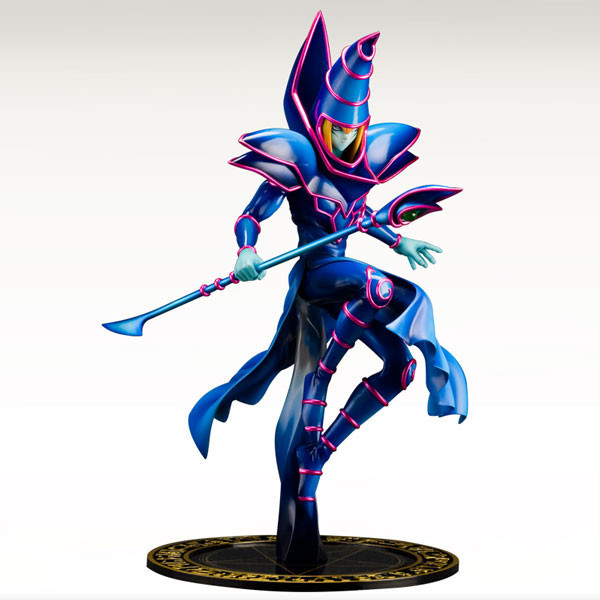 It is only fitting that the Yugi's favorite card opens our list. This figure of the majestic Dark Magician comes to us from Kotobukiya and it was released in January 2013. The figure is a part of Kotobukiya's Artfx J line which focuses mostly on male characters from the older series. This Dark Magician's color scheme is based on the original card colors. He is depicted here ready to enter the fray and show that Blue Eyes who is the boss. And with that glossy metallic armor he's got on which nicely contrasts with his soft robe, he will look stylish while doing it. Dark Magician himself is a 1/7 scale 30 cm (11.7 inches) tall figure made from ABS and PVC. To own this figure you will need around 21,060 yen (~197 US dollars).
---
---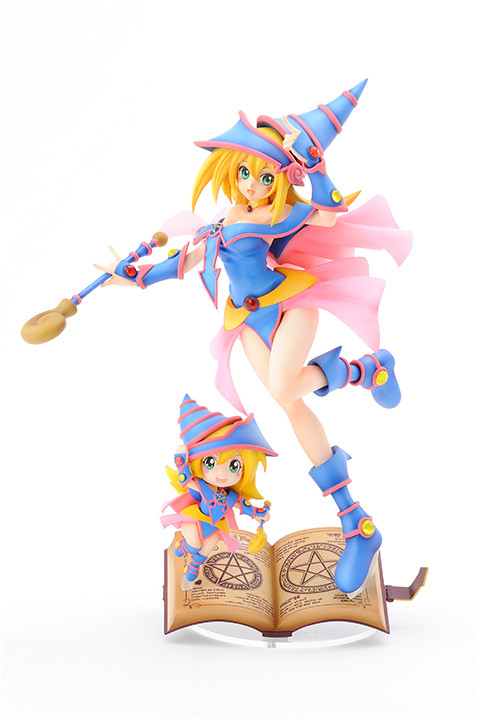 On our fourth spot we have a statue of a fan favorite Yu-Gi-Oh character - Dark Magician Girl. This figure was released in February 2016 by Amakumi. This Dark Magician girl is a 1/8 pre-painted PVC figure that is 25 cm (9.75 inches) tall. The sculptor responsible for this sleek and good looking figure is Grizzry Panda while the bright and uplifting colors are done by Pinpoint. She comes with a chibi Buranji girl and her base is made to look like an open spellbook. This figure can be yours for around 21,595 yen (~202 US dollars).
---
---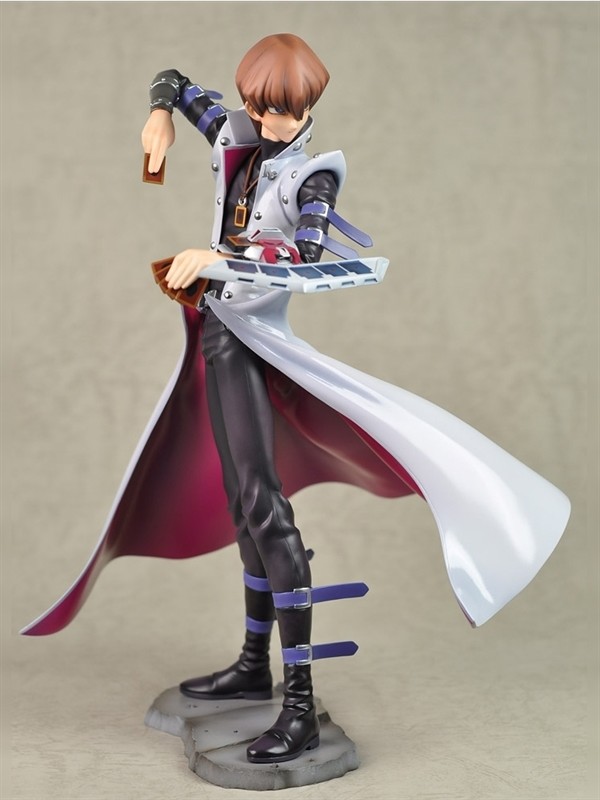 Here we have one of the most recognizable Yu-Gi-Oh characters, Seto Kaiba. Kaiba also comes from Kotobukiya and their Artfx J line. The standout feature of this figure is Kaiba's coat which is sculpted well and nicely shaded with the shade of Blue reminiscent of a certain Blue Eyed monster. The coat does cause the figure to take up a lot of space but that is a small price to pay for this awesome figure of Yugi's greatest rival. Kaiba comes with his duel disk as a bonus feature. Cards that come with it are blank but it is nice to see that they took time to paint life points on the dual disk. His stand is made with a texture that looks like it's a part of a road. Kaiba is a 1/7 scale 27.5 cm (10.73 inches) figure that is made from ABS and PVC. This figure was released in April 2016. You can own it for only about 23,520 (~220 US dollars).


---
---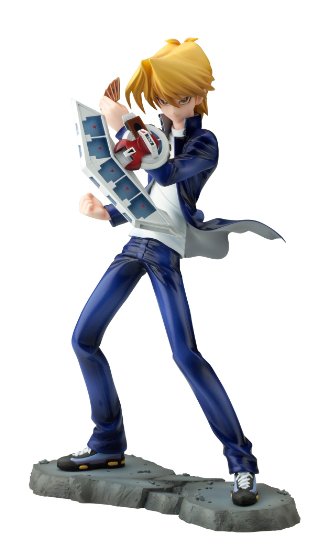 On the penultimate spot of our list we have a figure of Jonouchi Katsuya or Joey Wheeler as he is known in the western dub. This figure comes from Kotobukiya and it is a part of their Artfx J line. The figure is a 1/7 pre-painted PVC and ABS 23.5 cm (9.17 inches) tall figure that was released in April 2013. Joey was sculpted by Sagae Hiroshi. He comes with his duel disk and like Kaiba, has a base reminiscent of torn-up asphalt. This figure can be yours for only 29,505 yen (~276 US dollars).
---
---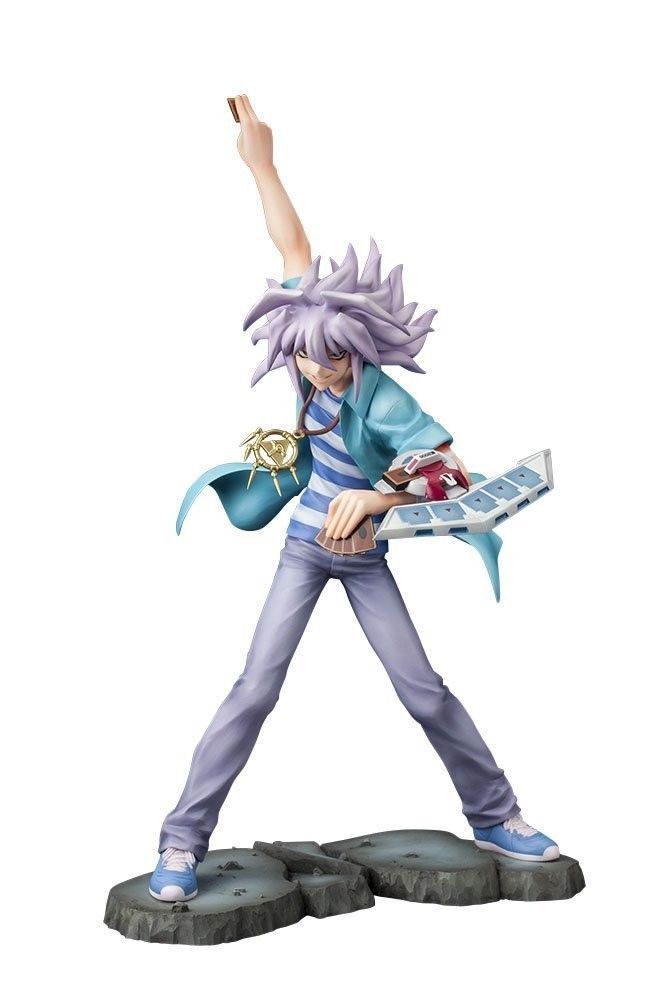 The top spot on our list belongs to the dark alter ego of Bakura. Yami Bakura is a malignant entity that completely takes over Bakura. They do not have a close relationship like Yugi and Yami Yugi have. Sou Shirahige managed to bring out Yami Bakura's malice with his sharp silhouette and the duel disk. The evil spirit of the Millennium Ring stands on top of a rubble-like base similar to the other Artfx J duelists Joey and Kaiba. This Yami Bakura figure comes from Kotobukiya and it is part of their Artfx J line. The figure is a pre-painted 1/7 scale figure that is 27 cm (10.6 inches) tall. It was released in March 2015. You can complete your Kotobukiya's Artfx J collection with this figure for only 46,505 yen (~435 US dollars).


---
There you go Yu-Gi-Oh fans! We hope you found some figures for your collection and maybe re-ignited your passion for dueling! Until next Friday, enjoy!
Brought to you by