---
The Evolution of Rock Anime
---
Rock music is incredibly influential, and not just as a musical genre. It's the whole attitude and aesthetic of the typical rock band, or rock star, which has captured the imagination of young people since the 1950s. And it's a form of music which has spawned many sub-genres, each with its own fandom and cultural norms.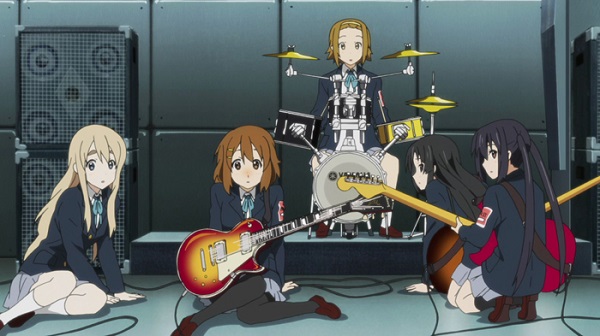 Anime is a dynamic medium that doesn't shy away from influences beyond the scope of the animation genre. Therefore, rock music is fairly prevalent within many anime series. In some cases, it may only encompass the opening and ending theme songs of a series. But in other cases, rock music plays an even more integral role.
---
Old School Rock Anime
---
---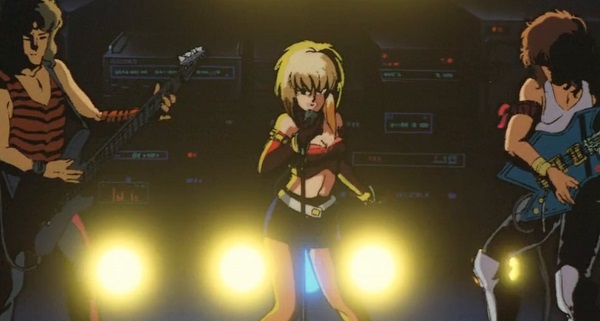 Bubble Gum Crisis rock anime music
Priscilla Asagiri, or Priss as she is better known, is a total badass in more ways than one. She is part of the Knight Sabers team, which protects MegaTokyo from the nefarious Genom Corporation and its biomechanical creatures, the Boomers. But when she wants to let off some steam, she hooks up with her band, Priss and the Replicants, and they rock hard like it's nobody's business.
And what style of rock music do they play? Well, it's synth-laden pop-rock which is very melodic and as '80s as it gets! Just look at that hair - it's a dead giveaway.
---
---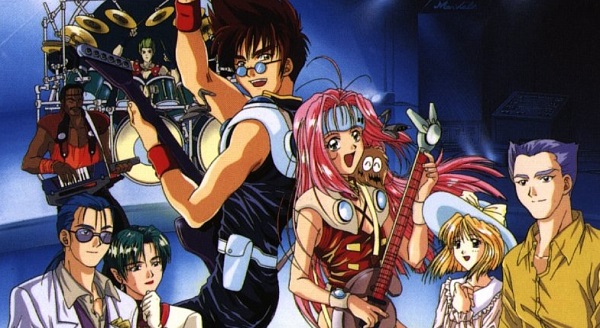 Macross 7 rock anime music
The Macross series is known for its almost hypnotic aerial combat sequences, transforming mecha, glorious music and super cute pop idols. It's hard to find anything comparable in other anime series. Macross 7 ups the ante, with a more rock music orientated soundtrack, while not completely abandoning the themes already mentioned.
Basara Nekki is the lead singer and guitarist of the rock band, Fire Bomber. He is a genius songwriter and believes in the power of music, which is far more powerful than war. Mylene Flare Jenius is also part of the band; she plays bass and sings some of the vocals. They produce rock music that is bound to be heard across the galaxy!
---
---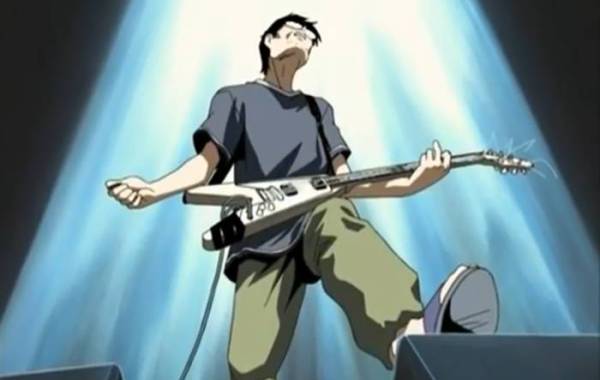 Black Heaven rock anime music
Is rock music a feasible domain for middle-aged men? Well, in Oji Tanaka's case, he could very well end up being the ultimate rock star!
Mr. Tanaka wasn't always the boring, lifeless salary man that he is today. During his teenage years, he was the front man of a heavy metal band known as Black Heaven, and thus, developed some mad guitar skills. But there are more to those skills than meet the eye, as they can potentially turn the tides in an intergalactic war. After all, this is an anime, and a bizarre plot device like that is par for the course.
---
New School Rock Anime
---
---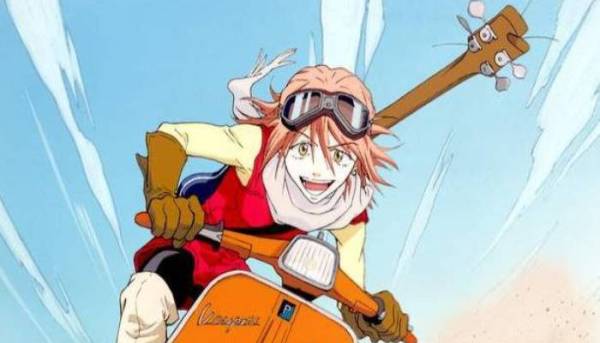 FLCL rock anime music
FLCL is a funky, crazy and unique OVA that every true anime fan needs to check out. It's incredibly stylized, from the cool logo right down to the attire the characters are dressed in. But it's Haruko Haruhara who is the stands out amongst the diverse cast of characters. She looks like someone that could be a rock starlet, with her slick fashion sense and Rickenbacker bass guitar. However, this guitar is not for playing music, but instead, it's an incredibly powerful weapon, which has more uses than a Swiss Army knife.
The rock music influence is not restricted to the wild aesthetics found in FLCL. In fact, the soundtrack of this series is produced by the Pillows which is an alternative rock band, hailing from Japan. And yeah, they're frigging awesome!
---
---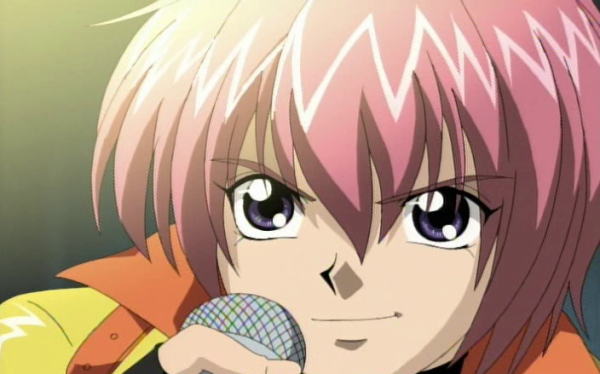 Gravitation rock anime music
One thing is certain, even successful music artists face problems at one point or another. Shuuichi Shindou is the young and energetic leader of the band, Bad Luck. Unfortunately, he seems to be experiencing a lack of inspiration in his life, while his rock music fame is on the rise. This is causing him to miss deadlines in writing the lyrics for upcoming songs. I guess this is one rising star that needs a little love in order to get his mojo back.
---
---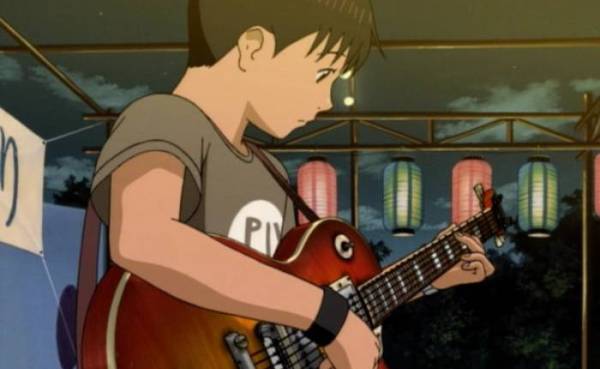 Gravitation rock anime music
Yukio Tanaka led a very ordinary life for a teenager. That is until the day he was recruited as a member of the rock music band, Beck. His guitar skills rapidly increased, and his calming voice allowed him to sing the band's slower songs.
However, like most bands that are just starting out, Beck's rise to fame is a slow and difficult one. Furthermore, Beck's style of rock music is more punk orientated. This is great, as there aren't many anime series with punk rock soundtracks.
---
The Rabble-Rousers of Rock Anime
---
---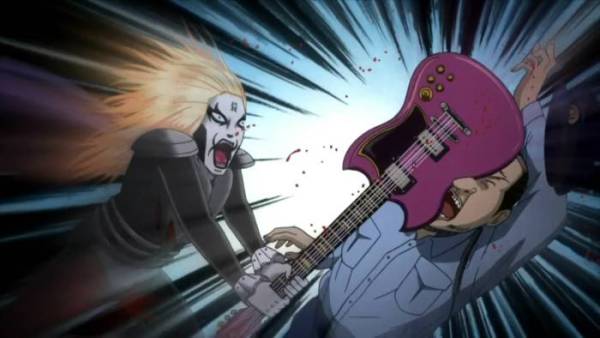 Detroit Metal City rock anime music
You'd think that the members of the hottest death metal band in town would love what they do. But this is not entirely the case here. Souichi 'Krauser-san' Negishi is the lead singer of the hardcore band, Detroit Metal City, but would prefer to sing upbeat pop songs, similar to the stuff coming out of Sweden.
The other members of the band are no different; they are interested in anime and glam rock instead. Will Detroit Metal City continue to be the badass rock music inferno, or will they burn out and fade into obscurity?
---
---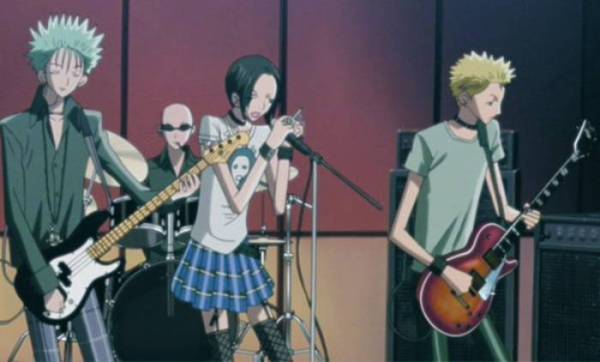 Nana rock anime music
Nana Osaki is a huge fan of the Sex Pistols, which may be one of the reasons why she is such an edgy punk rocker. She's the lead vocalist of the rock music band called Blast. However, Nana is a series which also has a heavy dose of romance; not surprising considering it's a shoujo anime. And it's certainly interesting watching the romances - as they unfold between the band members - as well as the rivalry between the various bands.
---
---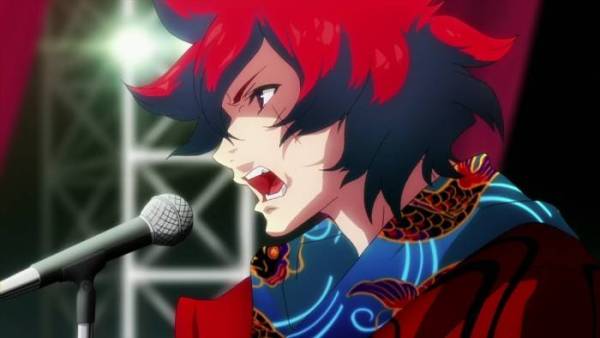 Bakumatsu Rock rock anime music
Rock stars living and performing during the Bakumatsu era - what an incredibly cool concept! We finally get an anime that gives us some electric guitar wielding heroes to look up to. Ryouma Sakamoto is a passionate red-haired lead vocalist and guitarist, with an insatiable appetite. But Ryouma will have to contend with the Tokugawa Shogunate which considers it a capital offense to sing songs other than Heaven's Songs, which are used to brainwash the population.
Will rock music alter the very history of Japan?