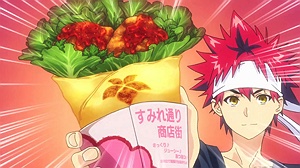 Food Wars is an interesting study in commercial expectations. It's a hugely popular manga in Japan - the most recent volume debuted at #4, with almost 300,000 in first-week sales. That's not quite on the level of the very biggest Weekly Shounen Jump titles like One Piece (well, only Shingeki no Kyoujin can make that that claim) or Ansatsu Kyoushitsu, but it's still pretty huge. And if anything, Shokugeki no Souma would seem to be even more of a natural draw for the fans who buy anime Blue-rays that AssClass.
Yet interestingly, Souma Volume 1 sold only about 2,000 discs in its first week (by comparison, Arslan Senki sold over 5K). I'm not sure why that is, since this series seems to check of all the commercial boxes and it's damn good besides. But I am pretty sure based on post traffic in the most popular English-language forums that the show isn't proving especially impactful among those fans either, though the ones who do watch it give it very high marks.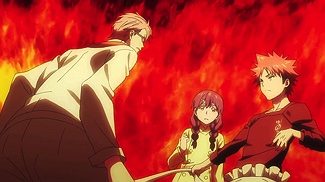 So why should you be one of the relatively few English-speakers who watch Food Wars? This article is really directed more at those of you who aren't yet watching than those who are, and it's not an easy one to write without relying on spoilers. But I'll do my best, because this is one of my favorite WSJ adaptations in recent years and it deserves a bigger following.
Let's start with the basics. Shokugeki no Souma, like Haikyuu!! before it, is receiving elite treatment in anime form. It's one of J.C. Staff's most stylish and attractive shows ever. The animation is fluid and consistent, the OP and ED sequences are top-shelf, and even details like the eyecatches and previews are done with tremendous flair and wit.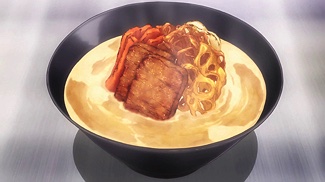 None of that would matter if the show itself weren't worth watching, but happily Food Wars is. If you like cooking (or even just eating) the draw is obvious - there's lots of food porn here, both hilarious and mouth-watering. And the series really cares about getting the details right - one of the co-authors of the manga is a well-known chef who was brought in specifically to keep the cooking segments interesting and realistic.
Shokugeki no Souma also delivers ample but not tasteless (I think because it's delivered with such wit) fanservice for both genders. It has a protagonist who's thoroughly likeable and highly-skilled without coming off as a Marty Stu. It has a cast full of memorably odd supporting characters, and while it isn't always immediately apparent, the "villains" aren't really villains - they're just antagonists. They may be obstacles for hero Souma Yukihira and his friends, but they rely on actual talent, and generally behave in a way that makes sense from their perspective rather than simply play the baddie for plot purposes. The conflicts in this show are really well thought-out, and subtler than one might think at first.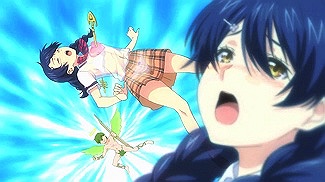 Last but certainly not least, Shokugeki no Souma is just plain massively entertaining. It's frequently hilarious, almost always engaging and sometimes even a bit heartwarming. It's a new-school shounen, make no mistake - kind of the antithesis of a classic like Ushio to Tora, it presents shounen tropes in a thoroughly modern way - but still somehow exemplifies the best qualities of shounen. It's a damn good show, and in my humble opinion, one you really should be watching,