---
Dig into a yummy anime cake, inspired by your favorite anime character!
---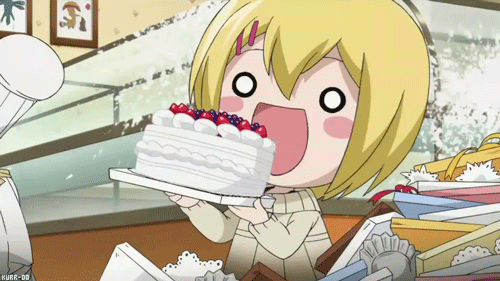 There are cakes inspired by almost everything you can think of. Famous painters, movies, video-games, animals... you name it! It's not surprising there are also cakes inspired by anime. Some use only iconic symbols from the anime, while others are a bit more direct and are modeled after a single character complete with a picture. Some are icing covered, while others are highly elaborate fondant works of art. The skies are the limit when it comes to these anime cakes. So, without further ado, we present to you a collection of 25 beautiful anime cake masterpieces, perfect for a birthday party or any other festive celebration!
---
---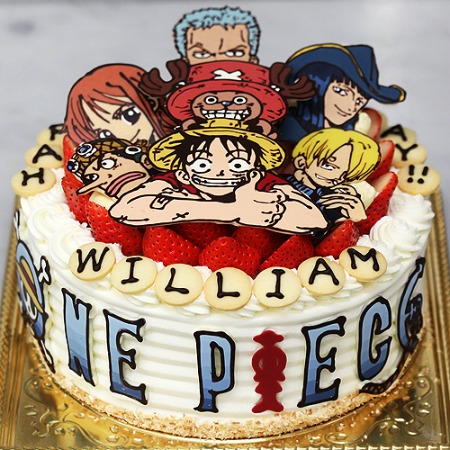 This strawberry-topped One Piece anime cake looks absolutely mouthwatering. Just pull out the character-shaped topper and dig in!
---
---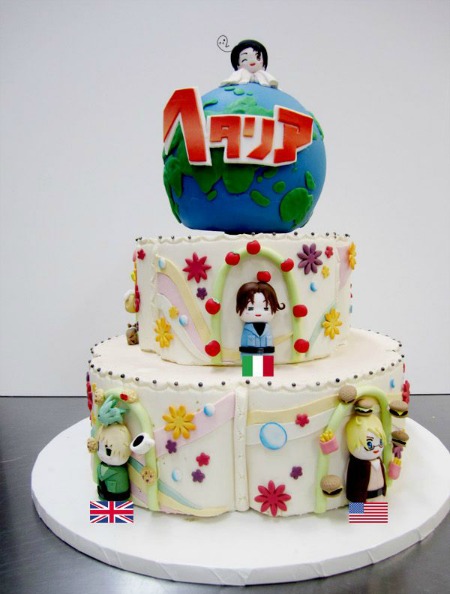 This Hetalia Axis Powers anime cake gives an almost disorienting representation for all of the characters. Flags and fondant figures tell how much effort went into creating this multi-tier confection.
---
---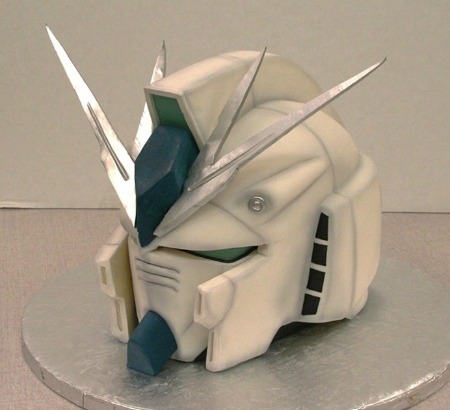 This marvelous Gundam F91 helmet from Mobile Suit Gundam F91 made by Mike's Amazing Cakes is exceptionally intimidating. There's nothing easy or quick about converting a Gundam's sharp, geometric angles into a clean cake. It's by far the most intimidating Gundam anime cake I've ever seen, made with fondant and soft colors airbrushed on.
---
---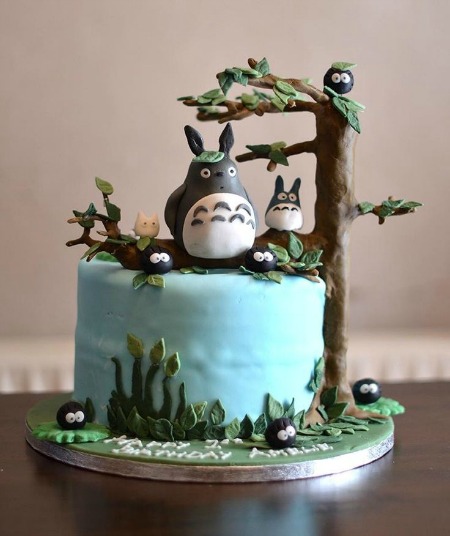 Totoro, dust sprites and trees, this anime cake is as adorable as Studio Ghibli's popular animated film. Although, it's really almost too nice to cut. Why not just set it up somewhere like a decoration?
---
---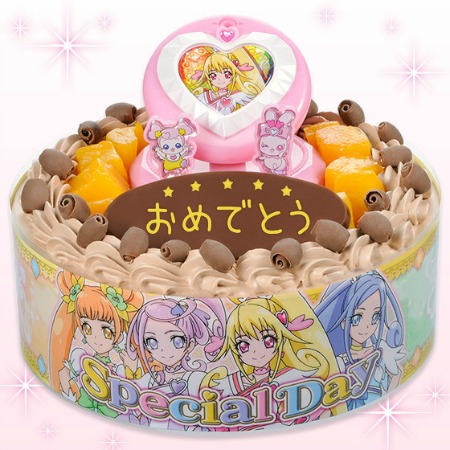 This chocolate mousse and orange anime cake has a sublime color scheme when compared to its bright wrapping. It features the DokiDoki! PreCure heroines in all their brightly colored glory with well wishes for the cake's recipient. It almost looks like an ice cream cake, doesn't it?
---
---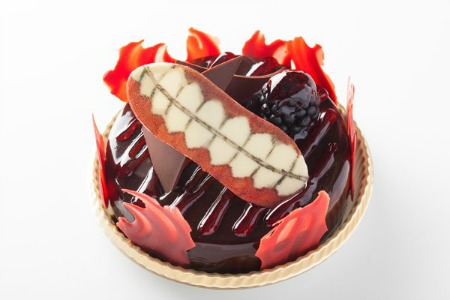 Styled after Kaneki Ken, this anime cake is served at Patisserie Swallowtail. It's a gory sight for sure. Chocolate mousse is topped with raspberry sauce and a raspberry, the Kagune on the side are also chocolate. It definitely sounds a lot more delicious than it looks!
---
---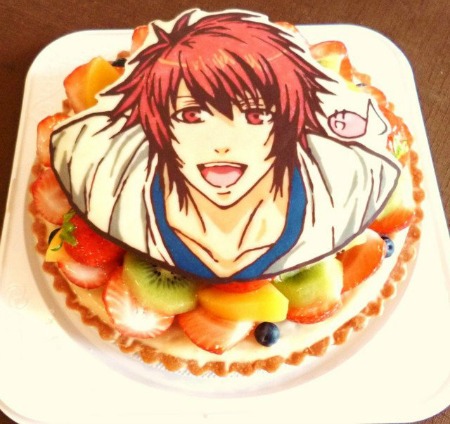 This anime cake features Ittoki Otoya from the popular anime Uta no☆Prince-sama♪ Maji Love 1000%. It has a bit of crust on the bottom, and resembles a fruit tart more than a cake, but it's still a pretty (and delicious) pastry.
---
---
I wonder if there's a real apple on this Death Note inspired anime cake? The book itself is thicker than the actual Death Note, but who wants to eat a quarter inch thick cake? There's a bit of representation for all the anime's popular characters (minus Misa). On the bottom are little comic scenes featuring L and his eccentricities, the apple for Ryuk and the Death Note for Light/Kira. This anime cake is a bit top heavy, but a lot of skill definitely went into making it.
---
---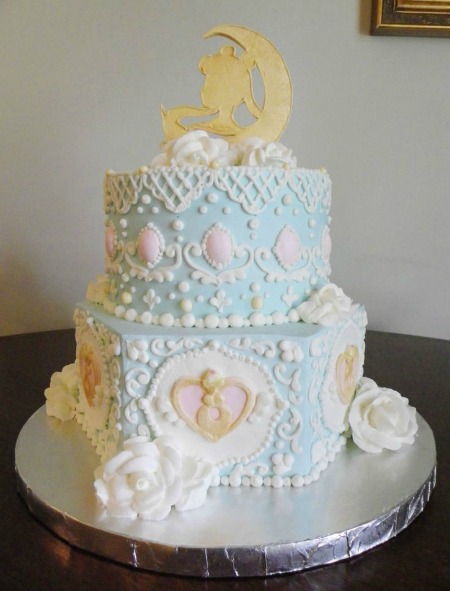 Sailor Moon inspired anime cakes are everywhere. There's a style, look and flavor for everyone. This anime cake, however, is exceptionally elegant, with tons of lacy, delicate details and pastel colors. It almost looks like a wedding cake, and it's definitely too pretty to eat. This anime cake is definitely a work of art... and patience.
---
---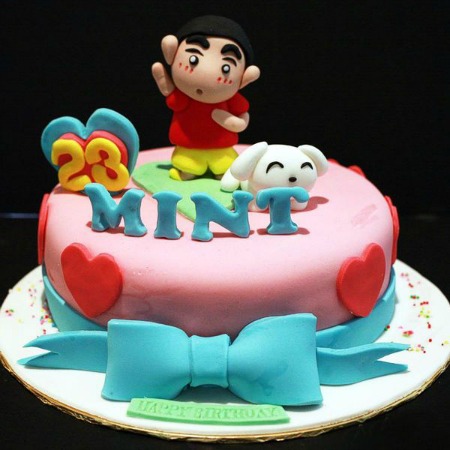 This colorful anime cake is a cute and fun representation of Crayon Shin-Chan, complete with Shin-chan himself. It makes a good birthday cake for sure, although I myself would've preferred if at least one well-made cake had some of Shin-Chan's iconic crude humor on it (elephant gag, wink-wink).
---
---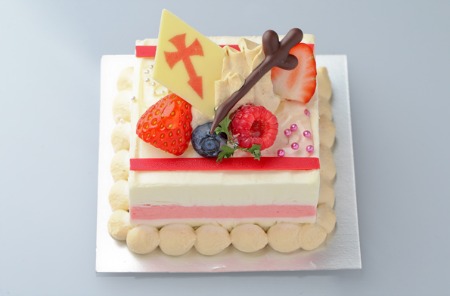 An Asuna inspired anime cake served by Patisserie Swallowtail. The base is yogurt and cherry flavored mousse, topped in red-tea flavored whipped cream and two chocolate shavings. Asuna's sword and shield are worked in chocolate as well. It's finished off with delicate little edible pearls and several berries.
---
---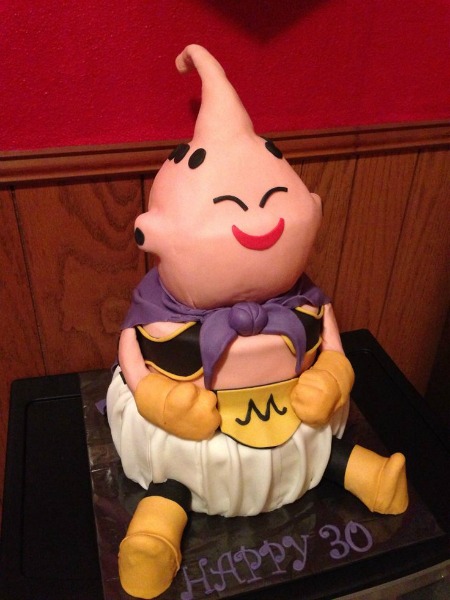 This three-tiered anime cake is modeled to look like Majin Buu from Dragon Ball Z. It catches the villains fun-quirkiness very well.
---
---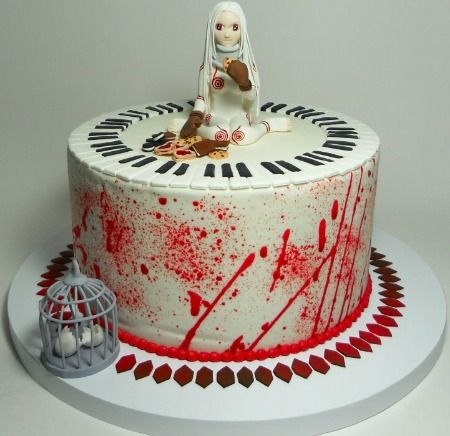 Simplistic and bloody, this anime cake fits the high-contrast Deadman Wonderland wonderfully. The little figurine of Shiro as a topper works wonderfully with the blood splatters.
---
---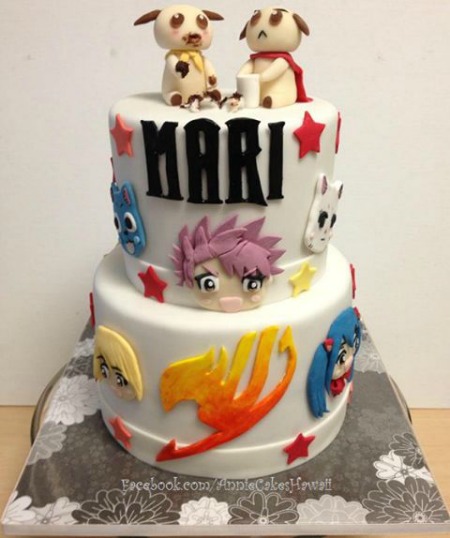 This multi-tier anime cake is fun to look at and definitely embodies the eccentricity of Fairy Tail, with grinning faces done in fondant and icing.
---
---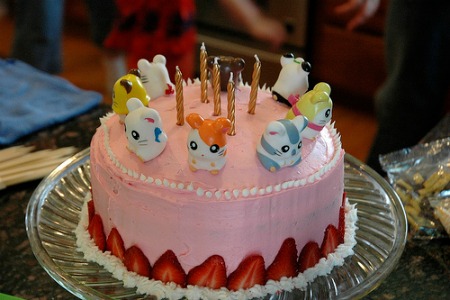 Hamtaro practically vanished after its short run in America on Cartoon Network. It was definitely a memorable cartoon, and this homemade, strawberry cake is a delicious homage to the anime.
---
---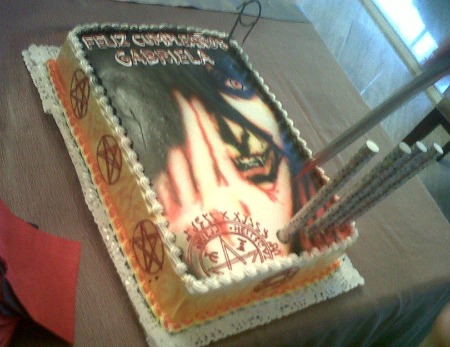 It's a little sad there aren't more Hellsing anime cakes. With all the Nazi Zombies/Ghouls crawling around, there's plenty of fodder for a pretty badass anime cake. As this one goes, however, the awesome, airbrushed painting on top almost makes up for that.
---
---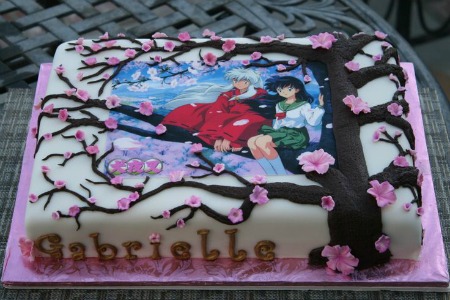 The ever popular InuYasha has its own anime cake. This one is quite peaceful looking, and the intricate work on the sakura tree is very pretty.
---
---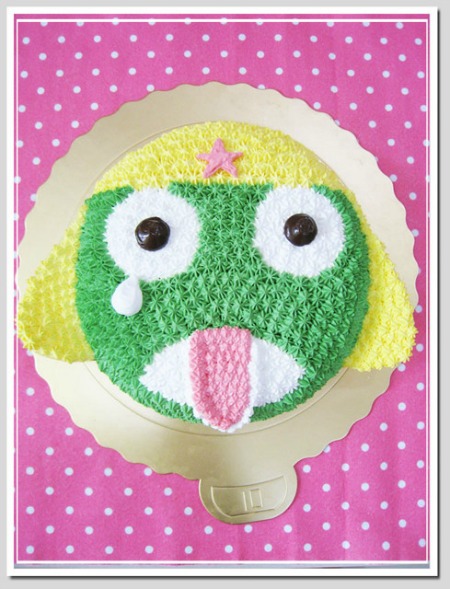 It doesn't get much cuter than this Keroro anime cake. It could work for almost any occasion, like a birthday or even just as a treat. The dot-style icing gives it that nostalgic look of homemade, childhood birthday cakes.
---
---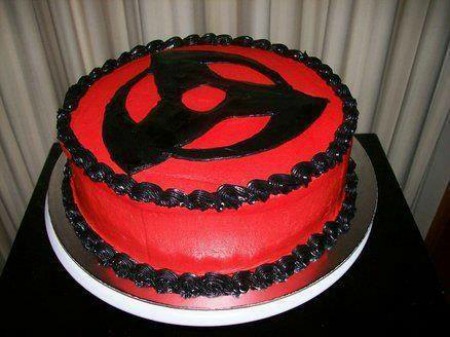 Whoever eats this anime cake is walking away with a very red mouth. That being said, the spot-on sharingan is most impressive.
---
---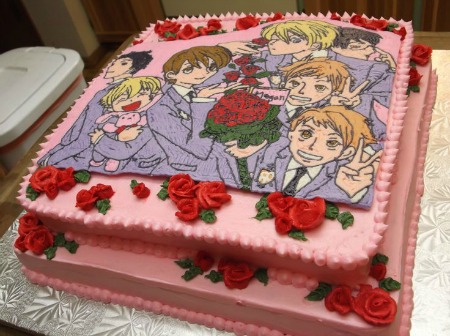 Ouran High School Host Club and pink go hand in hand, and this anime cake is definitely hitting the pink. A lot of work went into laying that image down, and it looks lovely. I like that this cake looks very edible; rather than digging through layers and layers of fondant, you can just cut and munch!
---
---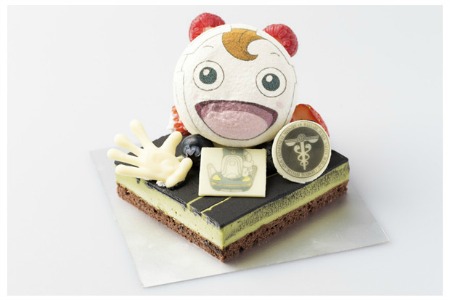 This crazy looking little dude is from Psycho-Pass and affectionately sits atop a chocolate anime cake. The toppings are worked out in fondant and, if you can handle the sugar, are all edible.
---
---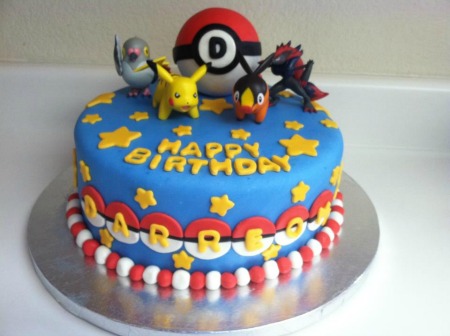 This would have been the perfect birthday cake when I was a kid. It's a shame that, despite its popularity, Pokemon was still a bit unknown except as a children's cartoon. Looking at the detail in this anime cake, it seems that Pokemon cakes have come a long way from the sheet-cake pokeballs of the '90s!
---
---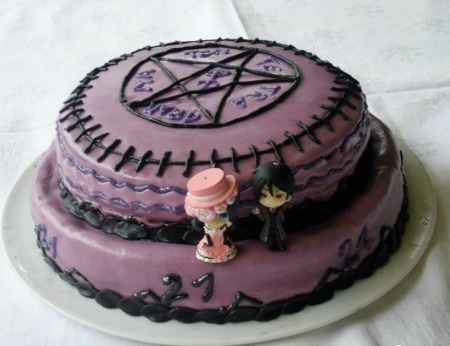 Purple and black go hand-in-hand with this Kuroshitsuji anime cake. The dress wearing Ciel is a nice touch, and of course Sebastian is there too. The piping for Ciel's contract on the top tier is a cool detail.
---
---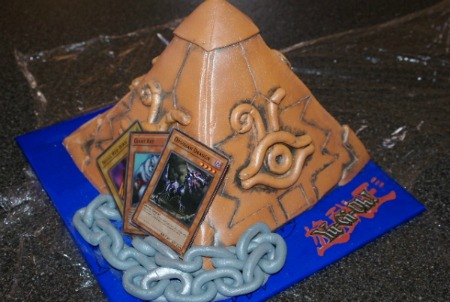 A fondant Millennium Puzzle anime cake based on the '90s anime Yu-Gi-Oh, complete with several duel monster cards.
---
---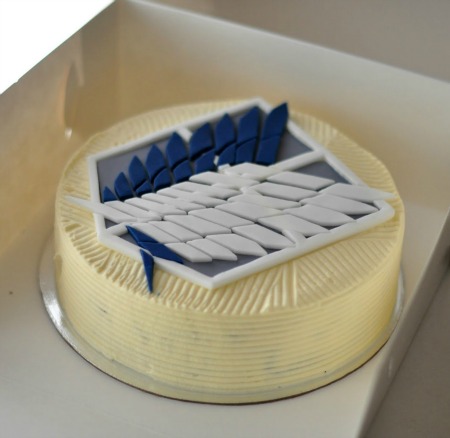 Photos of this Shingeki no Kyojin anime cake have been floating around for a while. It looks like a cookies and cream or chocolate cake with some sort of royal icing. It's delicious in its simplicity and the precise creation of the Scouting Legion's logo is amazing.
---
Still feeling hungry?
---
Come check out the Let's Dig In! Winter Foods In Japan and Feast Your Eyes: The Best Food in Anime! articles for more yummy fun!