ONE PUUUUUUNCH! Dum dum dum dum dum dum… Even though the exact lyrics elude us, we are fairly certain that most of you, our esteemed readers, have sang or heard this song that is the part of, without a doubt, one of the most acclaimed and loved shows of 2015 - One Punch Man. What made One Punch Man such a success is hard to ascertain, but its humor, animation, characters and a sharp social commentary of the society more concerned with image than actual ability captured the hearts of audiences worldwide. Because of such recent success, there isn't a whole lot of merchandise out there for an eager fan, but despair not, because we are here to show you the five best One Punch Man collectibles out there.


---
---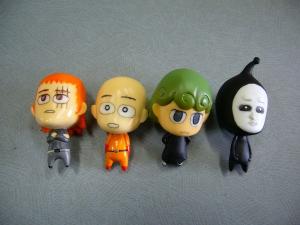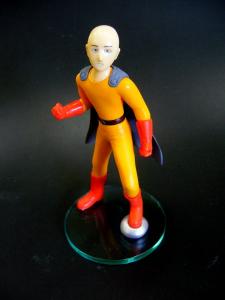 Have you ever wanted to buy a figure for yourself or your friend but were appalled by the astronomical prices? If that was ever the case, don't worry - we got you covered with a unique line of One Punch Man merchandise that will appeal to both your wallet and inner fan. This custom made collection comes from a famous One Punch Man fan. The applied artist, sculptor, and custom parts manufacturer Asahi has taken an unusual project propelled by his love of the series. He's created this Saitama mini figure series that is only 3.5 cm (just above 1 inch) tall. This other Saitama figure is part of this series, but this figure is a lot taller than the rest. Its height is 14.5 cm (about 5.7 inches). The miniatures will cost you around 500 yen (a little more than 4 US dollars), while the tall Saitama will cost you around 2,500 yen (approx. 21 US dollars). Both the miniature figures and the taller one are made from resin. The best part of this line is that all figures are custom and hand-made with meticulous care, which makes them truly one of a kind. These are both unpainted garage kits, which you have to put together.


---
---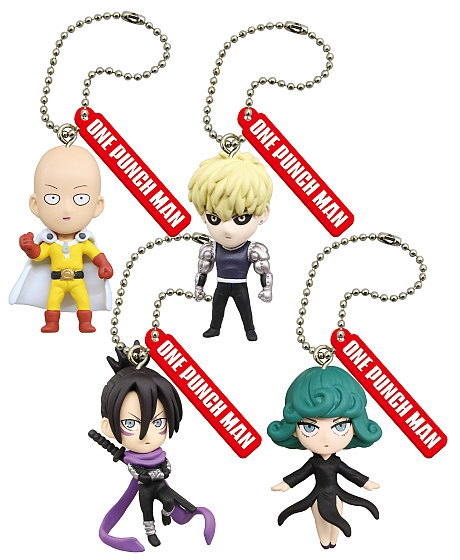 This next set on our list just servers to prove that when it comes to figures, size does not matter. These adorable keychain figures from Takara Tomy Arts let your favorite One Punch Man character accompany you everywhere you go. In this series the figures of Sonic, Tornado, Genos and Saitama are available. With a height of 4.5 cm (1.7 inches) tall, made from PVC. These figure are sold both individually and as group and all of them can found for around 1,600 yen ( just around 13 US dollars).


---
---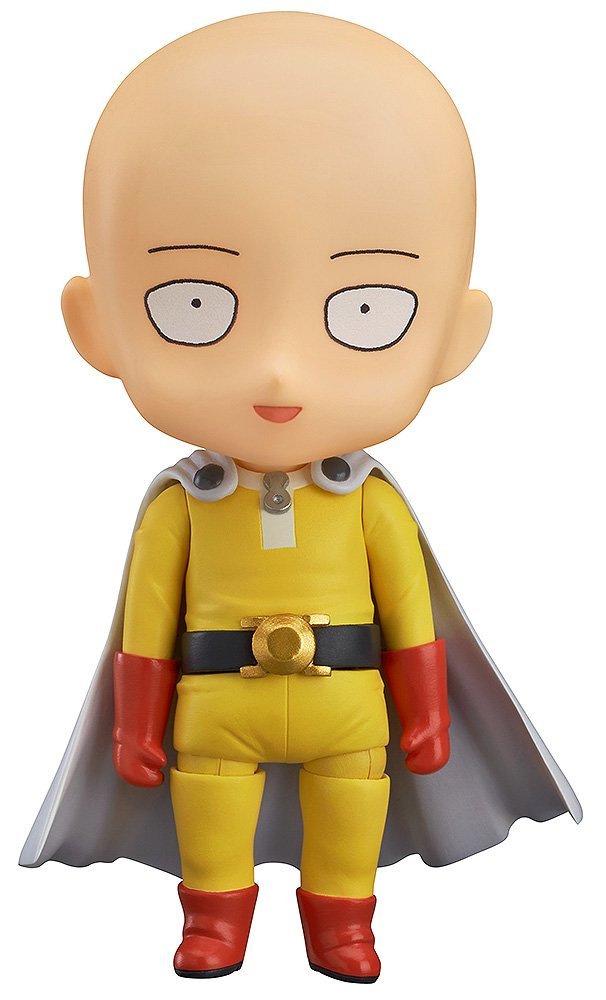 The next figure on our list is of our favorite anime bald-headed protagonist Saitama. This adorable Nendoroid figure comes to us from Good Smile Company. The figure was sculpted by Good Smile Shangai's sculptor Nd_Dog and it is ready capture your heart with its cuteness. The Saitama figure is around 10 cm (approx. 3.9 inches) tall and it is made from the mix ABS and PVC. This is a painted, articulated figure of Saitama that comes with a few goodies. With this figure you will get 2 gloriously bald heads, one with his characteristic calm, and somewhat light-headed expression and the other with the one he only makes when he is facing and interesting opponent. They are fully interchangeable and which one to use is left to your discretion. With it you will also get another iconic item from the show - Saitama's supermarket bag. We can't possibly allow Saitama to miss those beefy supermarket discounts, and you, dear reader, should learn from his example. Do not let this 3,800 yen ( 32 US dollar) figure slip your fingers!


---
---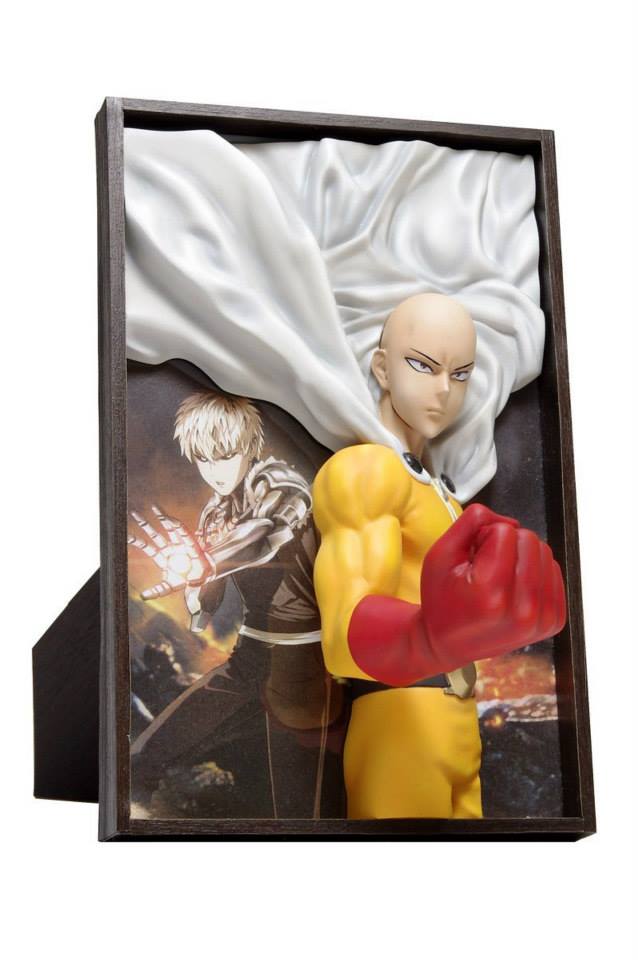 Next on our list we have somewhat an unusual item, and that is a picture-figure hybrid coming to us from Wave and Nami Nami. The picture itself features our two main protagonists Saitama and Genos aka The Cyborg Prince. Genos is on the picture part of this hybrid while Saitama appears as a figure in his battle-ready pose. This striking piece will be released sometime in January 2016, and until then we can only look and admire. With a height of 17.5 cm (6.8 inches) and width of 11.2 cm (4.4 inches), this picture won't take a lot of space on your wall or any other place you decide to put it. The frame is made from ABS while Saitama himself is made from PVC. This unique piece was sculpted by the artist Hayashi Hiroki. With this item you will also get an optional hand part. This beauty will cost you up to 5,900 yen (around 50 US dollars).


---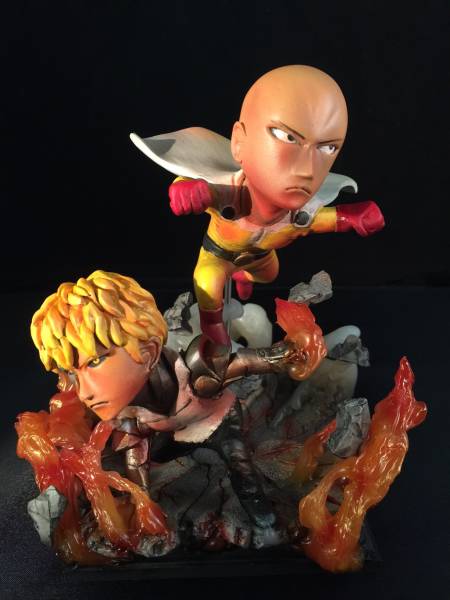 Our top spot belongs to the figure that was released in January 2016. Because there isn't that much merchandise for One Punch Man, many fans created their own pieces. This figure of Genos and Saitama is a work of an undisclosed up-and-coming artist, and even though he labels himself as nothing more than a novice, his work speaks for itself. The attention to detail on this figure is just amazing, with each part being painted with a different technique to create a vibrant and dynamic effect. For example the fire is a mix of three different tones that are used to enhance the glow. The effect of motion is further enhanced with the energetic and powerful poses of scared Genos and Saitama who stand on the shattered remains of the street. To own this unique piece of art you will have to pay up to 20,500 yen (about 175 US dollars).


---
While we adorn our collections with these amazing items, we should not forget to look to future, because with the success of the One Punch Man manga and anime, the future does look bright. Till the next time, our dear readers, farewell.
Brought to you by