---
Fairy Tail memes are a fairy tale come true!
---
Since Fairy Tail's first appearance in anime, its popularity has been on a steady rise. Some of the things that make the series so appealing are the many quirks and funny moments you find alongside the serious moments and adventures. These small details have not gone unnoticed and have been one of the center points of Fairy Tail memes. You'll find that most of the popular members of Fairy Tail each have their own set of memes attributed to different scenarios and the characters themselves.
One may notice that it's harder to find funny content for Fairy Tail compared to other anime like Attack on Titan. But, as it tends to be in life as well, the harder it is to find something, the better that something actually is! Here are 15 entertaining Fairy Tail memes for your enjoyment.


---
Ignorance is Bliss, Especially for Happy
---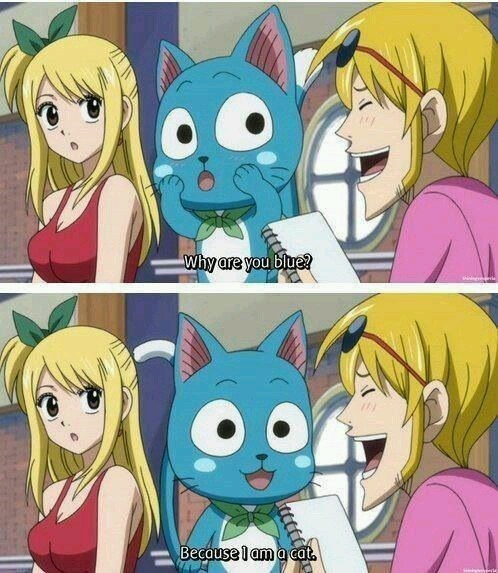 (Source)
The funniest and most entertaining cat (or Exceed) in Fairy Tail has gotten a big chunk of the popular Fairy Tail memes. Happy's pure expressions have always been a good source for entertainment. Here's a part of the series that takes advantage of Happy's somewhat dense personality.
---
Gray Teaches us the Meaning of "Revealing" One's True Colors
---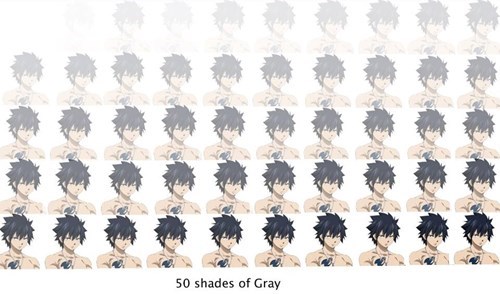 (Source)
Aside from the cool and calm demeanor typical of the ice mage Gray, the most noticeable aspect of his character is his ability to instantly strip. He finds that clothes are a bit too cumbersome for his tastes. Aside from this, we can also take a few references from his name.
---
Erza Really Loves Cake
---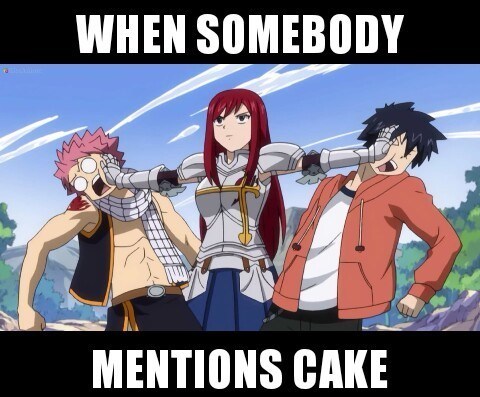 (Source)
This is one of the Fairy Tail memes based on one of the strongest members of Fairy Tail, Erza, who is known more for her elegance and various wardrobe changes than anything else. Aside from this though, it's also a well-known fact that she likes her desserts, especially cake.
---
I Promise I'll Give Them Back...
---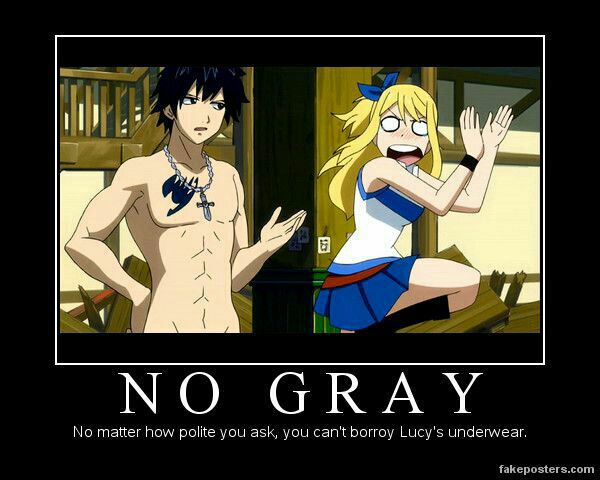 (Source)
While Gray never actually asked for Lucy's underwear in the anime, it's easy to make up that kind of scenario when you constantly strip in another person's home.
---
Breasts Have Secret Compartments
---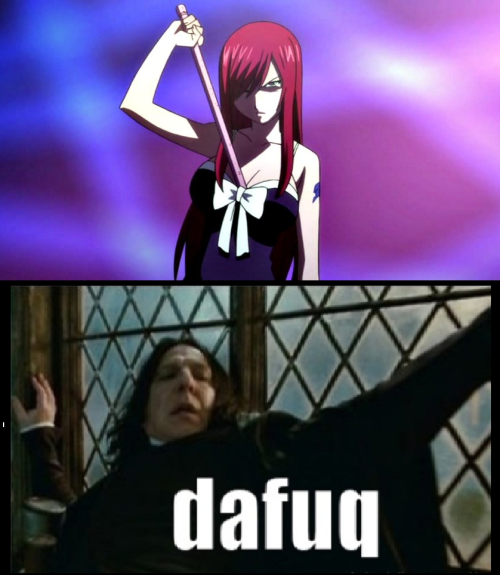 (Source)
Everyone has some sort of strange habit. Erza's is removing weapons from her cleavage. And this is one of the classier Fairy Tail memes. No biggie, eh professor?
---
Ice, Ice, Baby, Ice!
---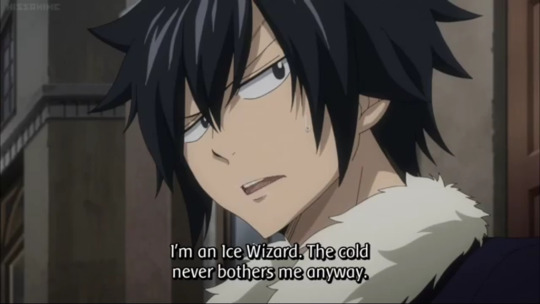 (Source)
Most of us have experienced what it's like to be swept up in the craziness that is Disney's Frozen. Even Gray has caught wind of this, because well, he is an ice wizard after all. With a bit of editing one can do a bit of referencing.
---
Did We Mention Erza Really Loves Cake?
---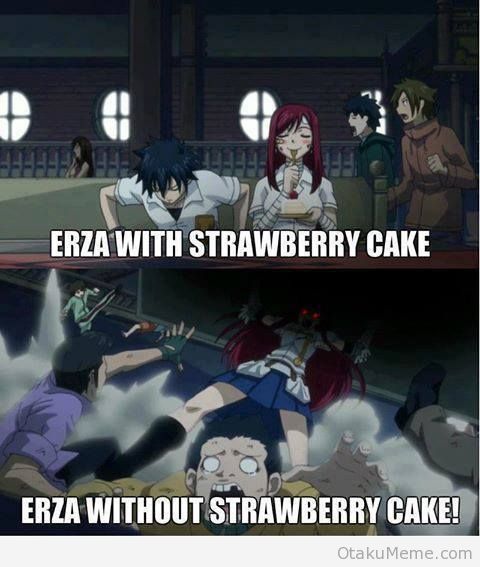 (Source)
Most all of Erza-based Fairy Tail memes reference her love for cake and other types of sweets.


---
Gajeel is a Pick-Up Master
---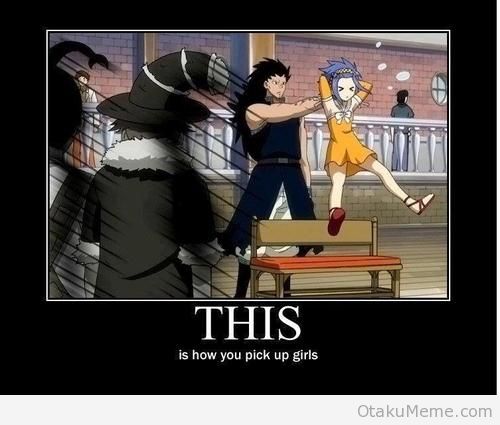 (Source)
The Iron Dragon Slayer is one of the strongest members of Fairy Tail. His sometimes brash and aggressive attitude does lead to a lot of funny moments. One particular endearing quirk he has was shown when he was looking for an Exceed of his own. He also has quite the taste for anything metallic. The internet is also filled with Fairy Tail memes, stories, fan fiction and rumors, about him and Levy.
---
Let it Go, Let it Go
---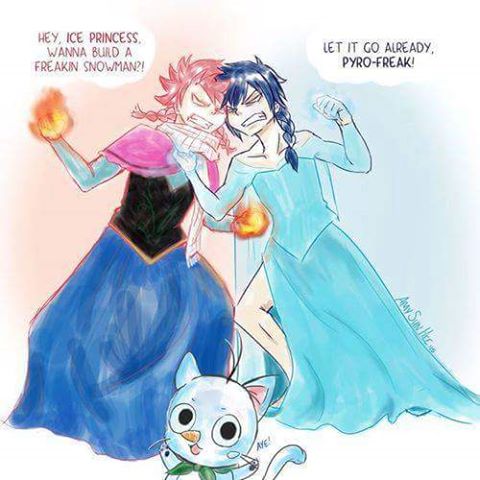 (Source)
One of the more common themes of anime-based memes is crossovers. Popular anime like Fairy Tail are often crossed with other franchises to produce hilarious results. This Frozen reference will make you think about the possibilities.


---
Attack on Fairy Tail
---
(Source)
Makarov's powers were also tied in with Attack on Titan, seeing how this look certainly relates to the other franchise.
---
That Moment When Everyone Turns Into Natsu
---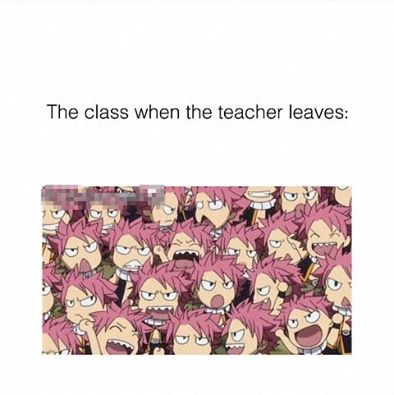 (Source)
It would be odd if one of the main protagonists, Natsu, wasn't included in a meme. And since he's so cool, why not include dozens of him? This is probably how this Fairy tail meme was born.
---
Good Friends Stick Together, Great Friends Fall Together
---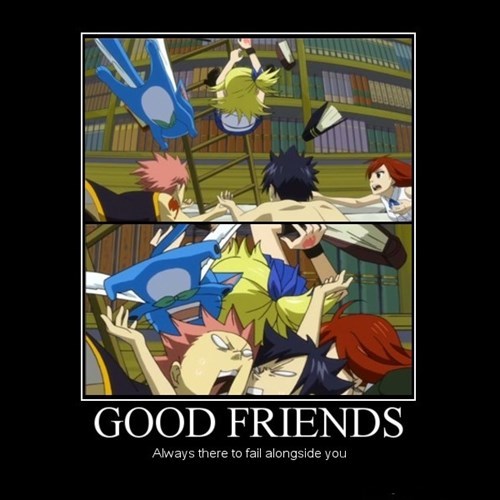 (Source)
Fairy Tail is also filled with a ton of funny moments between guild members, most of which are as relatable as they are funny. This is one of the Fairy Tail memes that perfectly captures the humor of the series.
---
Juvia Sure Has a Wild Imagination
---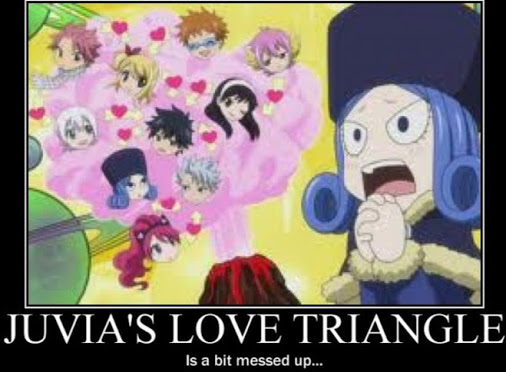 (Source)
While Juvia is known for her specialization in water magic, she's become an iconic Gray-obsessed girl more than anything else. Her imagination knows no bounds and has been used for tons of Fairy Tail memes here and there.
---
Gajeel's Usual Meal
---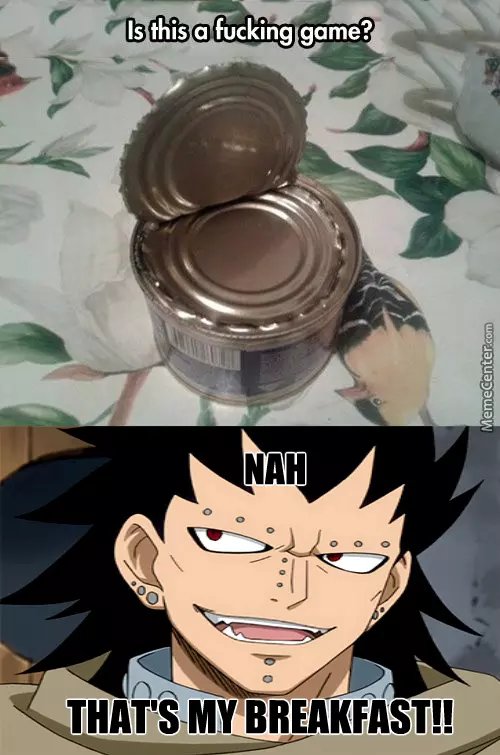 (Source)
Gajeel sure has an unusual taste for anything metallic.
---
Gray, I'm Pregnant!
---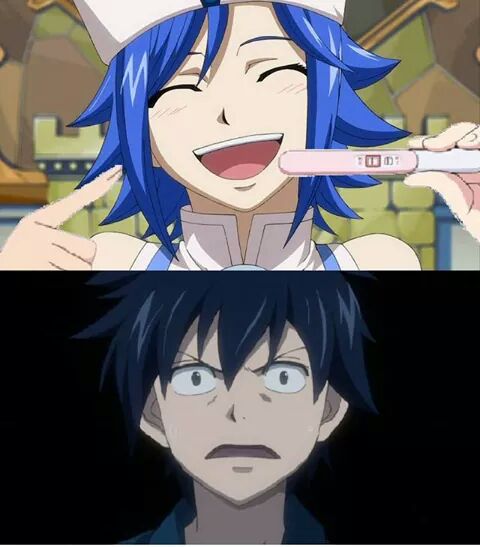 (Source)
Fairy Tail doesn't escape the pregnancy test trend, as it easily fits with characters like Juvia. Fake pregnancy Fairy Tail memes must be used with caution because some poor Fairy Tail fan may have a heart attack!
---
We can expect to see more Fairy Tail memes pop up as Fairy Tail continues on with its story. It'll be interesting to discover new things about the story and characters that can be used for funny memes as well.
In the meantime, please go check out the Naruto Memes and One Piece Memes articles for some more laughs!