---
---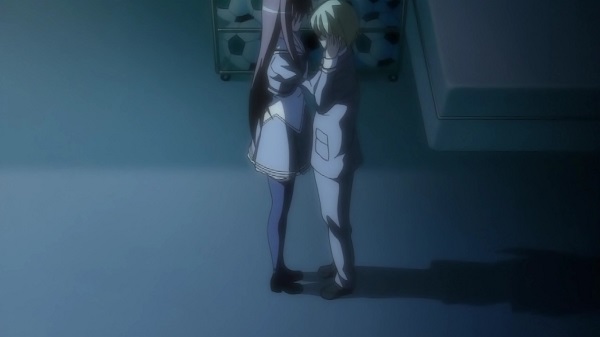 Though Aki kisses her little brother on the cheek—and does other things to him—their first mutual kiss is shared in the rain after school. It's a pivotal moment for them both: they're starting to realize that their formerly innocent affection for each other may not be so innocent after all. Both Aki and Sora are afraid of being found out and losing each other; while Sora tries to keep his distance, Aki wants to close it and make it work.
The kiss comes shortly after Aki frees Sora from the shed he's gotten locked in, which is a callback to a similar incident during their childhood. Both times involve Aki promising to always be there for Sora, but where the first established their bond as siblings, this moment recasts them as lovers. It's not just a kiss—it's a renewal of a covenant between two people who care strongly for one another.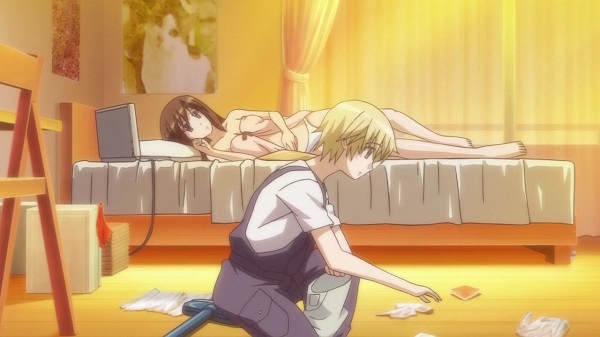 Feminine by nature, Sora Aoi often plays housekeeper for his lazy older sister Aki.
---
---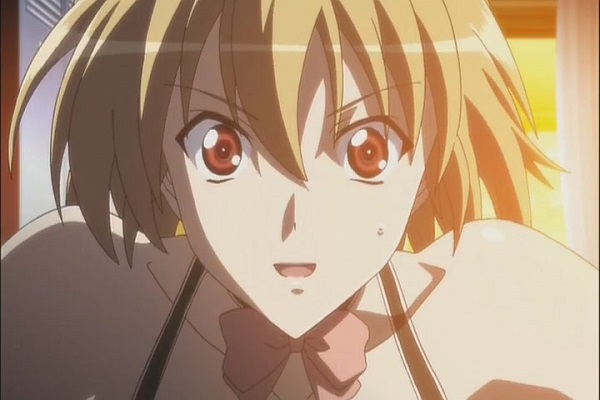 In the first episode of the two-part second OVA, Sora's twin sister Nami kisses her best friend Kana. Nami's secretly attracted to Kana, but Kana is in love with Sora. Nothing's particularly off about that love triangle...until Nami points out that she looks exactly like her feminine younger brother, and suggests that Kana practice kissing on her. Nami reveals that she stole Sora's first kiss, meaning that her kissing Kana is an "indirect kiss" from Sora. Kana is on board with it because of their resemblance and because of the trust she has in Nami.
It's both heartbreaking and uncomfortable—heartbreaking because Nami can't confess her true feelings, and uncomfortable because she finds...shall we say, unsavory outlets for her affection. The same protective instinct that led Nami to befriend Kana (by driving off a boy who was bothering her) causes her to lash out violently at her brother, and as Kana and Sora get closer she develops a psychotic sexual obsession with them both. If her original kiss with Sora helped foster his sister complex, it forms a tragic pattern with the "indirect kiss": Nami can facilitate love in others, but cannot experience it for herself. Poor Kana doesn't suspect a thing.
---
So What?
---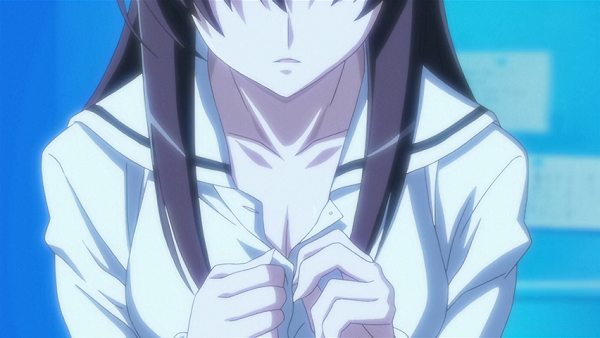 The plot of Aki-Sora is pretty thin. The main draw is the taboo nature of Aki and Sora's relationship, as well as some fairly dynamic and well-animated sex; the only reason it's not outright hentai is that it doesn't show genitalia. But that doesn't mean there isn't more to it than that.
Even though it's wall-to-wall smut, that smut tells a story, and that story has roots in its most innocent, least R-rated moments. Whether they get together or not, the nature of the relationships between the two main couples is summed up in the kisses at their beginnings. That's a refreshing touch of narrative unity for a prurient fantasy. You might only watch Aki-Sora for the pot of sex at the end of the rainbow, but make no mistake: that rainbow is a character arc.