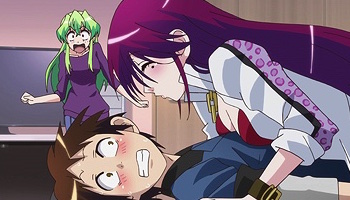 The truth is, Jitsu wa Watashi wa just keeps delivering the goods. Funny is funny, and this show is just plain funny. It's not exactly what I would call a deep and subtle character comedy, but the cast is massively fun (with one stark exception so far), and the series has a real knack for wordplay and especially sight gags.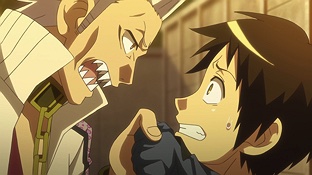 It's pretty much a given in anime that when one of the protagonists mentions a supporting character we haven't seen yet, they'll show up immediately - and such is the case with Youko's osananajimi. Except there quite a bit more to Shishido Shirou than meets the eye.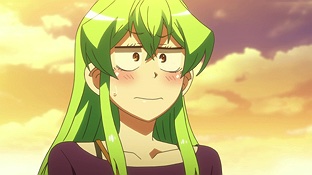 At first glance Teen Wolf seems to fit the mold of Jitsu wa perfectly - he's an idiot you can't help but like (even Asahi-kun feels that way). Mind you, Shirou comes on pretty strong, especially when he figures out that Youko and Asahi have just been to the amusement park together. There's a massive denial-fest going on in this episode, even for a series that's swimming in denial (and I don't mean the river in Africa). Shirou is really upset because he's sweet on Youko himself, but he's working hard at pretending (even internally) that it's because he promised her he'd take her home if her secret was out.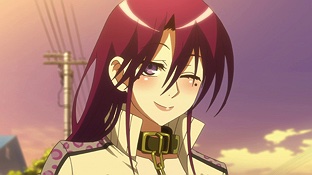 Of course, there's massive denial going on among the leads too. Youko and Nagisa are both sweet on Asahi and trying to convince themselves to support the other. As Nagisa gives in to her curiosity and heads for Youko's place to find out what happened on the "date" (let me just say, I love the absurdity of the fact that Okiinchou and Chiinchou are always wearing the same clothes) a hilarious drama is playing out between Youko, Asahi and Shirou. Once Youko outs Shirou by tossing him a stick, he goes off on Asahi pretty good - until he gets a look at the moon and things take a(nother) surprising turn.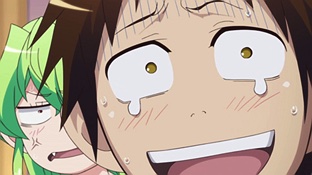 So this okami-otoko isn't the sort we're used to - he's actually a gender-shifter, and after seeing the moon "he" becomes Shishido Shiho (Uchida Aya). And not only that, this girl is an ecchi sort, and the true personalty - she's always present even when Shirou is the physical form, but his consciousness disappears (to where, I wonder?) when Shiho comes out. She introduces herself in memorable fashion: "The truth is... I'm not wearing a bra". And for poor Asahi, things just go from bad to worse when Nagisa shows up and catches them "in the act" (she comes back moments later convinced she's made a mistake, only to catch Asahi and Shirou this time).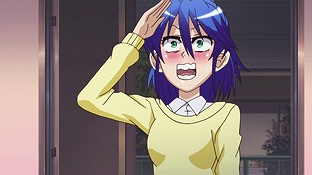 The truth is, Shiho - for all her trolling seductiveness - actually doesn't seem like a bad girl. She's clearly seen through Youko's professed disinterest in Asahi, and what's more seems inclined to push them together. I think my favorite moment here comes when Shiho decides to put Asahi to sleep so she and Youko can discuss this privately, and does to by forcefully taking Asahi motorboating (which immediately produces the desired result). But then, Shiho does show up in school the next day, so it might not be safe to make any assumptions about her motives just yet...