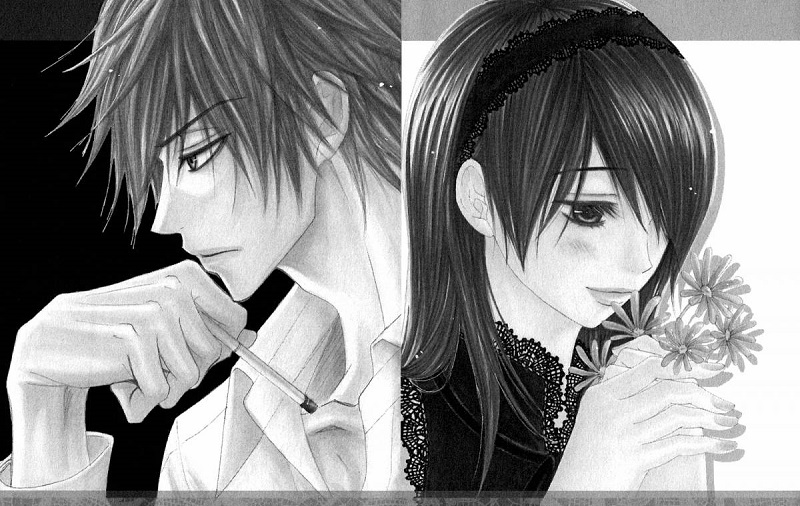 Get ready to laugh your heart out...
---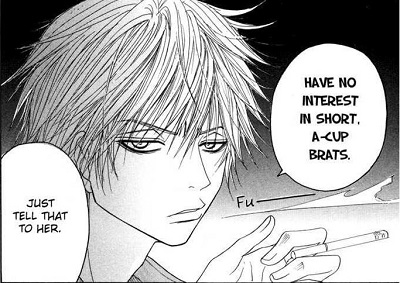 Tasuku's facial expression, his cool smoking pose, and his blunt words are what make this hilarious. It's even funnier since it's an indirect insult to Teru who's sensitive about her chest!
---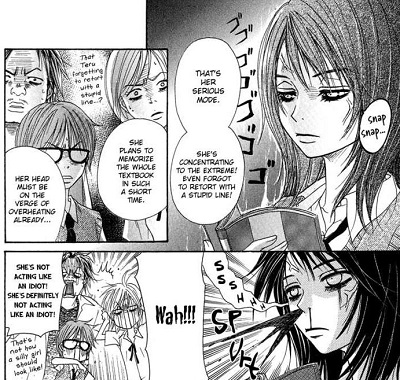 To maintain a scholarship, Teru studies very hard... so hard sometimes that she gets nosebleeds! I guess poor students like Teru will do whatever it takes to maintain a scholarship.
---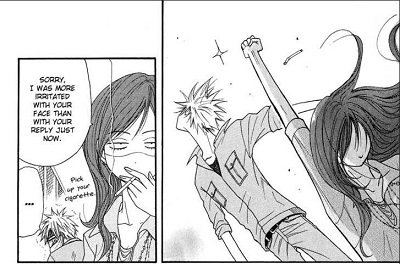 Riko treats Tasuku like her little brother and comes up with funny, sassy comments all the time. She also throws a few more physical punches...
---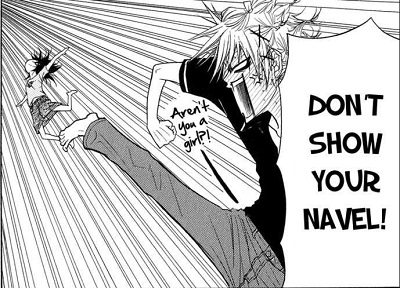 One of Tasuku's famous, most-used lines in the manga series. He says he doesn't like it when Teru shows her navel! But his blush suggests that he likes it a bit too much.
---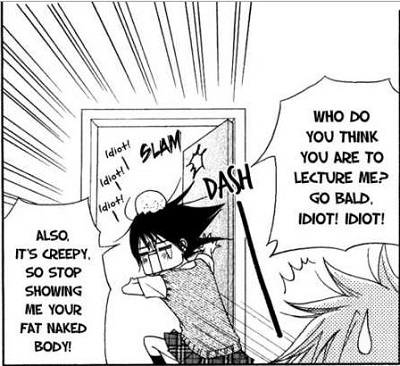 Don't worry, Tasuku only had his shirt off. Nothing special. But it apparently hit a nerve with poor Teru as she stormed out of the room (leaving behind a few curse words for Tasuku to enjoy).
---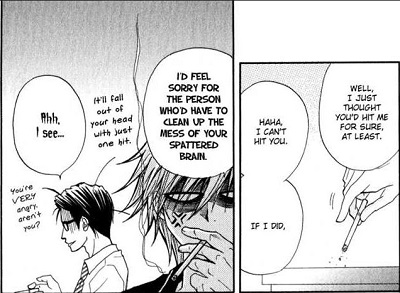 Gotta love Kurosaki's short temper. His strength shown throughout the series also proves he has the moves to back up his threats. Careful, Takeda!
---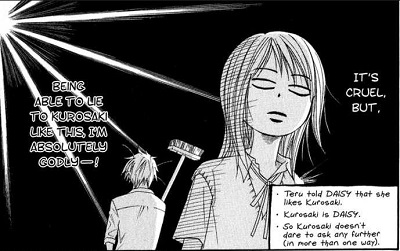 Teru feeling (godly) proud that she was able to quiet Kurosaki with a lie. She's definitely soaking in her glory!
---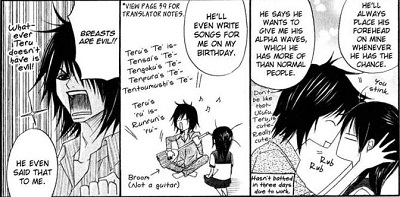 "Breasts are evil!" Souichirou is famous for this type of crazy outburst. Anything that went against his sister, Teru, was evil to him.
---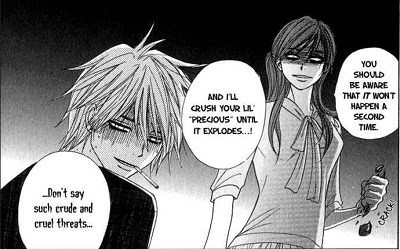 Let's just say that Riko's bad side is off limits!
---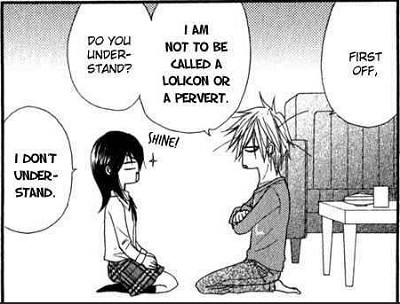 Tasuku is extremely sensitive. Teru does not understand that term.
---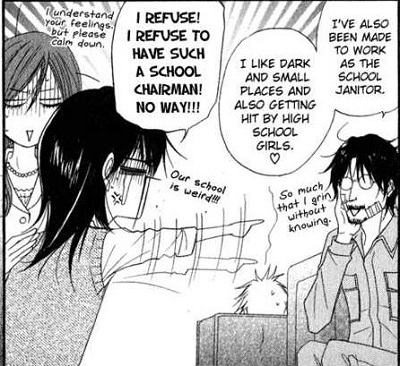 Andy is the Dengeki Daisy resident masochist, as you can see. You can probably take a wild guess and say that most (or all) of the males in Dengeki Daisy are pervs in their own way.
---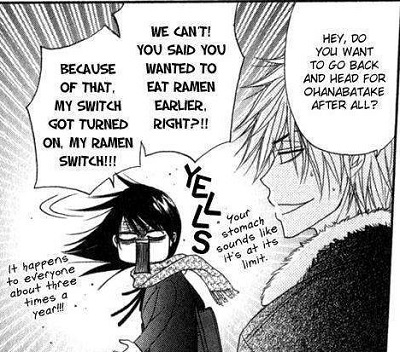 All ramen lovers have a ramen switch, Teru!
---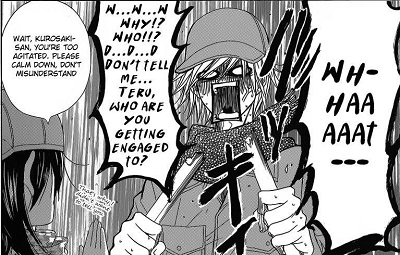 This quote + Tasuku's expression = priceless!
---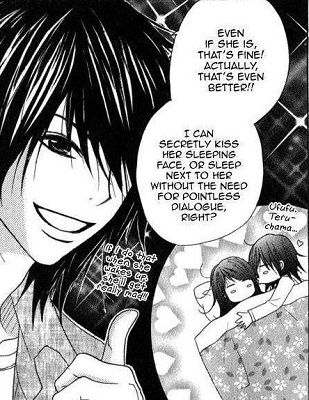 He's not a pervert! Souichirou is just a loving, devoted brother... right?
---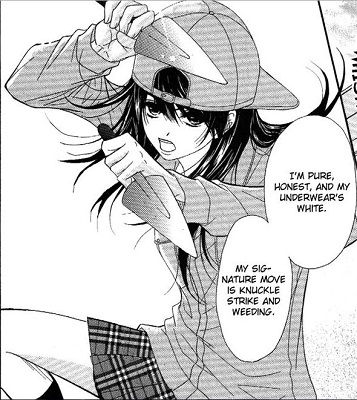 Meet Teru, the tightie-whitie wearer who weeds.
---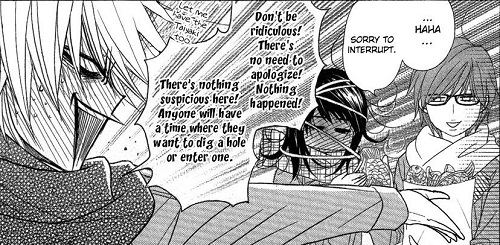 It's okay, Tasuku. It's normal to want to hide in a hole when you're embarrassed!
---
Like I said before... you don't want to get on Riko's bad side!
---
Tasuku, it's strange that you'd know that fact... Gotta love Souichirou's reaction, though!
---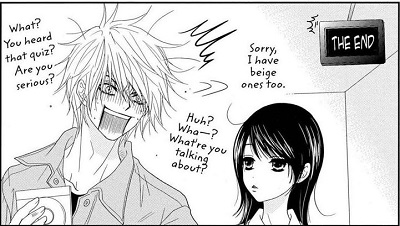 Teru tells Kurosaki she has beige undies, not just white ones. Thatta girl!
---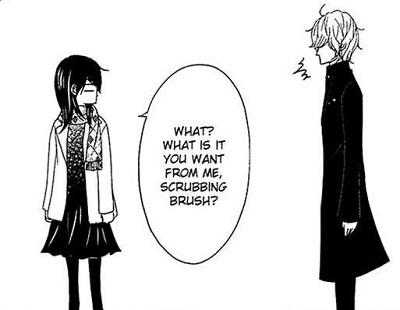 "Scrubbing brush" is the best insult for any evil guy with shaggy hair. Nice one, Teru!
---
Although Dengeki Daisy isn't an anime (yet), it's a completed manga series. If you love unique, complex plots and lovable characters in manga, then go read it already! If you don't, Tasuku might come after you...