June 29th, 2008
Moving
So, Wordpress ended up being a better location for me to publish my blog as well as advertise it. As such I'm moving the blog to that server. Hopefully, once animeblog.net restarts accepting applications, I'll apply for one.
so until then
http://tekky99.wordpress.com/
home of the new improved tekky99 animeblog
June 28th, 2008
If there is a god... THANK YOU!!!!
Now, most of you know, I LOVE ef - a tale of memories, hell I don't even try to hide it. The show was incredibly touching and included everything I love in the romance genre. After I completed the anime and watched the game OP, I realized that there was a few things I wanted to see, namely, Mizuki's involvement in the story. (In the game, she has some sort of relationship w/ Kuze).
After that, I became very much hopeful that a season two would be announced... one that would tell different stories, so it wouldn't be a complete sequel. After about 3-4 months, i started to give up hope... and then this morning, on the MAL front page... "Second Season of Ef - a tale of memories Announced"

My heart literally skipped a beat. You know that feeling when you go on a first date with someone you like... and you stomach is churning in anticipation?... yup that's what's going on w/ me right now.

It will be entitled ef - a tale of melodies. People are saying it'll air in the fall. one year after the original broadcast. As hoped, Mizuki and Kuze will be featured, as well as another 2 characters that I haven't seen yet.... I'm not sure if they are anime-original characters. (in the 2nd game, the two stories is Kuze/Mizuki and Renji/Chihiro... Renji/Chihiro was covered in the first season).

Fall 08 is amount to be something GREAT

Incredibly happy
-Tekky
June 27th, 2008
Summer 08 Pilot Episode Reviews
And so the new season kicks off... these reviews are written in order of airing.
Telepathy Shoujo Ran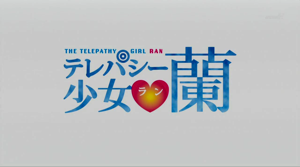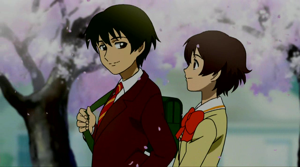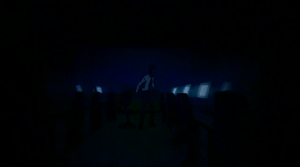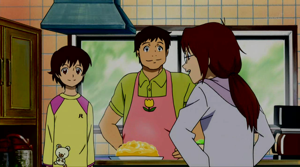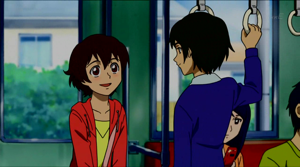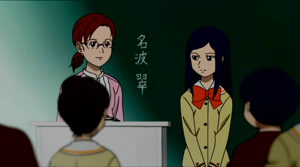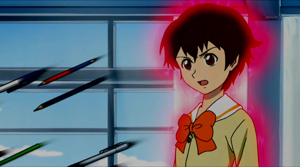 Thoughts:
First off, the opening had nice light rock song playing to various shots of the main characters. This indicated to me that the show looked to head in a slice-of-life direction with a supernatural element. Indeed the first few scenes seemed to confirm this. Imagine my surprise when it switched to a scene that was more reminiscent of a horror. Indeed, the show turned out to be much more dramatic then I anticipated. In fact we got a little bit of action towards the very end. I'm sure the writer was intending for us to feel that Midori is the perpetrator of the events... but that is a common trap in mysteries.
The show has a soft/watery feel to its colors. It almost feels like it was made in the 70s. It's an interesting touch that'll take some getting used to. As for the OP/ED tunes, people have complained about both of them, but I actually liked it. Felt kinda relaxing.
So what are my thoughts? The show definetly caught my interest, I'll probably watch the next few episodes to see where the show is going. I might blog this one for a little while... but then drop it in favor of another show.
RATING:
7.5/10 (bland start, but picked up by the end)
Chocolate Underground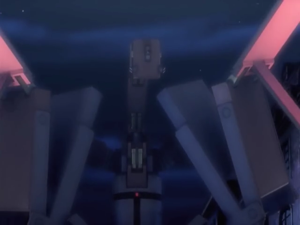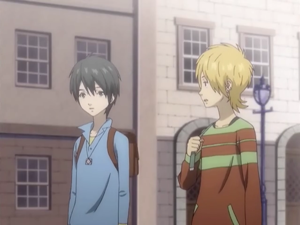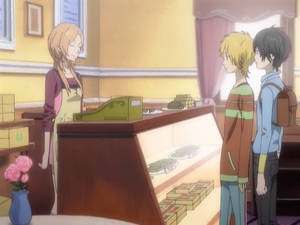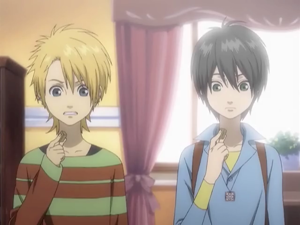 Thoughts:
Hell has arrived on Earth... Chocolate is illegal. It's an original twist to the "fight-against-the-man" concept. In this case, the oppressive government is cracking down on unhealthiness, as such; chocolate is outlawed. We haven't met the resistance group yet... but we can guess who they will be.
Overall, 5 mins long... short and amusing. I'm probably not going to blog this as there isn't much to blog per episode... and I don't feel like updating this every 2 days.
RATING:
7/10 (original concept... a bit short)
June 23rd, 2008
NEWS (6/24/08)
New as always, are from ANN and
Random Curiosity
- Stated this last time in a post message, stating it again...
Skip Beat!
is getting animated. It will air in the Fall Season. I haven't heard much about production company.
- As some of you may have noted... the
Vampire Knight
episode count got halved recently on MAL. This isn't a glitch or an error. There really will only be 13 episodes airing. BUUUT, that isn't the end of the series. Confirmed earlier this morning,
Vampire Knight
2nd season will start in October. A 3 month wait... but who knows... maybe the show is like wine.
- Gonzo's
Strike Witches
, an anime that is set to air this summer will be simulcasted on YouTube and Crunchyroll subbed. Same way as Druaga and Blassreiter.
- Again, older news but, dub episodes of
Welcome to the NHK!
have been broadcasting on CrunchyRoll, 2 a week, everything thursday.
If you have any corrections, or news to add, feel free to comment
-Tekky
June 19th, 2008
NEWS (6/19/08)
News from ANN and
Random Curiousity
While this season may have been a disappointment, Fall 08 keeps racking on more series that have piqued my interest
- The Ga-Rei anime adaptation is scheduled for the Fall 08, and has the title "Ga-Rei ~Zero~"
- Gainax's newest series will be an adaptation of the supernatural horror manga "Shikabane Hime"
- This might be older news... but the newest Leaf H-game anime adaptation,
Tears to Tiara
, will air in the fall. Same animation company as Utawarerumono. In newer news... this is only rumored, but Leaf's
White Album
will also be getting an anime adaptation
- Another rumored anime adaptation: Square Enix's
Tales of the Abyss
- As some of you have been hearing, Anime manga publisher, Tokyopop, is undergoing a major reorganization. In the process, many jobs are being cut as well as a good number of mangas being dropped. Check ANN for continued updates of this news.
For any corrections and notable events, feel free to comment...
hell.. please comment so that I know people are reading this =D
-Tekky
EDIT: Another news that came up over night... this one for the shoujo fan...
Skip Beat
gets a TV anime this fall
June 11th, 2008
Summer 08 Outlook
So I'm not going to post photos when you can just find them here:
http://that.animeblogger.net/2008/06/14/thats-summer-2008-anime-preview/
Ikkitousen Great Guardians
OUTLOOK: I'm not one who watches ecchi for the sake of ecchi... hell I dropped To Love-RU and Kanokon, despite their potentials to be decent romances. So seeing this show being an ecchi, but nothing really else... I'll pass
Watching Chance: 05%
Blogging Chance: .01%
Telepathy Shoujo Ran
OUTLOOK: It looks interesting... it has the potential for good characters. Doesn't look to be a romance, but I'll probably check it out nonetheless.
Watching Chance: 60%
Blogging Chance 20%
Chocolate Underground
OUTLOOK: I've heard about this one... however... doesn't look like it will be easy to get a handle of some subs for this anime.
Watching Chance: 25%
Blogging Chance: 1%
Ultraviolet: Code044
OUTLOOK: Um, I have to ask... WHY are you making an anime based on a movie the FLOPPED critically and financially? I predict low viewership, even if the show is good.
Watching Chance: 7%
Blogging Chance: 1%
Slayers REVOLUTION
OUTLOOK: I haven't seen any of the previous Slayers animes so watching this one would seem kinda pointless. For now, unless i manage to catch up on the previous series... then this is one I'll pass on.
Watching Chance: 10% (might go up when I finish the rest of the series)
Blogging Chance: 1%
Seiyou Kottou Yougaiten ~Antique~
OUTLOOK: Yaoi... PASS
Watching CHance: 0%
Blogging Chance 0%
Hidamari Sketch x365
OUTLOOK: Same case as Slayers... I haven't seen the first season yet, despite hearing praise... currently i have no plans on watching it. So yeah
Watching Chance: 10%
Blogging Chance: 1%
Strike Witches
OUTLOOK: First i was o_o... then I was O_o.. and finally i was -_-;;; The story concept, definitely bizarre and so i don't have a lot of hope for this show. I'll probably check out the first episode out of curiousity.
Watching Chance: 45%
Blogging Chance 15%
Birdy the Might Decode
OUTLOOK: And the award for most stupid title goes to... yeah... there are three things that have me turned off from watching this show. The title, the promo image (looks INCREDIBLY ecchi), and the story. There was another anime in which a guy possesed a girl's body... i think it was called Body Transfer (hentai).
Watching Chance: 1%
Blogging Chance: .1%
Natsume Yuujin-chou
OUTLOOK: Again... this is one of those shows that I'll probably watch out of curiosity. Everyone says that the manga is amazing, and I keeping hearing it compared to Mushi-shi. So we'll see
Watching Chance: 55%
Blogging Chance 35%
Mission-E
OUTLOOK: This screams of super sentai anime. I'll pass and leave this one to the kiddies.
Watching Chance: 15%
Blogging Chance 5%
Blade of the Immortal
OUTLOOK: One of those mangas that everyone seems to know about except me. This might the most anticipated title for the season. Having never read the manga... I don't know what to expect. Though, if there's this much hype... I'll probably check it out.
Watching Chance: 75%
Blogging Chance: 50%
Koihime+Musou
OUTLOOK: That's supposed to be a cross, not a plus. But yeah the last two eroge-adaptation/romance/fantasy-action I saw (Utawarerumono and Fate/Stay Night) ended up being quite entertaining. So this one shows promise... hopefully it won't fail in the romance department
Watching Chance: 95%
Blogging Chance: 75%
Sekirei
OUTLOOK: Um... I'm not watching any anime in which there are watermelons attached to a girls chest.
Watching Chance: 0%
Blogging Chance: 0%
Zero no Tsukaima ~Miyoshi Hime no Rondo~
OUTLOOK: The one show that I KNEW I was going to watch this season. Sure the 2nd season was a major disappointment, but I can't get enough of tsundere/whip-wielding/Kugimiya Rie-voiced Louise. I'll follow this season through and through.
Watching Chance: 100%
Blogging Chance: 100%
Yakushiji Ryouko no Kaiki Jikenbo
OUTLOOK: This looks like Real Dive... an anime that might've been good.. but i had no interest in watching. Just isn't the genre i'm interested in.
Watching Chance: 20%
Blogging Chance: 1%
Mahou Tsukai ni Taisetsu no Koto ~Natsu no Sora~
OUTLOOK: The first thing that caught my eye was that the artwork. The background work looks similar to ef-a tale of memories, and some of Makoto Shinkai's works. I'll probably look into the first season in these next few weeks and I'll probably watch this... Though I'm not sure about blogging
Watching Chance: Dependent of 1st season
Blogging Chance: 40-60%
Nogizaka Haruka no Himitsu
OUTLOOK: Otaku-centric animes are always a breath of fresh air. This one is combined with romance. The relationship between the two main characters reminds me of the relationship between Taiga and Ryuuji in Toradora! Not to mention, it has similar artwork to H2O ~footprints in the sands (those who watched the show should remember that the artwork was one of its strong points.
Watching Chance: 100%
Blogging Chance: 85%
World Destruction
OUTLOOK: I'm tentatively calling this the replacement to "Tower of Druaga"... in the Summer of RPG Adaptations. The artwork is appealing and the show's story concept looks promising. This is one I'm probably going to check out
Watching Chance: 90%
Blogging Chance: 65%
After a spring season that was somewhat disappointing... the summer appears to be filled with... mostly crap. But there is the possibility of a few gems emerging.
Until next time
-Tekky