November 29th, 2010
Questions About Things
I don't understand what the big deal is about relationships. But I guess that I haven't had much exprience with that catorgory. So I have questions for one of you guys to answer. First let me tell you why I need help. There are these two guys that like me (god knows why) and I don't know if I like them back. But I don't understand how you find out if you like someone. So here are my questions:
1. How do you know if you like someone?
2. Is it supposed to be ok if you and the person you like/are dating are almost completly different execpt for some similarties?
3. When are you supposed ti "make your move" on them?

If you can answer these questions I would really appreciate it. Thank you!
August 10th, 2010
Member Cards
These are all the member cards I have gotten so far: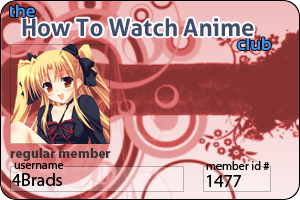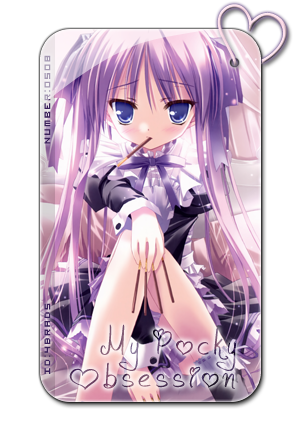 August 9th, 2010
Other Topics
-
Have a Great School Year
is about getting back to school again and good wishes for the school year.
-I have always thought that a dork life is the best life and that's why I will continue to read manga and watch anime. Have you ever thought that? I also will not stop being proud of being an okatu!!
-If you want to check out my member cards
click here
and you can see all of them!!
I hope you will take the time to read these things that I have wrote!! Thanks!!
Anime and Manga
Under Construction
August 8th, 2010
Have a Great School Year
This is the begginig of a new school year with the same old things. This year, however, will be different for my friends and I. We are going into our first year of high school. I am freaking out!! I am in the smart class so I can't see my friends as often. :-( But I will still try my best anywase and so should you!! You should never let your fear of the unknown future stop you from taking a step forward. That is also the same thing for the whole school year itself. So go forward with a postive attitude and, of course, your favorite manga in your backpack!!

Enjoy the school year, have fun with your friends, and continue reading manga and watching anime!!
August 6th, 2010
All About Me
-I love anime and manga!! Well thats kind of a give me since I have an account here on my anime list.

-My two best friends and I are writing our own manga and it's pretty good so far!!

-I am starting my first year of high school this year and I am freaking out!!! My friend and I won't be in the same classes. BOOH HOO!!! :-(

-My love of my life is my family so far becuase I don't have a boyfriend yet.

-I hate to spend all day inside doing nothing but homework and watching tv because it is soooo boring!!

-I have been sad lately beacuse my freinds are moving to another nieghborhood and I wouldn't be able to go over to their house as much anymore.

-I love to read books as well as manga.

-Going to the movies is one of my hobbies and I like to go with my friends the most.

-I wish that my life was a manga and I could hang out with all the hot guys that are in them. I think that's why I want to draw one so bad.

-I am now a band geek! ;-P But I will tell you it is not easy. We have practice all the time, football games, and competitions. But oh well. Marching band is alot of fun! Plus I've made a lot of friends and we love each other. ;-P




You can read more about me at my profile page under the first spoiler if you haven't already!!

Thanks for taking the time to read this!!