Nov 17, 2010 8:53 PM
My Vagabond volumes are here! OH YEAH!
Finally, they have arrived! Vagabond is a series I've been wanting to read for so damn long, and thanks to Viz's omnibus(3 in 1) edition, the time has come to read this awesome samurai story. Overall, I'd say Viz has done a great job on this edition. Sure, the covers leave a lot to be desired(especially when compared to the
originals
), but they've included color pages, interviews, and all kinds of extras. It's an excellent deal for people who don't want to shell out around $300 for the individual volumes. Besides, some of the older volumes are out of print too.
A few pictures:
View of the top shelves of my bookcase. That's about a third of my manga collection(may or may not get around to posting the complete collection at a later time).
1. JP Berserk volumes at the top(Dark Horse volumes behind)
2. Other stuff(Japan, Burst Angel v. 1, Code Geass Lelouch of the Rebellion v. 1, Gantz v. 1, MPD Psycho v. 1, Gurren Lagann v. 1, and Death Note Another Note)
3. Vagabond
4. FMA
5. lolFairyTailwhydidibuythatshit
6. Fruits Basket is somewhere behind them
7. And of course, the Maromi(it's watching you masturbate), Guts, and Griffith plushes
Back to Vagabond:
Nice art on the spines
The front covers
Back covers
Close-ups: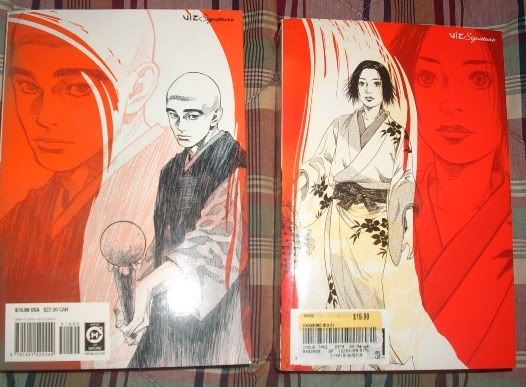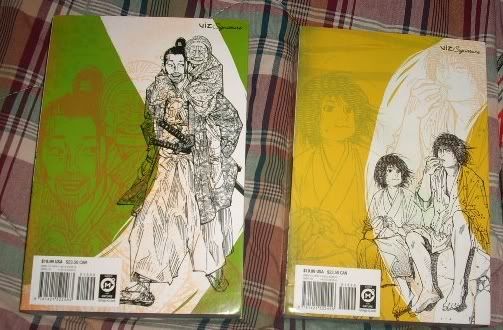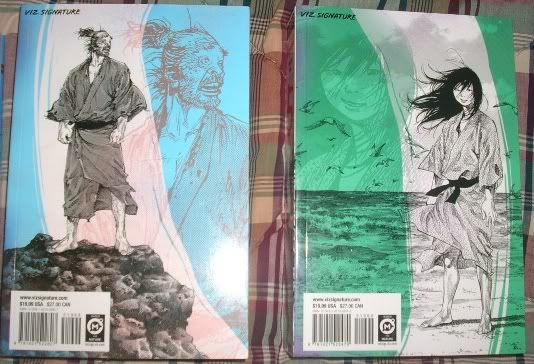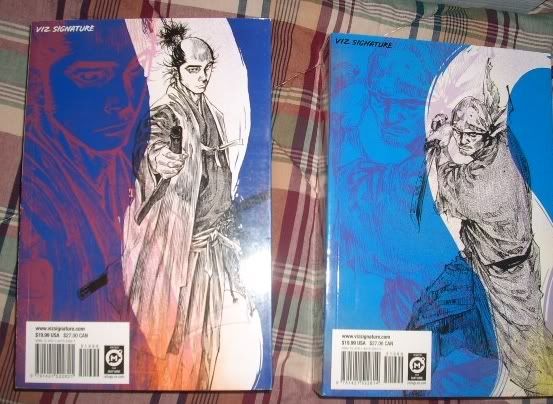 And lastly, some color pages:
Posted by Mormegil | Nov 17, 2010 8:53 PM | 2 comments
It is really cool. I didn't even know about that until I had them in my hands. >_>

Speaking of Kenshin, I should buy those next...

I like how the Vagabond spines add up to make a picture. I really wish the Rurouni Kenshin VizBig books did that.