TV (New)
H2
Hiro has two loves: baseball and porn, but due to an elbow injury, gives up baseball, choosing a school with no baseball team. His childhood friend Hikari attends a different school with baseball ace Hideo. The two of them wish that Hiro had not given up baseball. Hiro joins the soccer team and meets Haruka, a very clumsy girl who is also the daughter of his father's boss. Haruka is the manager of the unofficial baseball club at Hiro's school. When the soccer team challenges the baseball club to a game, with hopes of humiliating them, the baseball club nearly loses until Hiro, disgusted by the soccer team's arrogance, switches to the baseball club. (Source: ANN)
TV -
Jun 1, 1995, 19:00 (JST)
Nurse Angel Ririka SOS
The Evil Forces of Dark Joker are closing in on our planet after having destroyed the beautiful planet of Queen Earth. Now, 10 year old Moriya Ririka, with the help of her childhood friend Seiya and the mysterious Kanon, must transform into the Nurse Angel and find the elusive Flower of Life, the only way to defeat the evil forces. The Flower of Life, that once bloomed all over the Earth, is where no one thought it ever would be. And Ririka must make the hardest decision of her life in order to acquire it and rid the universe of evil once and for all. (Source: ANN)
TV -
Jul 7, 1995, 18:00 (JST)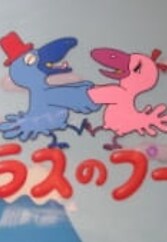 Karasu no Puuta
An anime aimed at kindergarteners for the sole purpose of teaching how eating different things make you poop differently and how to maintain a regular digestive schedule (so as to avoid constipation or diarrhea).
Movie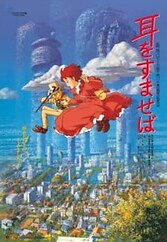 Mimi wo Sumaseba
Shizuku Tsukishima is a free-spirited and cheerful 14-year-old girl who is currently enjoying her summer vacation. She loves spending her free time at the local library where she notices that the books she reads are often checked out by a boy named Seiji Amasawa. One day while riding the local train, Shizuku notices a strange cat sitting near her. Why would an ordinary cat ride a train? Curiosity may have killed the cat, but it can also seriously harm a young girl. Shizuku decides to follow the mysterious cat to see where it goes, and soon stumbles upon an antique shop run by a violin maker named Nishi, the grandfather of the mystery boy who shares her taste in literature. Seiji and Shizuku soon become friends and while Seiji is sure of his dreams and how to follow them, Shizuku is still unsure of her own talents. However, when she sees a strange cat statuette, "The Baron," in the shop, it seems as if that statuette whispers something to her, tugging at her heart and giving her the inspiration she so desperately needed. One voice pushes Shizuku further than she could have ever imagined, changing her life forever.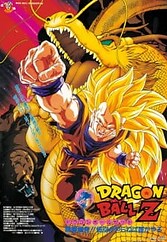 Dragon Ball Z Movie 13: Ryuuken Bakuhatsu!! Gokuu ga Yaraneba Dare ga Yaru
The Z Warriors discover an unopenable music box and are told to open it with the dragon balls. The contents turn out to be a warrior named Tapion who had sealed himself inside along with a monster called Hildegarn. Goku must now perfect a new technique to defeat the evil monster. (Source: ANN)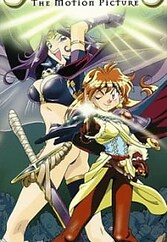 Slayers: The Motion Picture
In this prequel movie to the Slayers televison series, Lina Inverse travels to Mipross Island with her rival/traveling companion Naga the Serpent. While they originally came for the hot springs, they soon find them selves mixed up in a conspiracy involving a mazoku named Joyrock. Years ago, he killed all of the elves that inhabited the island and absorbed their power. They are soon joined by an old mage named Rowdy Gabriev, who was in love with one of the elves slaughtered and also wants to defeat Joyrock. (Source: ANN)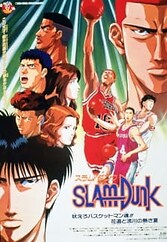 Slam Dunk: Hoero Basketman-damashii! Hanamichi to Rukawa no Atsuki Natsu
Ichiro Mizusawa, a player from Rukawa's old junior high school, Tomigoaka, is diagnosed with a crippling leg condition and wants to play one last game with Rukawa. Hanamichi sets out to help the boy and fulfill his wish. (Source: ANN)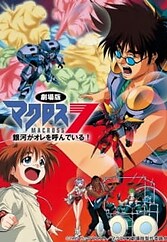 Macross 7 Movie: Ginga ga Ore wo Yondeiru!
While investigating a sound anomaly across the galaxy, Basara crash-lands on a snowy planet and receives an unfriendly welcome from the local residents. On the planet, he befriends Pedro, a four-year-old boy who watches the Galaxy Network and idolizes Fire Bomber. Basara also discovers that the sound he's searching for is generated by Emilia, a lone Meltrandi struggling to make music of her own. (Source: ANN)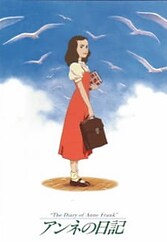 Anne no Nikki
Amsterdam, June 12, 1942. Anne celebrates her 13th birthday and begins her diary, which she calls "Kitty". Hiding for two years from the German threat, the young girl writes about her idealistic views on the world, her ambitions, her fears and her first love, Peter.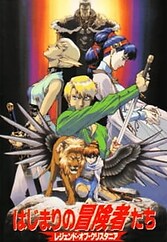 Hajimari no Boukensha-tachi: Legend of Crystania
Ashram, desperate to find a home for his people, is tricked into selling his soul. 300 years later, Pirotesse's devotion to her king remains unshaken. In the sacred world of Crystania, amidst a civil war waged by shape-changing warriors, she searches for her beloved Ashram. She meets Redon, a young prince obsessed with avenging his murdered parents. Together, they confront Ashram's captor -- the bloodthirsty Barbas, who aspires to rule Crystania as "The God's King". (Source: ANN)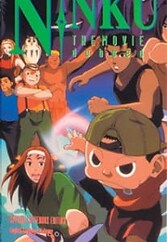 Ninkuu (Movie)
How much humiliation can four people and a penguin take? Hard boiled Aito? Sexy bombshell Rihoko? Choji the red brief? Shining Fuusuke? Cutesy Hooter Hiroyuki? Oh, gimme a break! Who do these guys think they are? The Ninku? Unfortunately for the real Aito, Choji, Rihoko, and Fuusuke, they do. But little did these imposters know when they stumbled on this sleepy little desert town, that there'd be a price to pay for being treated like the real Ninku, namely, having to fight the deadly Heaven & Earth brothers! Fortunately for our phony friends, the real Aito, Choji, and Fuusuke step in, there's nothing but trouble for the bad guys. Can the Ninku art of magic fighting beat the Heaven & Earth brothers deadly fighting style? (Source: AniDB)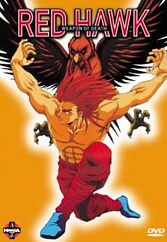 Bulg-eunmae
Gang terror and chaos reign in the land of Chungwon. The Camelia Blossoms are the most powerful of the warring gangs and they use this time of unrest to wrestle control of the country from the ailing peoples government, while also producing counterfeit gold coins to cripple the struggling economy. The only hope of freedom lies with the enigmatic Red Hawk. (Source: ANN)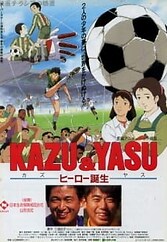 Kazu & Yasu Hero Tanjou
Based on the real life events. Biography animation depicting the football careers of Kazuyoshi Miura and his elder brother Yasutoshi.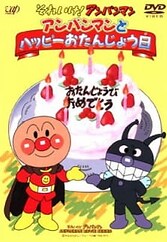 Sore Ike! Anpanman: Anpanman to Happy Otanjoubi
An animated short movie about Anpanman an his friends preparing for celebrating a birthday.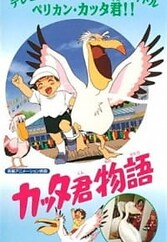 Katta-kun Monogatari
An anime starring Katta-kun, a real-life pelican who inhabited the Tokiwa Park in Ube. In this movie, Katta-kun befriends Shu, a little boy whose parents went off to the Middle East because of their work. When war breaks out, Shu and Katta-kun travel to the Middle East to save Shu's parents and end the war. Due to it's hilariously ridiculousness this movie achived cult status in Japan. (Source: AniDB)