TV (New)

Can you predict the Anime of the Season?
Register Team
Dragon Ball Z
Five years after winning the World Martial Arts tournament, Gokuu is now living a peaceful life with his wife and son. This changes, however, with the arrival of a mysterious enemy named Raditz who presents himself as Gokuu's long-lost brother. He reveals that Gokuu is a warrior from the once powerful but now virtually extinct Saiyan race, whose homeworld was completely annihilated. When he was sent to Earth as a baby, Gokuu's sole purpose was to conquer and destroy the planet; but after suffering amnesia from a head injury, his violent and savage nature changed, and instead was raised as a kind and well-mannered boy, now fighting to protect others. With his failed attempt at forcibly recruiting Gokuu as an ally, Raditz warns Gokuu's friends of a new threat that's rapidly approaching Earth—one that could plunge Earth into an intergalactic conflict and cause the heavens themselves to shake. A war will be fought over the seven mystical dragon balls, and only the strongest will survive in Dragon Ball Z. [Written by MAL Rewrite]
Themes:
Martial Arts, Super Power
Demographic:
Shounen
Licensor:
Funimation
TV -
Apr 26, 1989, 19:00 (JST)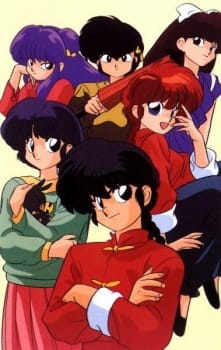 Ranma ½
Ranma Saotome is a top-class martial artist and prodigy at the Saotome "Anything-Goes" school of martial arts. While training in China, he and his father meet a terrible fate when they accidentally fall into a cursed spring. Now, Ranma is cursed to turn into a girl when splashed with cold water, and only hot water can turn him back into a boy. Things are only complicated further when Ranma discovers that his father has arranged for him to marry one of Soun Tendo's three daughters in order to secure the future of the Tendo dojo. Though Soun learns of Ranma's predicament, he is still determined to go ahead with the engagement, and chooses his youngest daughter Akane, who happens to be a skilled martial artist herself and is notorious for hating men. Ranma ½ follows the hilarious adventures of Ranma and Akane as they encounter various opponents, meet new love interests, and find different ways to make each other angry, all while their engagement hangs over their head. [Written by MAL Rewrite]
Theme:
Martial Arts
Demographic:
Shounen
Licensor:
VIZ Media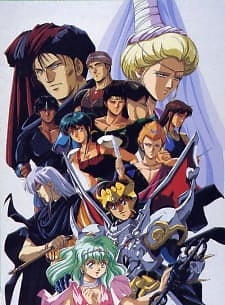 Tenkuu Senki Shurato
A 16-year-old boy named Shurato and his friend Gai happen to be drawn into a gigantic ball of light while competing in the final match of a martial arts tournament. When they regain their senses, they find themselves transferred to a mystic heavenly sphere with a divine atmosphere. It's soon discovered that Shurato used to be the governing king of this world and that he has only been brought to his original state. Shurato is shocked as Gai suddenly turns hostile. After this unfortunate incident, a spectacular yet fantastic drama develops involving the two. (Source: ANN)
Demographic:
Shounen
TV -
Apr 6, 1989, 19:00 (JST)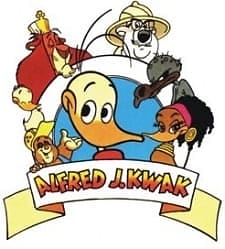 Chiisana Ahiru no Ooki na Ai no Monogatari: Ahiru no Kwak
Alfred J Kwak (Dutch, it takes place in Holland) lost his parents, brothers and sisters when he was young. He was raised by a mole. The series covers the life of Alfred from the day he is born. In his life Alfred tries to help all sorts of animals all over the world. The series are meant to entertain children and teach children about life, covering historical aspects like WW II. (Source: AniDB)
Demographic:
Kids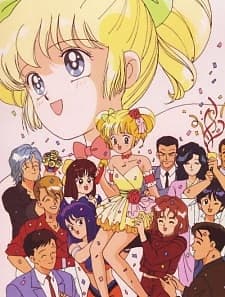 Idol Densetsu Eriko
Eriko Tamura is Kousuke Tamura, the chairman of Tamura Productions (reknown music company) and Minako Tamura's (former famous idol singer) only daughter. Having talent for singing since birth, she has always loved her parent's media world. Then one day tragedy strikes when her parents get into a horrible car accident, which kills her father and leaves her mother in coma. She is left in her father's best friend, Mr. Uchida's care. Now Eriko must take the path of singing, a path her parents did not want her to pursue. Then her uncle is out to destroy her career. But in spite of all the hardship, she becomes an idol and wins hearts all over Japan. (Source: ANN)
Theme:
Music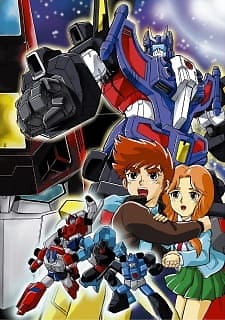 Tatakae! Chou Robot Seimeitai Transformers Victory
Set in 2025 A.D., Transformers Victory introduces Star Saber, the mightiest Autobot warrior and the greatest swordsman in the galaxy. Following the defeat of the Decepticons on Earth in the Masterforce War, the villains have begun aggressively attacking other planets in the universe. To counter this threat, the Autobots joined with many other civilizations and lifeforms (including Humanity) to form the Galactic Peace Alliance, with Star Saber as its leader. Seeking the energy necessary to free his massive Planet-Destroying Fortress from imprisonment in the Dark Nebula where Star Saber sealed it years ago, the Decepticons' new Emperor of Destruction, Deathsaurus (Dezarus), attacks Earth with his Dinoforce, prompting Star Saber and his team to set up residence on the planet. (Source: TF Wiki)
Theme:
Mecha
Demographic:
Shounen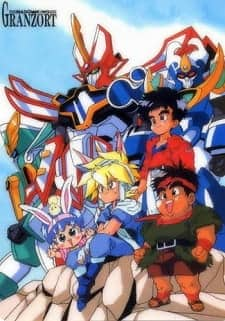 Madou King Granzort
In the future, the moon is a habitable place with atmosphere and gravity and also a famous tourist attraction. There are also stories about a "long ears" creature like rabbits on the moon who can use magic. Haruka Daichi heads off to the moon during a summer holiday alone because he likes to see the long ears creature by himself. However, he get himself dragged into an ancient conflict between two ancient moon races: the "long ears" race and Jado race. Jado race wanted to conquer the universe and resurrect ancient evil powers to seize control of the Earth. Now the "long ears" race and Daichi must seek three warriors who could use magic to release Mado King to fight Jado race and to release "long ears" race's kingdom, Rabiluna, from Jado race. (Source: AniDB)
Theme:
Mecha
Demographic:
Shounen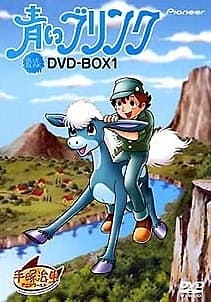 Aoi Blink
Story of a young boy named Kakeru and his adventures together with a magical blue pony named Blink.
TV -
Apr 7, 1989, 19:30 (JST)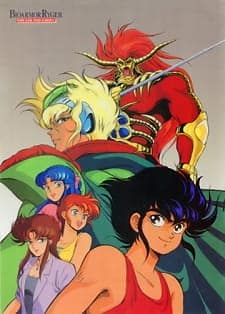 Juushin Liger
It is 199X A.D. In Kushiro, Hokkaido, three bodies of Dragonite appear. Possessing overwhelming destructive force, they attack the city. They also awaken the evil Jashin Drago from the holy seal he was trapped in. 200 years ago, Drago was trapped in the seal by a holy warrior with the tattooed mark of the Liger. Assuming that the warrior is dead, Drago and Empress Zara are free to conquer the Earth using their army of biomechanical beasts. Even the Japan Self-Defense Forces are no match for the Dragonites' awesome power. One of the people fleeing is the protagonist, a milquetoast 16 year old boy named Ken Taiga. Unbeknownst to the Dragonites, Ken realizes that he is the descendant of the Liger warrior! In a burst of anger, Ken's Liger birthmark appears, and he rises his palm into the air, shouting the henshin command, "LIGER!!!", which then covers him in demonic long-haired biomechanical armor. Ken transforms into Jushin Liger to fight the evil forces of the Dragonite! (Source: Wikipedia)
Theme:
Mecha
Miracle Giants Doumu-kun
Dome Shinjo, a 10-year-old boy who is son of a deceased legendary player of the Yomiuri Giants. From his father he inherited the love for baseball and his great abilities for such sport, although his mother and his older sister try to avoid that he practices it. In fact, his father, before dying, had time to teach him a magical shoot. Dome, after his mother gave him the glove his father used, he makes that shot in a training session of the Giants and is contracted immediately. With the support of the veteran players of the team, this young player will, from this very moment, make the Giants become unbeatable at home and none of the main batters of the Japanese professional league manages to end with his magical shot. Although that does not apply to the games played away, as Dome is just allowed to play at home, in the Tokyo Dome in which his father was consacrated (and the place by which he did chose such name for his son). When the veteran captain of the Dragons manages to bat his shot, it seems that the young boy is finally and definitely defeated, but then he invents another magical shot. New rivals, but also friends (such as Melody Norman, an American girl who disguises herself as a boy because women can't play baseball), will appear in scene, until the arrival of the mysterious Don Carlos, a Spanish ex-bullfighter who plays for the Hiroshima Toyo Carp and seems to have something pending with his father. Will Dome succeed in giving the league to the Giants? (Source: Wikipedia)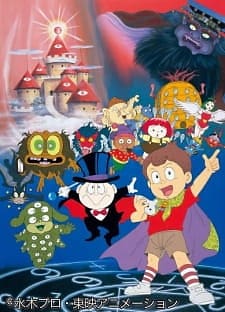 Akuma-kun
The age of the demons has begun. Dr Faust has foreseen this rise of evil. Unfortunately, he is near death and is unable to personally battle this upcoming threat. Faust entrusts a young boy, Shingo Yamada, to take the responsibility of ridding the Earth of this new evil presence. Faust finds a birthmark on Shingo's forehead that signifies that he is the chosen demon fighter. Faust summons from hell what may be humanity's only hope of surviving: a less than enthusiastic devil named Mephisto rises. After signing a pact in blood to save humankind, Shingo and Mephisto set out to battle the supernatural world. (Source: AniDB)
TV -
Apr 15, 1989, 19:00 (JST)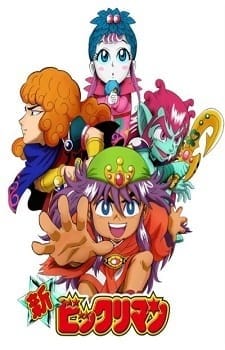 Shin Bikkuriman
No synopsis has been added for this series yet. Click here to update this information.
TV -
Apr 9, 1989, 08:30 (JST)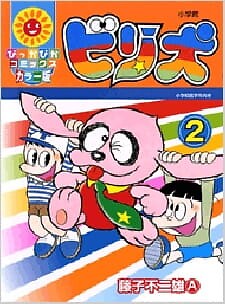 Biriken Nandemo Shoukai
The sequel to Biriken series.
Demographic:
Kids
Special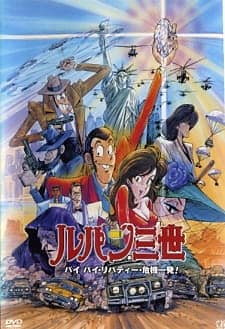 Lupin III: Bye Bye Liberty - Kiki Ippatsu!
In this adventure, Lupin III tries to erase the files about him in the world police network. He finds out about the Ultravirus, a computer virus that controls all others and its location is only known by a little kid. Meanwhile, he steals the Statue of Liberty to look for a diamond the size of a football that is said to be hidden somewhere in it. Apparently, the diamond and the ultravirus are somehow related... (Source: ANN)
Demographic:
Seinen
Licensor:
Discotek Media