TV (New)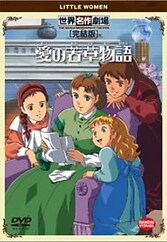 Ai no Wakakusa Monogatari
Meg, faithful and gentle, Jo, independent and energetic, Beth, quiet and shy, Amy, amiable and precocious–the four sisters live vigorously and happily at home with their gentle mother while waiting for their father to return from the Civil War. Helping each other, they challenge their fates and grow up to become wonderful women.
TV -
Jan 11, 1987, 19:30 (JST)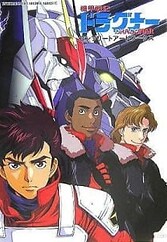 Kikou Senki Dragonar
A.D. 2087 - the United Lunar Empire Giganos wages war on the Earth Federation Military to take control of the planet and establish a "rebirth" of the human race. During an invasion of a colony by Giganos' forces, three civilian men stumble upon a trio of top-secret Metal Armor units called "Dragonars" and pilot them to combat the enemy forces.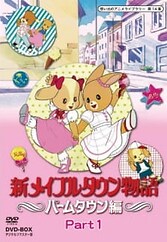 Shin Maple Town Monogatari: Palm Town-hen
The story take place in new town called "Palm Town" which it is the new town that Patty and her Aunt Jane moved to since Jane's husband George run a medical center there. However, Patty faces some troubles because she doesn't get used to the new town and misses her hometown and also her friends. Nevertheless, she mets up with Alice and gets along with her. Soon they become best friends and are hanging out together everyday experience new things and enjoying their time. They meet a lot of different people in order to make many friends and unforgettable memories full of fun.
TV -
Jan 18, 1987, 08:30 (JST)
Movie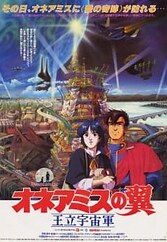 Ouritsu Uchuugun: Honneamise no Tsubasa
Shirotsugh "Shiro" Lhadatt may be a cadet in the Kingdom of Honneamise's Royal Space Force (RSF), but he has never been in space before—in fact, nobody has. The RSF is often regarded as a failure both by the country's citizens and a government more interested in precipitating a war with a neighboring country than scientific achievement. Following the funeral of a fellow cadet, an unmotivated Shiro is walking in the city one night, when he bumps into Riquinni Nonderaiko, a young, pious woman, genuinely enthusiastic about the significance of space exploration. As the two gradually bond, Riquinni's encouragement inspires Shiro to volunteer as a pilot for a prospective rocket ship, potentially becoming Honneamise's first man in space. Shiro and the RSF are soon joined by a team of elderly but eager scientists and engineers, and together, they embark on a mission to mold their nation's space program into a success. However, their efforts soon catch the attention of the government, which seems to have a different plan for the RSF in mind. Even as the odds are stacked against them, these men and women continue to stubbornly look to the sky, because somewhere among the frontiers of space may lie humanity's last chance at redemption. [Written by MAL Rewrite]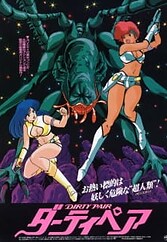 Dirty Pair: The Movie
Agerna is a planet rich in Vizorium, the one mineral necessary to space travel. So when a series of mysterious attacks on mining operations has the governments of the world pointing fingers and blaming each other, the World Welfare & Works Association naturally sends in their top agents to investigate. But are the lovely angels up to the task of stopping a mad scientist bent on taking a long dormant alien race to its final evolutionary form? Throw in a thief who's hunting a bottle of World War II-vintage wine and it's a safe bet that nobody on the planet is safe. It's more chaos, more mayhem and even more destruction than ever before as the Dirty Pair take on their wildest case yet! (Source: AniDB)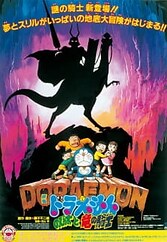 Doraemon Movie 08: Nobita to Ryuu no Kishi
Doraemon created a hideout for everyone in an underground cave and Suneo got lost. Everyone came back out except Suneo. After finding out that he was lost the entrance was broken. They have to find another entrance to the caves and end up in a dinosaur world. Vanho , a soldier rescued them and said that he found Suneo. When they found Suneo they found out about Vanho's people's plans. Their plan it to study Doraemon's group as human specimens and take over Earth's suface . (Source: ANN)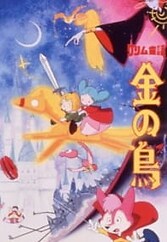 Grimm Douwa: Kin no Tori
"Kin No Tori" is an adaptation of the homonymous fairy tale "The Golden Bird" by Brothers Grimm. A golden apple is stolen from the King's garden. The King orders his three sons to guard the apples in turn and to find out who is the thief. When the youngest son, Hansu, presents a feather that he got from the golden bird that stole the apple the king sends his three sons to bring this bird to him and so Hansu journey begins. Completed in 1984, this film was shelved for three years before being theatrically released.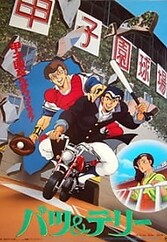 Batsu & Terry
Bats & Terry are the two tough guys in the school. They don't take crap from anyone, not even teachers. They will fight anyone necessary, and will defend strangers (especially pretty girls) from danger. They're good at it too. Some people are in terror of them, and some love them. When they rescue one especially pretty girl from a gang they fight over her, but it's all friendly and they both recognize that she has some scars. The police hassle them and yet admire them when they break up the gang. Oh, and they're the star pitcher and catcher for the high school baseball team! (Source: MU)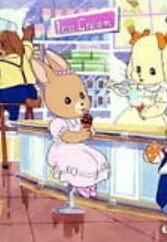 Shin Maple Town Monogatari: Palm Town-hen - Konnichiwa! Atarashii Machi
An extended version of the first episode of the TV series.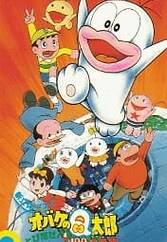 Obake no Q-Tarou: Susume! 1/100 Daisakusen
Note: Screened as a double feature with Doraemon: Nobita to Ryuu no Kishi and with Pro Golfer Saru: Kouga Hikyou! Kage no Ninpou Golfer Sanjou!. (Source: AniDB)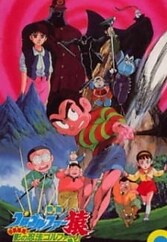 Pro Golfer Saru: Kouga Hikyou! Kage no Ninpou Golfer Sanjou!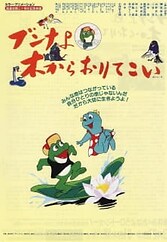 Bunna yo Ki kara Orite Koi
Animated children's story about a nonconformist but brave frog. Bunna wants to challenge his community's status quo by learning about the world outside. (Source: AniDB)
Special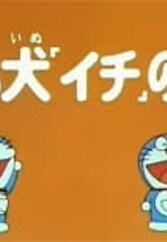 Doraemon and Itchy the Stray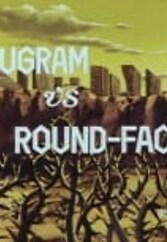 Dagram vs. Round-Facer
Flying Dougram battles in space.