TV (New)

Can you predict the Anime of the Season?
Register Team
71537
7.92
19870406
City Hunter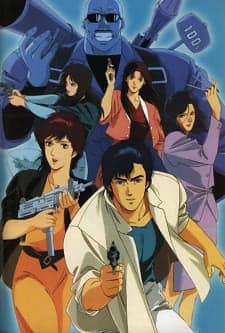 City Hunter
"City Hunter" is a notorious contractor group with the call sign "XYZ." No matter the job, they will take it, cleaning up the scum on the streets of Tokyo. The key member of City Hunter is Ryou Saeba; armed with his trusty Colt Python and pinpoint accuracy, he works alongside willful tomboy Kaori Makimura. Together they solve tough cases and tackle the numerous dangers that accompany their trade head-on. However, when he's not out hunting crooks and villains, Ryou finds pleasure in chasing beautiful ladies with only Kaori and her one hundred-ton hammer to keep him in check. From pickpockets and arms dealers to crime syndicates, nothing can stand in the way of Ryou Saeba when he takes aim at his next mission. [Written by MAL Rewrite]
43367
7.54
19870406
Kimagure Orange☆Road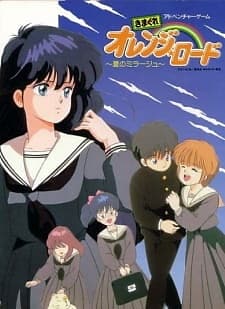 Kimagure Orange☆Road
Kyousuke Kasuga is no stranger to being the new kid at school. Despite only being a third-year middle schooler, he has spent his entire childhood avoiding those who discover his family's paranormal powers, and he has had to change schools seven times as a result. Upon catching a beautiful girl's hat, he becomes optimistic and hopes that he and his family have finally moved for the last time. When Kyousuke gets to school, however, he learns a different story. The elegant girl he just met turns out to be none other than Madoka Ayukawa—also known as "Madoka the Pick"—a delinquent known to smoke, drink, and get into fights. Her best friend is first-year Hikaru Hiyama, a childish and energetic girl who quickly falls in love with Kyousuke. Enamored with both girls, Kyousuke tries to balance a delicate triangle of emotions, all while dealing with the antics brought about by a family with paranormal powers. [Written by MAL Rewrite]
28781
7.55
19870312
Hokuto no Ken 2
Mar 12, 1987
43 eps

,

25 min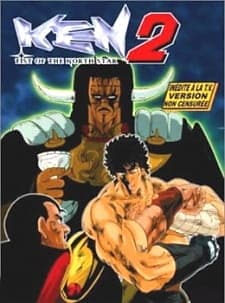 Hokuto no Ken 2
In the second series after Raoh has been defeated by Kenshiro a new rival appears. The Gentou Kouken warriors. Falco the successor of the Gentou Kouken takes orders from an evil ruler by the name of Jacko. He claims to be the man chosen by the Tentei and issues orders to his subordinates to capture anyone living in order to build up his Imperial Capital. Kenshiro once again rises out of the shadows and puts an end to his tyrannical ways. Amidst the mayhem Lynn gets captured and gets taken to the land of the Shura where only ruthless fighters exist. Now Kenshiro must pursue the captor and defeat the 3 Rasho of the land in order to escape with his life and with Lynn.
5062
6.59
19870412
Akai Koudan Zillion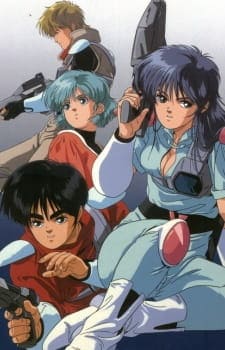 Akai Koudan Zillion
The story takes place on the planet Maris in the year 2387. Around this time, the Nozas started to genocidally kill all humans in order to lay eggs and reproduce on the planet. Three mysterious guns dubbed the "Zillion Weapon System" appear and three teens (JJ, Champ, and Apple) are chosen to wield them as the White Knights in order to fight back against the Nozas. (Source: Wikipedia)
4747
7.03
19870329
Hiatari Ryoukou!
Mar 29, 1987
48 eps

,

25 min
Hiatari Ryoukou!
Kishimoto Kasumi, a 15-year-old girl, was supposed to live at her auntie's house in order to go to high school since April. However, when she moved to the house she was surprised with the fact that there were already four new male students living in the same house. To make the matter worse, that day while she was taking a bath, Takasugi Yusaku, one of those boys, came into the bath and saw her naked. This is how Kasumi's troublesome high school days started. (Source: AniDB)
1983
6.48
19870407
Esper Mami
Apr 7, 1987
119 eps

,

24 min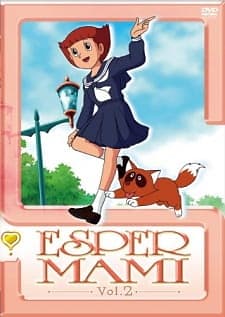 Esper Mami
Mami Sakura used to be a normal junior high school student, but she happened to acquire supernatural powers. Using her powers and with the help of her best friend, Mr. Takahata, she solves mysterious occurrences. When she senses someone needs help, she uses the "Teleportation Gun" and transports herself there. She then saves the world in trouble with her psychic powers, such as telekinesis and telepathy. (Source: Wikipedia)
1638
7.01
19870407
Geragera Boes Monogatari
Apr 7, 1987
52 eps

,

24 min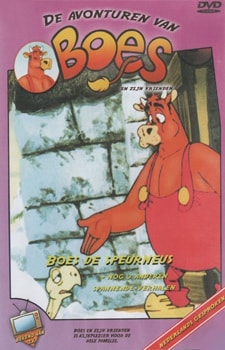 Geragera Boes Monogatari
Farm life has never been this wacky. Where else could you find a turtle with a built in TV under his shell, a bald lion, an elephant whose trunk doubles as a garden hose and an inflatable octopus. All run by a good-natured ox named Olly. (Source: ANN)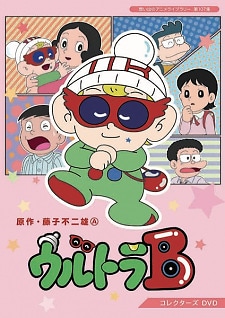 Ultra B
Ultra B (UB), is a small child from outer space who wears red sunglasses and has a star-shaped mole on his left cheek. It all began when UB's spaceship made an emergency landing in the forest. Lost and alone, UB was found by a young school boy named Michio. He was kind enough to take UB home for shelter, but only to learn that he was no ordinary child... but with supernatural powers! Thankful UB tries to use his special power to help Michio in trouble, but doesn't mean that it always work out well. Especially, when UB sees a scary black cat, he loses control, and… (Source: TV Asahi)
522
5.55
19870404
Kotowaza House
Apr 4, 1987
773 eps

,

5 min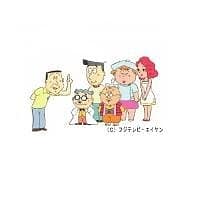 Kotowaza House
A public service proverb-of-the-week anime. Peter the salary man lives a very unhealthy lifestyle, starving then bingeing until he feels seek, or slobbing around the house until badgered into taking up exercise, during which he invariably pulls a muscle. (Source: ANN)
231
0
19870509
Mama Ohanashi Kikasete
May 9, 1987
15 eps

,

8 min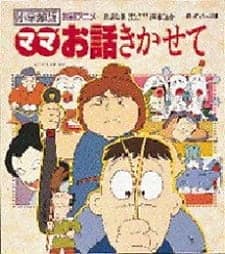 Mama Ohanashi Kikasete
Short animated films of well-known Japanese folk tales, including the stories of Taro Maegami, The Riceball Family, The Master of Catching Stars, Thunder is the Bridegroom, and The Elephant's Sneeze. Shown as part of the children's variety program, Tondeke Gutchonpa. (Source: The Anime Encyclopedia)
Special
846
5.97
19870505
Tekkamen wo Oe: "d'Artagnan Monogatari" yori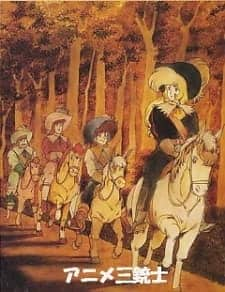 Tekkamen wo Oe: "d'Artagnan Monogatari" yori
Based on The Three Musketeers by Alexandre Dumas.
542
5.09
19870429
Brave Fire S0.9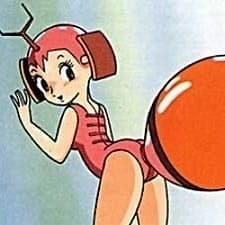 Brave Fire S0.9
This work was submitted in a special animation competition as part of a PR project for a power company, but was unfortunately not adopted. The reason is very clear: the setting of the story is the exhausted earth. There couldn't be a more instructive setting for a power company that uses enormous amounts of the earth's resources. Additionally, a girl robot discovered by the main character can store sunlight and convert it into energy; in other words, the robot does not require a power-generating company. In addition to this, the robot destroys herself to protect the established solar power generation system in space. The unsuccessful outcome of the competition for Tezuka Osamu was only natural, and it is clear that he created this piece, as it was intentionally, as he managed everything from the original story to the screenplay, animation, narration, etc., all the while knowing that the competition was sponsored by a power company. (Source: tezukaosamu.net)
227
0
19870505
Tteodori Kkachi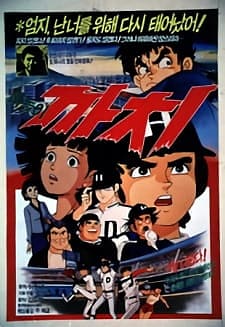 Tteodori Kkachi
Kkachi is a young boy who lost his mother at the age of 6 and lives with his father who has the habit of crossing Korea with his caravan but they suddenly move to Seoul where he joins baseball team at his college and his father marries a new wife. His father wants to force him to forget about losing his mother and has to learn to live with her father's new wife and daughter of hers, Annie, a young handicapped girl who moves in a wheelchair. It took him a while to finally accept his stepmother and his new sister. During this period, he is fully participating in baseball quickly becoming the star player on his team and got to know Julie, with whom he gets along... (Source: AniDB)