TV (New)

Last chance to register!
Register Team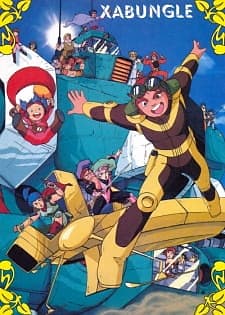 Sentou Mecha Xabungle
On the planet Zora exist two societies: the Innocent, an advanced culture that lives in domed cities, and the Civilians, who are forced to live in the harsh desert wilderness. As dictated by the Innocent, any Civilian that commits a crime is forgiven if they are not brought to justice within three days. Civilian Jiron Amos seeks revenge on the villainous outlaw Timp Sharon who murdered his parents, despite the fact the three-day period has long since passed. Hoping to get his revenge by stealing the mecha Xabungle from the merchant Carrying Cargo, Jiron teams up with a group of bandits known as the Sandrats and kidnaps Cargo's daughter Elchi, who ends up being sympathetic to his cause. Jiron's quest for revenge soon grows into a conflict much bigger—one that will eventually see the Civilians rise up against the Innocents' rule. [Written by MAL Rewrite]
Demographic:
Shounen
Licensor:
Maiden Japan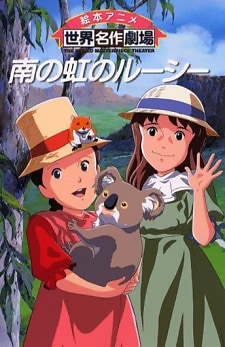 Minami no Niji no Lucy
Lucy's family moves from England to Australia planning to run a big farm. Starting a new life proves to be full of frustrations. Their agonizing days of despair continue until they finally obtain their farmland. However, Lucy and her sisters enjoy a range of new experiences such as discovering exotic animals and meeting with aborigines and other new people. (Source: AnimeNfo)
TV -
Jan 10, 1982, 19:30 (JST)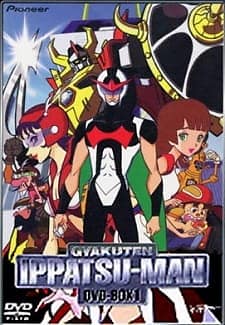 Time Bokan Series: Gyakuten Ippatsuman
Gyakuten! Ippatsuman is the sixth in the Time Bokan series. In the 1990s-era Osteandel City is the headquarters of Time Lease, a business that leases almost everything you could ask for including powerful robots. They are proud of themselves for being number one in the international ranking of billionaires, for the past ten consecutive years. Meanwhile there is another lease company in the same city called Skull Lease where the notorious villain trio work as top executives. Their ostensible object is to disgrace the credit of Time Lease and replace them as the leading enterprise. In fact, however, they have a scheme to secure a footing for world conquest. One day a transport robot of Time Lease is assaulted by the villain trio and it is time for Ippatsuman to get on the move to fight for justice. (Source: ANN)
Theme:
Mecha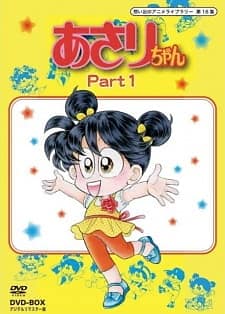 Asari-chan
Produced by Toei Animation and directed by Kazumi Fukushima after the manga series by Muroyama Mayumi, this anime follows Asari, a normal fourth-grade girl. One day, while bargain shopping, she wins the lucky ticket at a lottery for a one-person trip to Hawaii. Chaos reigns as her family, the Beach's, fight over who should go. The ticket is lost in a bonfire, ironically. Other circumstances follow when the family finds out that the travel agency offered to "give the equal amount of half the travel expenses in cash for the ticket" from an employee of the supermarket Asahi had shopped at. What will happen to the unlucky Beach family as more elements of despair pelt them?
Demographic:
Shoujo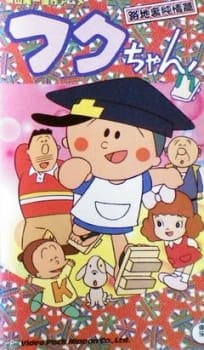 Fuku-chan
Childish goings-on for Fukuo Fuchida (also known as Fuku-chan) a small boy who attends nursery school with his "girlfriend" Kumi and hangs out with his playmates Namiko (whose parents own a china shop), her younger brother, Kiyo, naughty twins Doshako and Garako and school bully Ganchan. (Source: Anime Encyclopedia)
Demographic:
Kids
Movie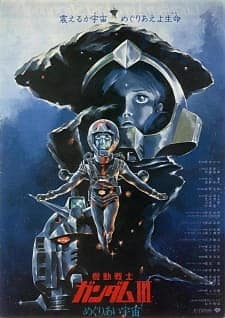 Mobile Suit Gundam III: Encounters in Space
The One Year War comes to a close, as the Zeon forces now retreat back into space. Amuro learns much more of his Newtype abilities and tries to use them the best way he can. He's pushed to his limit as he encounters the infamous Char Aznable once again. He also falls in love with a mysterious woman named Lalah Sune, who knows the full potential of the Newtype abilities. The greatest battle is about to begin, as many loved ones fall to the power of war. Can the Earth Federation defeat the Principality of Zeon? Or will they fail? Can Char prove that he's the better Newtype than Amuro? They all will be answered now... (Source: Otakufreakmk2)
Licensors:
Bandai Entertainment,Nozomi Entertainment
Cello Hiki no Gauche (1982)
The story concerns Gauche, a professional cellist. During rehearsals for a performance, he is scolded by the conductor because his playing is not good enough. His timing is off and he seems to have no "feel" for the music. Gauche returns to his lonely cottage and starts practicing. Then a cat enters who tricks him into understanding the inner meaning of the music. The importance of practice is shown by a cuckoo, rhythm by a badger and tenderness by a mouse. In four days he learns the true meaning and feeling of music and develops into a great musician. Laced with popular classical music this special combines fun and inspiration for all ages and audiences. (Source: AnimeNfo, edited)
Theme:
Music
Demographic:
Kids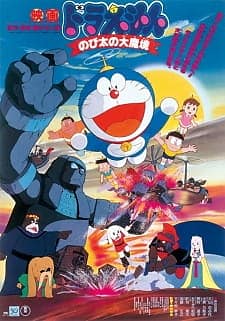 Doraemon Movie 03: Nobita no Daimakyou
Nobita finds an stray dog and brings him home, little does he knows that the dog is actually a prince in his homeland, a world appart deep in the african "Smokers Forest" were the dogs evolved and have their own empire, so he and his friends take on a journey to take back the young prince to his homeland but when they get there things have changed... (Source: ANN)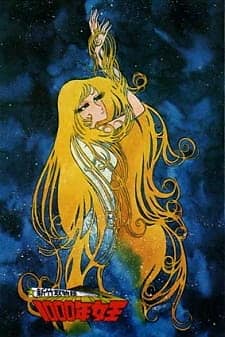 1000-nen Joou: Queen Millennia
AD 1999, the Earth was in a critical situation; a planet Lar Metal was approaching to the Earth. Meanwhile, Yukino Yayoi was heard about Lar Metal from Dr. Amamori of Tokyo Observatory. She was a junior high school teacher, but she also worked for Dr. Amamori who appreciated her astronomical knowledge. Actually Yukino Yayoi was Queen Millennia who had come from Lar Metal 1000 years before, and she had been watching human beings since then. Soon, numerous meteors fell on the Earth, and people were in panic. In this catastrophe, Hajime, who was a student of Yayoi, came to help Yayoi. Yayoi invited him into a big cave under the ground. (Source: AnimeNfo)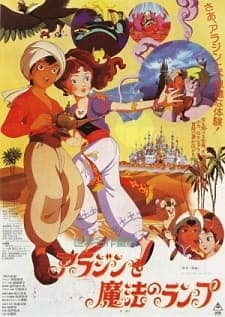 Sekai Meisaku Douwa: Aladdin to Mahou no Lamp
This film stays very faithful to the original down to the smallest details, save for the kangaroo-rat that suddenly appears twenty minutes into the movie and subsequently follows Aladdin around, serving no purpose in the story but fulfilling the role of token animal mascot. The screenwriter needs no introduction; Akira Miyazaki single-handedly wrote five of the classic WMT series, including Perrine and Rascal, and participated in two others. The only other name among the staff that rings a bell, though, is Yukihide Takekawa, who was responsible for the music in the magnificent and unknown Unico pilot film. The story takes some illogical and confusing jumps at the point where Aladdin begins to court the princess, and the extravagant animation that had characterised Toei films of the 60s, when Toei had the best animators around, had become a thing of the past long before this point; but this is still an above-average film, in large part because of the screenplay that stays so faithful to the original. The character designs are slightly more western-looking than one is accustomed to seeing in anime. (Source: pelleas.net)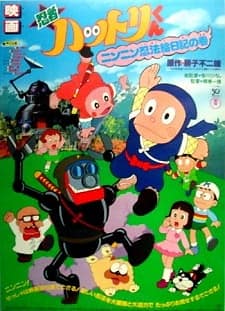 Ninja Hattori-kun: Nin Nin Ninpo Enikki no Maki
Short Ninja Hattori-kun movie. Screened as a triple feature with Doraemon: Nobita no Daimakyou and Kaibutsu-kun: Demon no Ken.
Theme:
Martial Arts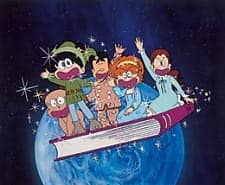 Asari-chan: Ai no Marchen Shoujo
Movie produced by Toei Animation after the anime series, Super Gal Asari and by the original manga by Mayumi Muroyama. Asari and her family go through more unlucky happenings.
Demographic:
Shoujo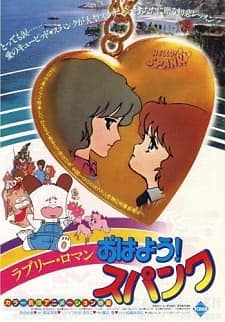 Ohayou! Spank (Movie)
Based on the shoujo manga by Yukimuro Shun'ichi and Takanashi Shizue serialised in Nakayoshi. (Source: AniDB)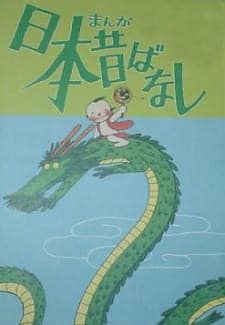 Manga Nippon Mukashibanashi (Movie)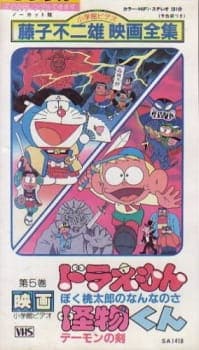 Kaibutsu-kun: Demon no Ken
Based on the shounen manga by Fujiko Fujio. Note: Screened as a triple feature with Doraemon: Nobita no Daimakyou and Ninja Hattori-kun: Nin Nin Ninpo Enikki no Maki. (Source: AniDB)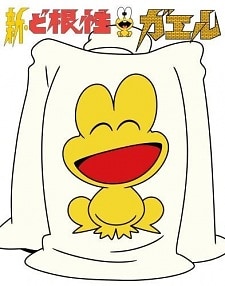 Shin Dokonjou Gaeru: Dokonjou Yumemakura
After Hiroshi daydreams about marrying Kyoko, his chauvinistic behavior puts a strain on his relationship with his closest of friends.
Demographic:
Shounen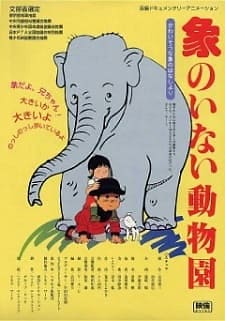 Zou no Inai Doubutsuen
After the war, concerned brother Hide promises his critically ill sister Miyoko that he will arrange for her to see a real elephant. But when he goes to the zoo to find one, an old man tells him of the tragic day when the zoo animals were slaughtered. The story is based on true historical events of the Ueno Zoo in Tokyo, where dangerous animals during WW2 were slaughtered in order to prevent them from wreaking havoc in case Allied bombings would let the animals escape. Various methods were used such as starvation, poisoning, death by firing squad, and decapitation. Tokyo was bombed over a year later after the animals' slaughter and Ueno Zoo was never hit. (Source: The Anime Encyclopedia and Wikipedia)
Hokseong Robot Sseondeo A
In the year 2100 the Earth is once again in danger. The group of brave teenagers set out in their giant robot to save humanity.
Theme:
Mecha
Demographic:
Shounen