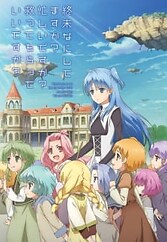 Shuumatsu Nani Shitemasu ka? Isogashii Desu ka? Sukutte Moratte Ii Desu ka?
Putting his life on the line, Willem Kmetsch leaves his loved ones behind and sets out to battle a mysterious monster, and even though he is victorious, he is rendered frozen in ice. It is during his icy slumber that terrifying creatures known as "Beasts" emerge on the Earth's surface and threaten humanity's existence. Willem awakens 500 years later, only to find himself the sole survivor of his race as mankind is wiped out. Together with the other surviving races, Willem takes refuge on the floating islands in the sky, living in fear of the Beasts below. He lives a life of loneliness and only does odd jobs to get by. One day, he is tasked with being a weapon storehouse caretaker. Thinking nothing of it, Willem accepts, but he soon realizes that these weapons are actually a group of young Leprechauns. Though they bear every resemblance to humans, they have no regard for their own lives, identifying themselves as mere weapons of war. Among them is Chtholly Nota Seniorious, who is more than willing to sacrifice herself if it means defeating the Beasts and ensuring peace. Willem becomes something of a father figure for the young Leprechauns, watching over them fondly and supporting them in any way he can. He, who once fought so bravely on the frontlines, can now only hope that the ones being sent to battle return safely from the monsters that destroyed his kind. [Written by MAL Rewrite]
TV -
Apr 11, 2017, 23:30 (JST)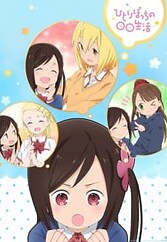 Hitoribocchi no Marumaru Seikatsu
Many of us know what it is like to transition to a new school with few to no friends in a new environment, going through the arduous process of getting to know people again. Bocchi Hitori knows this struggle all too well, having just graduated from elementary school and thrown into middle school. Unfortunately, she suffers from extreme social anxiety: she faints when overwhelmed, vomits when nervous, and draws up ridiculously convoluted plans to avoid social contact. It does not help that her only friend from elementary school, Kai Yawara, will not be attending the same middle school as Bocchi. However, wanting to help her, Kai severs ties with Bocchi and promises to reconcile with her when she befriends all of her classmates in her new middle school class. Even though Bocchi has no faith in herself, she is determined to be friends with Kai again. Summoning all of her courage, Bocchi takes on the daunting challenge of making friends with her entire class, starting with the delinquent-looking girl sitting in front of her... [Written by MAL Rewrite]
TV -
Apr 6, 2019, 02:25 (JST)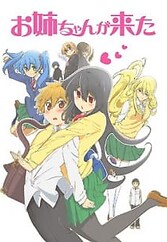 Oneechan ga Kita
The story revolves around Tomoya Mizuhara, a 13-year-old boy who suddenly gains a big sister when his father remarries. 17-year-old Ichika is a little strange, and her affection for Tomoya is rather overwhelming, if not scary. On top of things, Ichika's friend Ruri is the ultimate sadist. Then there is Ichika's big-breasted quarter-Japanese friend Marina. (Source: ANN)
Harukana Receive
In beach volleyball, there is no room for aces. To achieve victory, each player must find their one, irreplaceable partner that they can rely on in the court of sand. At least, that is what Haruka Oozora learns on her first day in Okinawa after moving in with her grandmother and her cousin Kanata Higa. While touring a nearby beach, Haruka stumbles upon some girls practicing beach volleyball and is quickly invited to join. This friendly practice game suddenly turns into a match when one of the girls, Narumi Tooi, notices Kanata approaching the court. Although the two suffer a devastating defeat, Haruka finally realizes the reason for her cousin's quiet and distant behavior. Kanata and Narumi used to be an exceptionally talented beach volleyball duo, until Kanata quit due to her short height causing problems for Narumi. Now, with the Junior Tournament just weeks away, Haruka must learn the intricacies of competitive beach volleyball and help Kanata overcome her crippling anxiety towards the sport that she once used to love. [Written by MAL Rewrite]
TV -
Jul 6, 2018, 21:00 (JST)
M3: Sono Kuroki Hagane
A distorted, endlessly black darkness. The location where the dark swallowed everything and took everything from us has become known as the Lightless Realm. Born there, as if they were mirror images of the despair and chaos humans felt, were aberrations. They were called Admonitions. An investigation of the Lightless Realm that eats away at the human psyche. Can a group of eight boys and girls gathered in an effort to combat the Admonitions see the light of the future beyond the Lightless Realm, while their past destinies and dangerous present intertwine in a complicated web? (Source: Daisuki)
TV -
Apr 22, 2014, 01:35 (JST)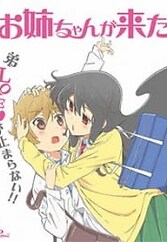 Oneechan ga Kita: Hajimete no… Kitaa!
This episode shows Ichika's and Tomoya's first encounter. Episode 13 included with the Blu-ray release.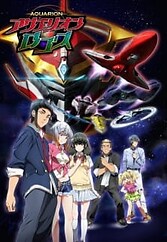 Aquarion Logos
For thousands of years after its development, mankind used the written word for communication between people and generations. As millenia passed and technology became more prevalent, writing - and thus, communication as a whole - diminished, until it could only be found on cell phones and computer screens. Seeing an opportunity, the sorcerer Sogan Kenzaki starts infecting words with the Nesta Virus, which brings them to life and turns them into monsters called MJBK (Menace of Japanese with Biological Kinetic energy). To counter this attack against humanity, an organization known as DEAVA (Division of EArth Verbalism Ability) assembles a group of youths with the ability of "Verbalism". They have to pilot the vector machines, which are used to form the mechas dubbed "Aquarions". The one wild card in the situation is the self-dubbed "savior", a young man who is the direct relative of a famous calligrapher, named Akira Kaibuki.
TV -
Jul 3, 2015, 00:00 (JST)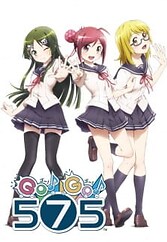 Go! Go! 575
Go! Go! 575 adapts the Project 575 games for PlayStation Vita and iOS, which allow anyone to create songs using the traditional Japanese 5-7-5-syllable meter found in haiku and tanka poems. (Source: ANN)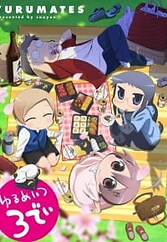 Yurumates 3D
Yurume, an 18-year-old "ronin" and recent high school graduate, has high hopes of being accepted and attending Tokyo University. She moves into an apartment complex, the Maison du Wish, located on the outskirts of Tokyo where other ronins living there are studying for upcoming college acceptance exams.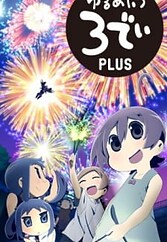 Yurumates 3D Plus
The continuation of Yurumates 3D right after the first season.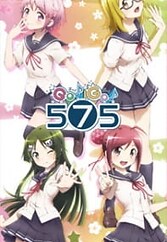 Go! Go! 575: Meippai ni, Hajiketeru?
Special episode introducing a new character.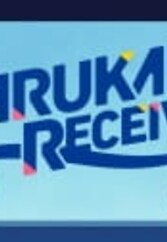 Harukana Receive: Yokoku
Web-exclusive next episode previews for Harukana Receive. These contain unique chibi animations and are released on Kadokawa's official YouTube channel. They are released about 2 days prior to the full episode airing.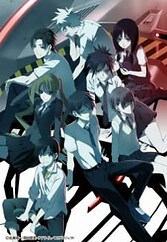 M3: Sono Kuroki Hagane Recap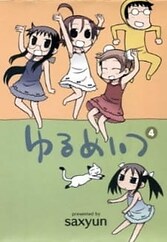 Yurumates 3D OVA
An original anime DVD bundled with a limited edition of saxyun's 4th Yurumates manga volume. The bundled DVD contained the opening animation sequence for the television anime series and its first episode, as well as two unaired episodes. The limited edition also included an exclusive booklet. (Source: ANN)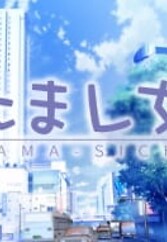 Tamashichi!
The show follows Maya's day at work at the Tamaya Shichi Pawn Shop.